Renee Villatoro had only been in the Kentucky Kingdom amusement park for 15 minutes before an employee shamed her for breastfeeding in public, an act the park has since apologized for.
The mother of two bought four passes for her family and decided to take her infant, 2-year-old daughter, niece and nephew to the Louisville park in early July. While waiting for the older children to finish a ride, she took her toddler and infant to sit on a nearby rock. Her infant started to fuss, so she grabbed her cover and began breastfeeding. Minutes later, a teen employee approached her and asked her to move to a restroom.
"I thought I had to comply," she told The Huffington Post in an email. "However, I could not take two strollers and toddlers and a newborn to the bathroom." Instead, Villatoro stayed put and called her mother in tears.
She immediately told guest services what happened and filled out a form. They called her later that evening to apologize, but according to Villlatoro, they still did not get the point: "They said 'I am sorry you were told to go to the bathroom, you don't have to go to the bathroom, you can go to an area in health services.'"
The situation became public after Villatoro posted a picture of herself on Facebook, mocking Kentucky Kingdom after the ordeal with a status that explained what happened.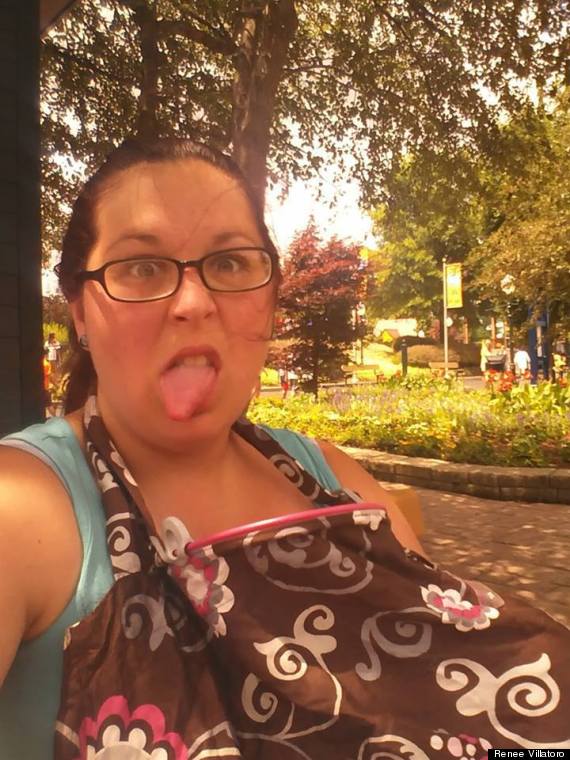 Supporters of public breastfeeding and Villatoro also flocked to the park's Facebook page, where they left comments urging Kentucky Kingdom to clarify its breastfeeding policy. The park responded to one via a comment, explaining that mothers can breastfeed provided they use discretion, which riled people up more. They then allegedly deleted the comment and posted a statement in full on their Facebook page which has also been deleted, but saved as a screen shot by HuffPost: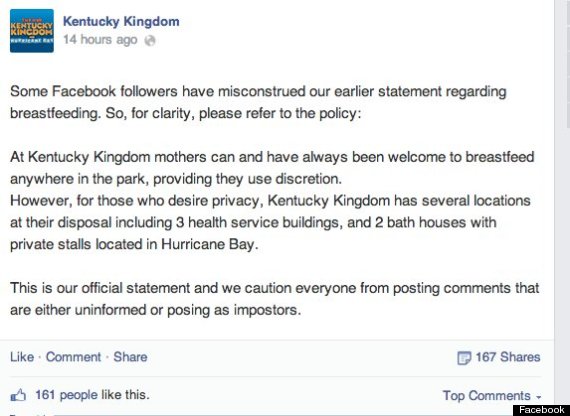 The original response fell in line with what Kentucky Kingdom President and CEO, Ed Hart, implied when he personally reached out to Villatoro. She alleges that while he apologized and told her he backed breastfeeding 100 percent, he also mentioned he'd add more rocking chairs to the designated health services area. But she and the other mothers upset with the park's original response expected more.
"I don't want anything or need a special chair or area to breastfeed, I just want to be able to plop on a rock, whip out my cover up and feed my baby," she told HuffPost. "I really just want their policy to reflect the law and for it to be practiced in the park, not just on paper."
In response to the dissatisfaction over the wording in the original apology, the Kentucky Kingdom Facebook page released a second statement for clarification, this one from Ed Hart:
John Mulcahy, Director of Marketing and Communication at Kentucky Kingdom, also sent The Huffington Post a statement on July 16 explaining their side of the incident in detail:
Kentucky Kingdom has always been supportive of moms and breastfeeding.

This is the first season that Kentucky Kingdom has operated in more than five years and we have about 1,000 young people working for us. Unfortunately, a couple of our team members took it upon themselves to direct a woman who was breastfeeding her child in the park to move to a restroom to do so. That is not, nor has it ever been, our policy.

When we explained our breastfeeding policy on the website, we did use the word "discretion." It was the use of that word, in addition to the incident involving the guest and her baby, that caused an understandable negative reaction among women, who strongly – and rightly - defend their right to breastfeed in public.

The President and CEO of our company reached out to these mothers and clearly restated our policy and our support for breastfeeding, then apologized for any embarrassment or inconvenience we caused any of our guests.
Though laws about public breastfeeding are clear, anecdotes similar to Villatoro's prove we still have a long way to go before all companies and their employees get the message. In the mean time, she hopes other moms can learn from her experience.

"I hope that this will keep new moms from having those kinds of experiences and from being discouraged from doing things with their kids out of fear of nursing in public," she said.
Popular in the Community