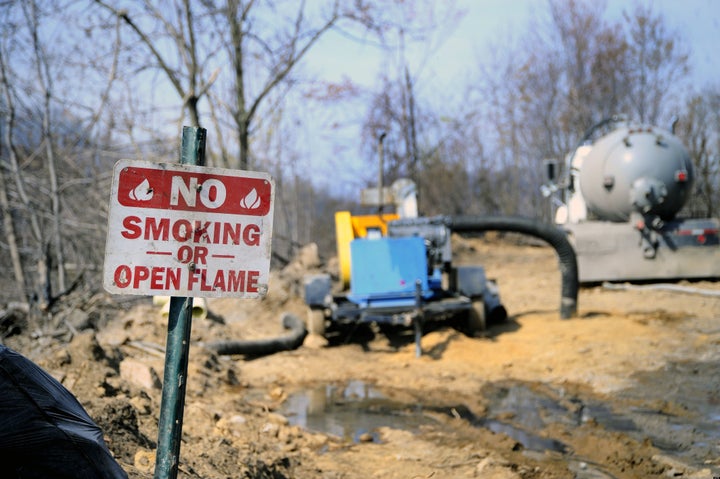 I am deeply saddened by the loss of two miners in Kentucky, and my thoughts and prayers are with the loved ones they left behind. As I said after the tragedy in West Virginia, I refuse to accept any number of miner deaths as simply the cost of mining. It is the responsibility of all of us, from mine operators to the federal government, to prevent such tragedies from happening again. That is why my administration is taking steps to demand accountability for safety violations and strengthen mine safety so that all of our miners are protected.
-----PROVIDENCE, Ky. - A rescue team has found a second Kentucky miner dead after a roof collapse at an underground coal mine with a long history of safety problems.
Kentucky Office of Mine Safety and Licensing spokesman Dick Brown said the two miners were found dead Thursday after the accident at the Dotiki (doh-TEE'-kee) Mine in western Kentucky.
Rescue workers earlier found the body of one miner trapped under rock. They had to retreat for a time when the roof become unstable, sending down a shower of rocks.
Gov. Steve Beshear identified the miners as 27-year-old Justin Travis and 28-year-old Michael Carter.
State and federal records show more than 40 closure orders over safety violations since January 2009. Officials with mine operator Alliance Coal Co. didn't return calls seeking comment.
THIS IS A BREAKING NEWS UPDATE. Check back soon for further information. AP's earlier story is below.
Senate Minority Leader Mitch McConnell (R-Ky.) announced on the Senate floor Thursday that one of the miners had died. But Kentucky Gov. Steve Beshear said at a news conference later he could not confirm that. A McConnell spokesman told the Evansville Courier and Press that the senator was alerted by the mine operators.
WATCH McConnell's remarks:
"Many Kentuckians awoke this morning to the sad news that one miner was killed and another is missing after a ceiling collapse in an underground coal mine in Webster County, which is in the western part of Kentucky," he said. "Right now, it is my understanding that MSHA officials are on the site, and rescue teams are working to locate the missing miner. For now, we can only hope that their efforts are successful. I ask my colleagues and the American people to keep the miners, their families, and the rescue workers in their prayers."
Scroll down for breaking news updates:
PROVIDENCE, Ky. — Two western Kentucky miners were missing Thursday and rescuers were unable to contact them after a roof collapsed in a large underground coal mine that had a history of safety violations, officials said.
Rescue crews were in the mine on Thursday morning, said Ricki Gardenhire, a spokeswoman for the Kentucky Office of Mine Safety and Licensing. Mine operators told a news conference that they are holding out hope of finding the miners alive.
U.S. Mine Safety and Health Administration spokeswoman Amy Louviere said rescue crews entered the Webster County Coal Dotiki (doh-TEE'-kee) Mine about 11:30 p.m., and traveled approximately four miles to the area where the miners are trapped. Their efforts to stabilize the roof and haul away rock were temporarily halted about 4:50 a.m. because of "adverse roof conditions."
Louviere said the mine, with a work force of 367, operates three shifts.
Records show inspectors from the Kentucky Office of Mine Safety and Licensing have issued 31 orders to close sections of the mine or to shut down equipment because of safety violations since January 2009. Those records also show an additional 44 citations for safety violations that didn't result in closure orders.
The Dotiki mine has recorded well over 300 "significant and substantial" violation reports from the Mine Safety and Health Administration since the start of 2009. The tally ranked the mine seventh among U.S. mines for the most such violations, according to a report published earlier this month by Business Week magazine.

So far this year, Dotiki Mine near Nebo, Ky., also has been cited at least three times for violating an MSHA standard regarding "protection from falls of roof, face and ribs" of mine areas.
The missing miners were operating what's known as a continuous miner, a toothy machine that digs coal for transport to the surface, said Ricki Gardenhire, a spokeswoman for the Office of Mine Safety and Licensing.
The rescue teams from the Office of Mine Safety and Licensing and the U.S. Mine Safety and Health Administration "were in the area where the miners are believed to be" by 8 a.m. Thursday, he said.
Tim Miller from the United Mine Workers Union said at least two others escaped after a rock fall in the mine near Providence, about 150 miles west of Louisville.
"Rescue operations were initiated immediately, but efforts to contact the miners have been unsuccessful," a spokeswoman for the mine told the Evansville Courier & Press.
Calls by The Associated Press to mine operator Alliance Coal Co. were not immediately answered.
Gov. Steve Beshear was on his way to the accident scene, where he planned to get an update on the rescue effort and meet with family of the missing miners.
Miller said he was called around 6 a.m. by a woman who had received a call from the mine. The woman said she was told her husband and her son, who were working in the mine, were safe, but that two other miners were missing.
Miller said the Dotiki Mine employs more than 300 miners.
The mine is owned by Alliance Resource Partners, based in Tulsa, Okla. The company's website says it purchased the mine in 1971 and produces high-sulfur coal there.
The mine was at least partially idled in 2004 when a supply tractor caught fire and spread flames to the coal, timbers and other equipment. The 70 miners who were underground were all safely evacuated and the mine returned to full production in about a month.
WATCH this report on the 2004 fire:
A worker died outside the mine in 1995 when the bulldozer he was operating fell into a cavity in a coal stock pile. He was buried in coal and suffocated.
Alliance primarily sells coal to electric utilities. It reported 3,090 full-time employees, $1.1 billion in assets and $1.2 billion in total revenues at the end of 2009.
The nation's worst coal mine disaster in 40 years happened this month in West Virginia, where 29 men died in an explosion inside a mine owned by Massey Energy Co.
Kentucky has had one miner killed this year in a roof fall at a mine in southeastern Kentucky. Travis G. Brock, 29, was working at the Bledsoe Coal Co. at the Abner Branch mine in southern Leslie County.
The state's worst mine disaster in recent years occurred four years ago when five miners died in at Darby Mine No. 1 in Harlan County. Two of the miners were killed immediately in the May 20, 2006, blast. Three others died of carbon monoxide poisoning while trying to escape.
Kentucky led the nation in mining deaths last year with six in coal mines and one in a limestone quarry.
The mine accident should serve as a reminder to state officials of the need to fully staff regulatory agencies, said Steve Earl, a regional vice president of United Mine Workers of America.
Beshear said Wednesday that a budget impasse in Frankfort could force a partial government shutdown that could halt, at least temporarily, mine inspections and idle mine rescue teams unless lawmakers reach an agreement on a spending plan before July 1.
Earl called that unacceptable.
"This is not the time for the state of Kentucky to be cutting back on safety inspections and ending mine rescue teams," he said. "They need to find the money somewhere."
Associated Press Writer Roger D. Alford contributed to this story from Frankfort, Ky.
Related
Popular in the Community