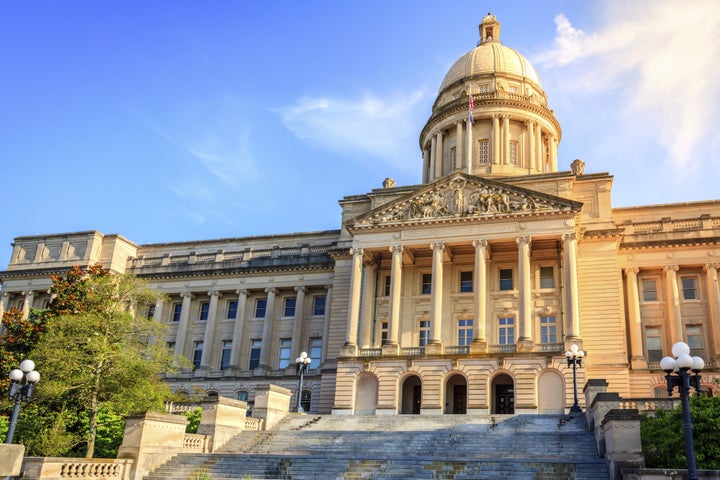 Now, eight current and former state employees are suing a trio of hedge fund operators and current and former members of Kentucky's pension board, alleging that they breached their fiduciary duties to the state and its taxpayers by sinking millions of dollars into "exotic" hedge fund bets.
The lawsuit, filed in Kentucky circuit court on Wednesday, takes aim at three hedge fund firms ― KKR/Prisma, Blackstone and Pacific Alternative Asset Management Company ― and their executives, as well as seven current and former members of the Kentucky pension board, the pension system's former chief investment officer, and a consulting firm that advised the board.
Together, the defendants "chose to cover up the true extent" of the pension plans' financial shortfalls and to "take longshot imprudent risks" in an effort to make up for the funding problems, the suit contends. 
"They misled, misrepresented and obfuscated the true state of affairs ... from at least 2009 forward," the suit alleges.
Kentucky's pension plans, collectively known as Kentucky Retirement Systems, hold savings for more than 350,000 current and former state workers. At the turn of the 21st century, the suit states, the system held enough money to cover all its obligations with $2 billion in surplus.
But over the ensuing decade, it lost more than $6 billion in assets. Today, it holds enough cash to cover just 37 percent of its obligations. The largest of the state's plans, the Kentucky Employee Retirement System, has enough in assets to pay only 17 percent of its future obligations. The system as a whole is facing a nearly $27 billion shortfall, according to official figures. The lawsuit estimates the actual funding gap could be as large as $50 billion.
A major cause of those problems, the suit asserts, is the pension system's investments in so-called hedge "funds of funds" ― that is, hedge funds composed of other hedge funds. As HuffPost laid out in a deep dive into Kentucky's pension mess in June, such funds of funds feature little to no transparency when it comes to fees paid to investment managers and firms or their performance. They tend to offer higher costs and lower returns than traditional investments, all while potentially greasing the wheels for corruption inside public pension plans.
The three hedge fund operators named as defendants created special funds for the state of Kentucky ― the suit refers to such funds as "black boxes," for their notable lack of transparency. The operators allegedly promoted the funds to Kentucky Retirement Systems as safe and virtually guaranteed investments. Instead, they helped "generate excessive fees" for the hedge fund managers while producing "poor returns and ultimately losses" for the pension plans, "damaging [Kentucky Retirement Systems] and Kentucky taxpayers" in the process.
Most of the assertions in the lawsuit involve decisions made during the administration of then-Gov. Steve Beshear (D), who held office from 2008 to 2016. The suit also references at least one decision the Kentucky Retirement Systems board made after Gov. Matt Bevin (R) took office in January 2016. In May 2016, after Bevin had drastically reshaped the board, the system's investment committee plunged $300 million into the hedge fund of funds created by KKR/Prisma. 
At the time, the state was supposedly making some effort to reduce the pensions' overall involvement in hedge funds. The KKR/Prisma fund was the "worst performing" of the "black box" funds: It had a negative 8 percent return in 2016, even as the stock market rose 15 percent.
Bevin had previously appointed William Cook, a former KKR/Prisma employee, to the pension board as part of the reshuffling. Cook said upon his appointment that he would recuse himself from any decisions involving his former company. But the lawsuit alleges that he was among the investment committee members who "permitted" Kentucky Retirement Systems to enter into the deal, in which KKR/Prisma was also able to place one of its current employees inside the pension system on a part-time basis.
That deal, the suit claims, "was not done 'solely' in the interest of the members and the beneficiaries" ― as required by Kentucky law ― "but to help KKR/Prisma" and Pacific Alternative Asset Management Company.
Investments in hedge funds of funds have created legal scandals for state pensions across the country, including in California and New York. Amid more scrutiny, California, New York and other states have pledged to rid their pension systems of hedge fund investments. Although Kentucky has attempted to reduce its reliance as well, Kentucky Retirement Systems still held 8.4 percent of its assets in hedge funds as of March 2017.
The lawsuit does not allege any federal crimes. It seeks an undisclosed sum in damages on behalf of the state, the taxpayers and Kentucky Retirement Systems. Any damages the eight plaintiffs themselves received would go to Kentucky Retirement Systems, the suit says, to help shore up the pensions.
Kentucky's state legislature returns to work next week, and pension reform is expected to be near the top of its 2018 agenda. Last year Bevin released a proposal to transition from a traditional, defined contribution-style pension program to one featuring plans that resemble 401(k)s. That idea has met with widespread opposition from public employees, who, along with economic analysts, say it would reduce benefits for future retirees and could even exacerbate some of Kentucky's current pension woes.
CORRECTION: A previous version of this story said the lawsuit both names and doesn't name current members of the pension board. The lawsuit, in fact, names current and former board members.
Calling all HuffPost superfans!
Sign up for membership to become a founding member and help shape HuffPost's next chapter