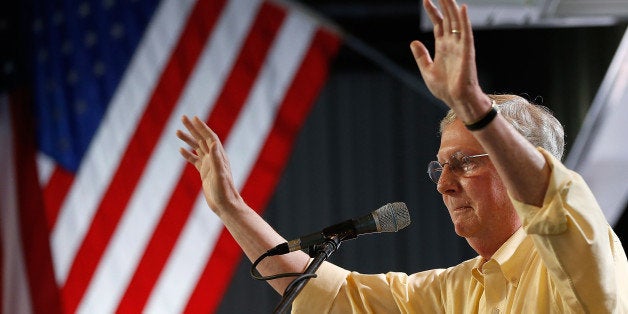 A new poll gives Republicans the edge in Kentucky. Forecasters weigh in on election polling. And we're looking forward to debuting our new Senate dashboard. This is HuffPollster for Tuesday morning, September 2, 2014.
MCCONNELL 'INCHES AHEAD' IN KENTUCKY - SurveyUSA: "A Labor Day Weekend look at the election for United States Senator from Kentucky shows incumbent Republican Mitch McConnell inching further ahead of Democratic Challenger Alison Lundergan Grimes, according to the latest Bluegrass Poll, conducted by SurveyUSA for the Louisville Courier-Journal, The Lexington Herald-Leader, WHAS-TV and WKYT-TV. Today, it's McConnell 46%, Grimes 42%, Libertarian David Patterson 5%, and 8% undecided. McConnell's 4-point advantage is his strongest 2014 Bluegrass Poll showing to date....McConnell's entire lead comes from men, where he is up by 10 points. The contest is effectively even among women….McConnell's Net Favorability today is Minus 10 (46% of KY voters have an unfavorable opinion of him, compared to 36% who have a favorable opinion). This is an improvement from May 2014, when McConnell was at Minus 20. Grimes's Net Favorability today is Plus 1 (38% have a favorable opinion of her, compared to 37% who have an unfavorable opinion). Grimes's unfavorable numbers have risen slowly but steadily since May 2014, when she was Plus 8." [SurveyUSA, Courier Journal]
Consistent with recent polling - All but one poll taken since July has shown McConnell with single digit advantages. The Bluegrass Poll is the third in a row -- following surveys from CBS/New York Times/YouGov and the Democratic firm PPP - to show McConnell 4 points up. HuffPollster's model, which takes all poll data into account and adjusts for pollster "house effects," gives the Republican a lead of about 3 percentage points. That margin is still narrow -- the model translates into a probability of McConnell winning in November of just 56 percent, barely better than a coin-flip. [HuffPost]
Another SurveyUSA poll finds a deadlocked Florida gubernatorial race - Charlie Crist (D) 45 percent, Rick Scott (R) 43 percent, Adrian Wyllie (L) 4 percent
[WFLA]
APSA FORECASTER PANEL TALKS POLLING - As part of the annual meeting of the American Political Science Association in Washington, George Washington University Prof. John Sides, who also runs the Washington Post Monkey Cage blog and its Election Lab forecasting model, convened a panel of election forecasters and handicappers on Saturday. The conversation turned to election polling. Here are some excerpts:
-John Sides: "A lot has been written this cycle about changes to the nature of the polling landscape and the way the polling landscape is changing. There is a variety of issues you can put under that umbrella, such as, apparently, [the] deep shock and dismay that was felt in some quarters when the New York Times deigns to be involved with a pollster that does non-probability sampling over the internet...I never really liked to follow polls on a day by day basis as a political scientist because you're always like, 'ah, sampling error, uncertainty,' right, so let's just wait a week and see if the [trend line] moves. After doing this enterprise now [the Election Lab model at the Washington Post], I am desperate for any new poll. I go to Pollster sometimes…I go to Pollster every day, and I say 'give me something, I need Iowa, give me Iowa, please…' That's a sad feeling."
-FiveThirtyEight's Harry Enten: "The average Senate poll has been off the last few cycles by five points, so if it says the average poll had Republicans had up by five points in a certain state, plus or minus 5 was the average error— could have been 10 points, could have been a tied race. Any particular one single poll has a fairly large margin of error that's actually wider than the theoretical margin of error that we would normally think about...I'm not worried about YouGov…What does keep me awake are a number of pollsters who [we] just don't know they're necessarily doing. There are people who sometimes seem to, and I won't name names, tend to think what they're doing is absolutely right all of the time and they think they can get away with stuff. And when they're not open with their methodology we don't know what they're doing."
-The Cook Political Report's Jennifer Duffy: "I vacillate between very concerned and utterly terrified. When you rely on data, and you're not getting anything good, it certainly makes your job very hard to do. It's funny, because I've been doing this so long I remember cycles like 1988, 1992 when you were lucky to see five polls in a race, and it was a big event when a poll came out. Now you've got one coming out a week, except they don't mean anything...I will not rely on a single poll in a Senate race anymore, and I don't care who did it. Both parties have great pollsters and they pay a lot of money for those polls, but these days, I don't think one poll is going to tell the story of any race."
HUFFPOST'S SENATE DASHBOARD TO DEBUT - A heads up: HuffPost Pollster's new polls-only Senate Forecast, based on the state-by-state probabilities that debuted last week, will launch this week. Like the other Senate forecasts, ours will show the Republicans chances of taking the Senate to be a virtual coin-flip.
Are any of these forecasts 'lopsided?' - At the APSA Forecasting panel, New York Times Graphic Editor Amanda Cox, co-creator of the Upshot election model, warned that "some of the probability" associated with these models is "really non-intuitive." When panel moderator John Sides noted that at times, even a 60 percent forecast "is perceived to be a really lopsided forecast," Cox replied: "I think it is very easy to interpret [60 percent] as something that is not a coin flip. And so we tried playing these games that say, if I handed you two coins, and one was a 60 percent, you'd have to flip for a half hour before you knew which one was was which, right? 60 or 50 percent. That's a lot of coin flips, but it's still a coin flip...I think some of the probability is non-intuitive, particularly this year. This year, currently, it is consistent to believe that Democrats are ahead in 50 or more races and simultaneously believe that they will lose the Senate, just because...there's a lot of, sort of, wobbly plates."
WILL BIG DATA REPLACE SURVEYS? - Robert Groves: " I sometimes think of this moment in history as similar to that when machine-powered automobiles were being invented. Many of the first cars looked like converted buggies originally designed to be pulled by horses. Horse power was the dominant paradigm of travel, and there needed to be a period of time to move from the old paradigm to a new one, where cars began to resemble what they have become for many decades. I think we're at a similar point with social science data. For some decades, at least from the 1940's, a dominant paradigm for measuring human thought and behavior in large human populations has been the sample survey….Surveys offer simultaneous uniform measurement of many attributes of the sample members designed by the researchers themselves, but they were slow to conduct and, because of high costs, weak on reliable spatial or subgroup description. Further, with growing difficulties of obtaining high participation rates, survey costs have risen much higher than inflation. 'Big Data' comes along….Some believe now that the advantages of big data will kill off the sample survey. They note that the new data resources solve the timeliness weaknesses of the slow sample survey. They note that spatial granularity is nearly limitless because we can tag the data with GPS coordinates. But the big data bring weaknesses also....I foresee a world in which we'll blend surveys covering full populations (not just members of a platform) with continuous-time, sensor, and other data on subsets of the population. That may become our standard paradigm." [Georgetown]
HUFFPOLLSTER VIA EMAIL! - You can receive this daily update every weekday morning via email! Just click here, enter your email address, and and click "sign up." That's all there is to it (and you can unsubscribe anytime).
TUESDAY'S 'OUTLIERS' - Links to the best of news at the intersection of polling, politics and political data:
-Voters likely to "keep the bums in" despite low congressional approval. [AP]
-Eugene Robinson doesn't see a wave materializing. [RCP]
-Suspicious fires force political scientists from Wardman Park Marriott hotel rooms during APSA conference. [WashPost]
-Political scientists strategize new ways to engage policy makers and the public. [Chronicle]
-APSA makes conference papers available online. [SSRN]
Before You Go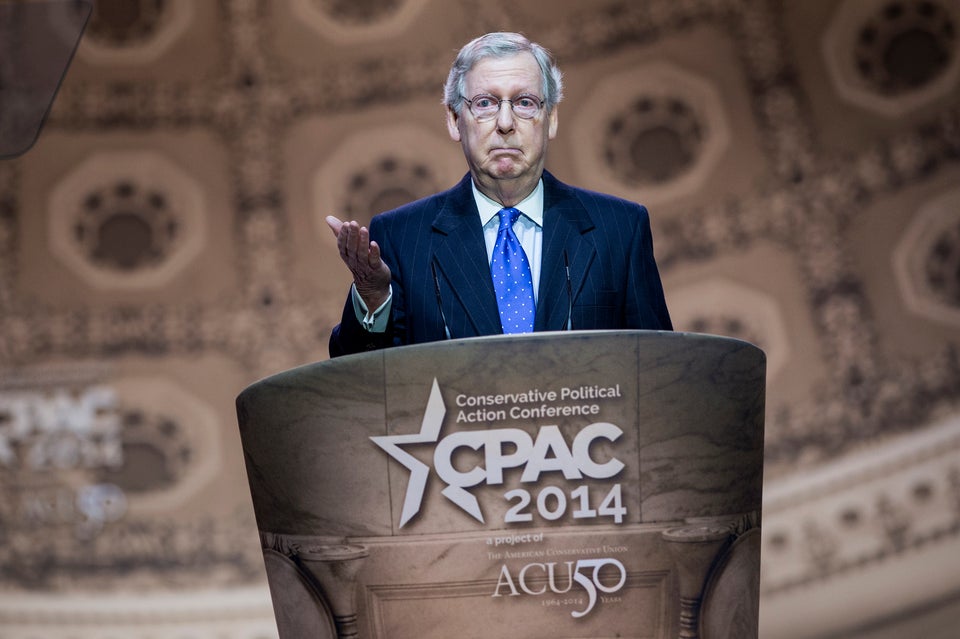 Mitch McConnell & Alison Lundergan Grimes
Popular in the Community