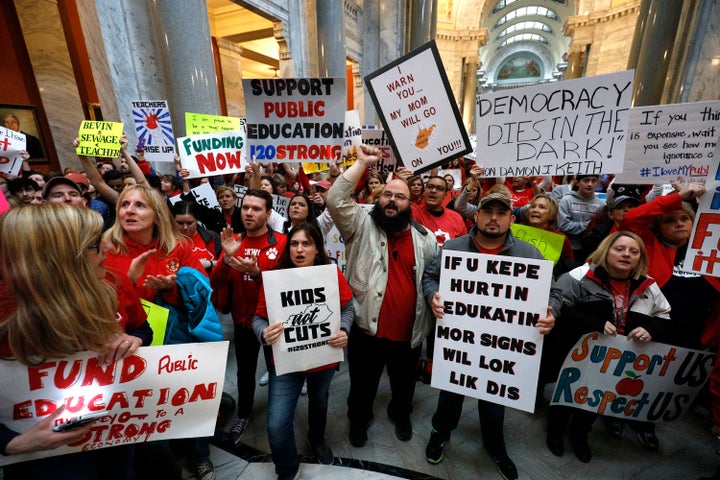 FRANKFORT, Ky. ― Thousands of teachers and public workers from across Kentucky flocked to the state Capitol on Monday morning to protest potential budget cuts to public education and the passage, last week, of a controversial package of changes to the state's public pension system that teachers had opposed.
The rally began before 9 a.m. outside the Kentucky Education Association building just blocks from the Capitol complex. Teachers, most of them clad in red (as part of the grassroots Wear Red for Ed campaign), later marched to the Capitol itself, filling up the rotunda outside legislative chambers and spilling out the front doors and down the steps.
"Enough is enough," they chanted, many of them carrying signs telling lawmakers to fully fund their pensions and their schools and threatening that if the legislators failed to do so, the teachers would do everything in their power to remove them from office in elections this November.
"We feel demoralized, we feel assaulted and we feel like we've been marginalized," said Chris Wilder, a teacher at Anderson County High School in Lawrenceburg. "We're angry."
Teachers have filled the Capitol complex off and on for more than a month in an effort to derail pension changes and education budget cuts proposed by Republican Gov. Matt Bevin and Republican majority leaders in both chambers of the legislature.
But their anger boiled over Thursday night when GOP lawmakers attached a slate of pension changes to a previously unrelated bill meant to address public sewage issues. Hours later, both the state House and state Senate approved the measures on party-line votes.
"The way they introduced this bill was the linchpin, the insulting part," Wilder said. "We're basically equivalent to excrement. It's like, 'This is what we think of you and your contribution to our state. Nothing. You don't matter.' But we matter, and our kids matter."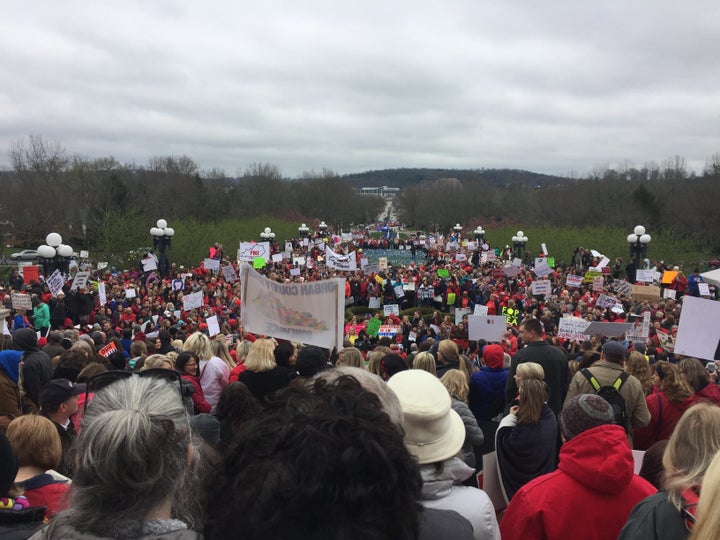 The pension bill, which Bevin is expected to sign before the legislative session ends next week, did not contain some provisions teachers had been most angry about, including a cap on annual cost-of-living adjustments. The bill dropped many of the previously proposed changes to current teachers' benefits. But it maintained a provision that places a cap on the number of a current teacher's accumulated sick days that can count toward pension benefits ― a move Attorney General Andy Beshear, who said he would sue if the bill becomes law, has said is unconstitutional.
It also switches new hires to a "hybrid" 401(k)-style plan and ends some contractual protections that currently prohibit lawmakers from altering pension benefits for public workers, teachers included.
Those changes, teachers said, would make it hard for the state to recruit new educators in Kentucky, which already has a struggling public education system.
Even before Monday's rally, teachers forced public schools to close in at least 25 Kentucky counties on Friday when they called in sick en masse to protest the pension plan. In Lexington, the state's second-largest school district, more than one-third of school employees stayed out Friday. In Louisville, the absences forced the closure of Kentucky's largest school district.
Most public school districts were already closed Monday for spring break, but the threat of another round of sick-outs caused more than a dozen school districts that were supposed to be open to close instead. The result was that public school districts were shuttered in each of Kentucky's 120 counties on Monday, accomplishing a goal organizers had set when they announced plans for the protest.
The educators came to Frankfort from cities across the state. In Louisville, a group of Jefferson County Public School teachers met at a local Teamsters union hall and took a 45-minute bus ride to the capital. In Frankfort, groups of teachers gathered under banners bearing names of school districts spread from Pike County in eastern Kentucky to Marshall County in the west.
The initial crowd for the bus ride from Louisville disappointed some organizers. They had planned for four full busloads but sent three half-full buses instead. But upon arriving in Frankfort, it was clear that the crowd had exceeded expectations.
Organizers estimated that more than 5,000 people gathered inside and outside the Capitol, though no official estimate was available.
"This is spring break," said Mike Kral, a retired teacher from Hardin County. "If it'd been a regular school day, it'd have been 10 times this."
Still, it was a show of force against a state legislature that, teachers said, has failed to prioritize teachers or Kentucky's public education system for years and, by passing the pension package so quickly Thursday, had broken a promise to its educators.
"When we signed on the dotted line to become a teacher, we knew we weren't going to make a lot of money," said Lynn Luking, a retired teacher from Louisville. "But we were promised a full pension and full health care. And every year they've taken more and more of that away."
The protests weren't aimed only at last week's pension overhaul. With the end of Kentucky's legislative session looming, lawmakers returned to the capital Monday to consider new tax legislation and a budget bill that held the potential for further cuts to public education spending.
"It seems like these folks want to privatize everything," said Mike Haile, a retired teacher from Henderson County, in western Kentucky. "They privatized prisons and they privatized schools. It's take the money and run."
With the budget vote looming, a crowd of protesters gathered around a side entrance to the Capitol and chanted "Shame! Shame!" at Republican lawmakers as they entered.
The protests and school closures were reminiscent of similar movements in states including West Virginia, where teachers went on strike to protest years of tax cuts that had left the state unable to fully fund schools, and Oklahoma, where teachers were set to go on strike Monday. Teachers in Arizona could soon join them in walking out.
In Kentucky, the educators said the pension changes and budget cuts were a breaking point in their relationship with state government. They vowed that the protests and organized opposition would continue. And they promised that they would be a political force come November.
"I will walk and knock on every door," Luking said, "to see that every one of these guys are defeated."
Clarification: This piece has been updated to clarify that the pension legislation included a change to the way sick days are calculated into retirement plans for current teachers.
Popular in the Community