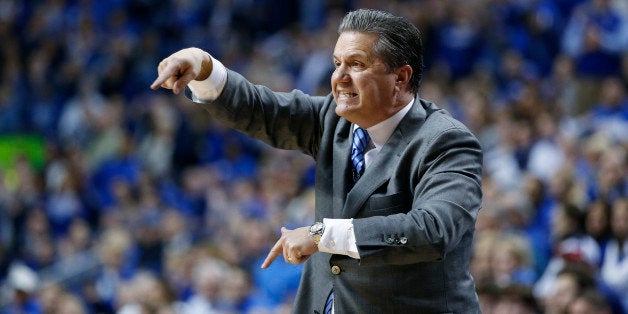 John Calipari's Kentucky Wildcats are trying to become the first team to go undefeated since Bob Knight's Indiana Hoosiers in 1976. There are a few reasons this feat is so hard to achieve, and one is quite simple: Young players don't always know how to handle the highs and lows of the season, which is longer than high school. Even for a Kentucky team that boasts a record nine McDonald's All-Americans, maintaining composure is not easy.
Former No. 1 pick Anthony Davis told The Huffington Post last week that he personally guarantees his team will win. But despite his assurances, let's take a look at three reasons why UK might not take home the ninth title in school history.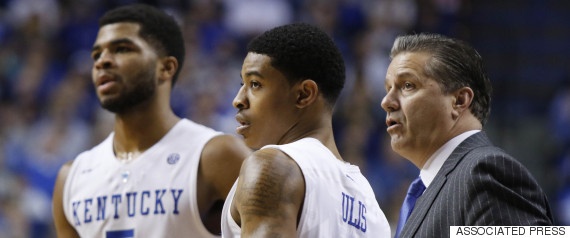 Calipari goes 9-10 deep. But unlike the national title team with Davis in 2012, he doesn't have a senior -- a la Darius Miller -- and he doesn't have versatile forwards like Michael Kidd-Gilchrist or Terrence Jones. These guys are quality NBA players, and there aren't a ton of guys on this roster we can say that about.
Perhaps more importantly, Calipari's two lead guards are Andrew Harrison and Tyler Ulis (both pictured above). The 6-foot-6 Harrison is a sophomore who has struggled with consistency since coming to Lexington, and Ulis -- another huge recruit -- is a 5-foot-9 jitterbug who is as talented as he is erratic. While he doesn't turn the ball over, Ulis shoots just 41 percent from the floor. The two are very different and can co-exist on the floor together -- but neither is the future superstar that Calipari had at point in Derrick Rose, Tyreke Evans or John Wall. And moreover, neither is as good as Marquis Teague, who anchored the ship three years ago.
Great guard play rules March -- just look at UConn last year with Shabazz Napier and Ryan Boatright -- and Kentucky simply doesn't have it.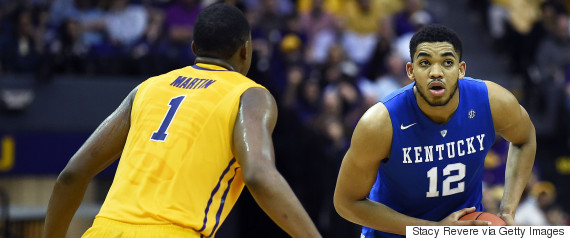 Kentucky feeds off its dynamic up-tempo attack. Since Calipari took over at the helm, his teams have routinely ranked near the top of the nation in fast-break offense and pace of play. This year's team is no different, thanks in large part to a slate of athletic big men who can really run the floor. Namely, Karl-Anthony Towns and Willie-Caulie Stein both have great hands and both finish well above the rim.
The potential pitfall here is UK's half-court offense, which can struggle when teams force it to play at a slower tempo and take away or limit transition opportunities. Kentucky is fantastic defensively -- we know that -- but they are prone to lulls when forced to run their stuff and execute in the half-court. That's where not having a great lead guard comes into play, a guy who can get into gaps and make plays out of screen-and-roll. Despite the recent comments from Tennessee head coach Donnie Tyndall, who called UK "arguably the best team to ever be assembled," this is not a particularly good shooting team. They make just 46 percent from the floor, ranking 58th nationally.
And while it's a luxury for Calipari to substitute four or five guys at a time, he doesn't have a true go-to option on his team. Plenty are capable of being that guy, but we still don't know who is taking the final shot with the game on the line.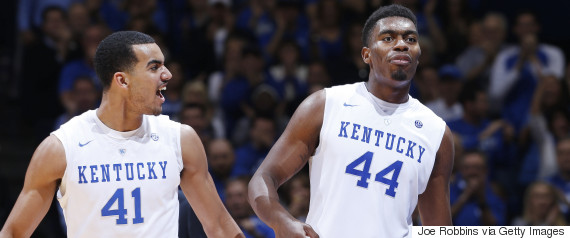 Two upperclassmen get minutes for Cal, and one of them, junior forward Alex Poythress, tore his ACL in December. That leaves Cauley-Stein. He is a defensive eraser and human highlight reel to be sure, but still not a legitimate post-up threat. Neither of the Harrison twins are special, and we know about Ulis.
That leaves us with freshmen bigs Trey Lyles (above left) and Towns, a possible top-three pick come June's NBA Draft. The other key contributors are freshman guard Devin Booker -- who might also become a star in time -- as could 7-foot sophomore center Dakari Johnson (above right) and fellow sophomore big Marcus Lee.
Clearly, youth reigns supreme, and while it has yet to hurt the Cats this season, it only takes one bad night. One bad night of missed jumpers and inopportune turnovers where a roster full of teenagers starts to point fingers. Calipari deserves a tremendous amount of credit for getting a bunch of blue-chip recruits to buy into team play and not worry about putting up big numbers individually, but rather, collectively, hence the unblemished record.
For what it's worth, the SEC is not as downtrodden as some people might think, although it's devoid of another elite team capable of making a deep run in March. Kentucky has three high quality wins -- Kansas, North Carolina and Louisville -- where it out-classed teams with its superior size and athleticism. Even so, it will be very interesting to see how its youthful roster handles the immense pressure of the one-and-done format. And that, above all else, could prevent the Big Blue from a second national championship under Calipari.
CORRECTION: A previous edition of this article incorrectly stated that Marcus Lee was a freshman. It has been changed to properly reflect that he is a sophomore.
Email me at jordan.schultz@huffingtonpost.com or ask me questions about anything sports-related at @Schultz_Report and follow me on Instagram @Schultz_Report. Also, be sure and catch my NBC Sports Radio show, Kup and Schultz, which airs Sunday mornings from 9-12 ET, right here.
Related
Popular in the Community