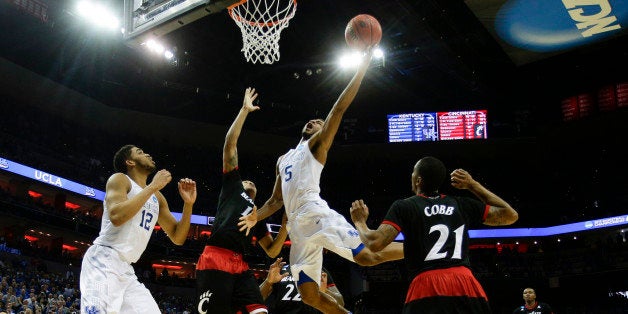 It's time to usher in the annual rite of spring known as March Madness. While Cinderella grabs millions at the box office, a record number of small-screen viewers will be on the lookout for another kind of Cinderella who can prevent the Kentucky Coronation.
The trendy narrative says student-athletes relish in the "experience" of the Big Dance. Meanwhile, the NCAA is rolling in the dough with $10.8 billion from CBS and Turner for the media rights through 2024. Those billions are just a drop in the sea of sports rights. In the past few years, nearly $150 billion in broadcast rights renewals have taken place in the U.S. with more coming. The English Premier League's latest $8 billion deal confirms sports fever is a global pandemic. As asset costs rocket higher, it is time to acknowledge the situation for what it is: a bubble that's due to pop.
The bubble concept is ubiquitous. Tech stocks, California Cabernet and Will Smith movies all jump to mind. To learn a lesson about bubbles, one need only look to another spring icon, the tulip. In early 1637, the combination of successful Dutch traders, monetizing future demand and the lack of alternatives drove tulip prices to their zenith. Suddenly, in February of that same year, the bubble went pop! Prices dropped by 90 percent as the market collapsed.
The sports bubble isn't far off the tulip. The early success of sports networks, an expected explosion of future ad revenue and the lack of engaging, live programing are fueling the fire. Academic analysis of tulip mania found that, despite a highly visible collapse, relatively few people were impacted. The same is likely true for the sport rights game. Still if you are one of those involved, beware of how the bubble will burst.
Advertisers: As advertisers try to reach increasingly elusive consumers, the temptation is to pay more and more for the chance. Thus far, CPM yields have remained steady with advertisers buying larger live audiences at similar rates per eyeball. Risk emerges when advertisers assign premium values for non-premium properties. An SEC Championship game may be worth a premium, but a Thursday night SWAC game shouldn't be. The maturation of media channels amplifies this risk. Television remains the premium platform for sports -- in part because media companies get credit for the entire audience regardless of whether they're watching commercials. Digital and mobile bring new accountability to ad delivery. Fragmentation and transparency should put downward pressure on traditional cost metrics. The discipline to pay for demonstrated quality has become the critical skill for advertisers during the pricing run up of sports rights. Similar to the tulip crash, abandoning true value in favor of perceived value is a mistake that will be made by many.
Sports Teams: Asset holders are at risk for overplaying their hand. Early success of the regional Fox networks, the Notre Dame-NBC deal and the Big Ten Network created a perception that sports content is a can't-miss property. But the market has changed, and those lessons don't apply consistently. As BYU and the University of Texas learned, a powerful sports brand doesn't instantly translate to network success. Both partnered to launch sports networks which underperformed the hype. Early network deals were bundled into cable packages locking in revenue. As the number of special networks grows and consumer disaggregate media bundles, networks must justify their pricing. Few sports teams can execute against that challenge. A safer model shifts risk to the buyer. For example, instead of using IMG Sports as a management partner, some universities have outsourced their brand completely in exchange for revenue certainty. IMG pays a fixed fee and takes full responsibility and risk to monetize those assets. For teams, maintaining a fair view of audience value is key. In today's market, protecting against the downside is a viable strategy.
Media Companies: Media companies will hold the most cost exposure when a crash occurs. While it is hard to fight a rising market, a few solutions have proven themselves. First, nurture and build the asset. When NBC paid $250 million to broadcast the English Premier League in the U.S., the cost equated to about $3.00 per viewer -- a premium over the NBA ($1.30) and the NFL ($2.40). By raising production quality and investing in marketing, NBC attracted a growing audience thereby lowering the cost per viewer to under $1.00. Similar to a strategy used frequently by ESPN, NBC had increased the value of the EPL broadcasts. When a new bidding war breaks out in 2016, the future buyer needs to do their math carefully to quantify the audience curve. Second, networks need programming balance. While it is tempting to chase live events, the bubble is caused by a lack of alternatives. Committing to disciplined development of strong alternate programming will help prevent irrational chasing of sports rights just because they are the only alternative.
Similar to those who enjoy the simple beauty of the tulip, sports fans have little interest in the financial implications of escalating rights cost. In the end, these costs will be passed along to them either through higher network fees or extended commercial interrupts. Media companies won't be able to recover costs from just trying to raise ad rates. They increase ad inventory which in turn increases disruption. At some point, even Kentucky Wildcat fans may find it easier just to find alternative entertainment. Thus, the bubble will pop.
Special thanks to Jay Raghavan and Liz Williams for the research in this post.
This post originally appeared on LinkedIn.
Calling all HuffPost superfans!
Sign up for membership to become a founding member and help shape HuffPost's next chapter