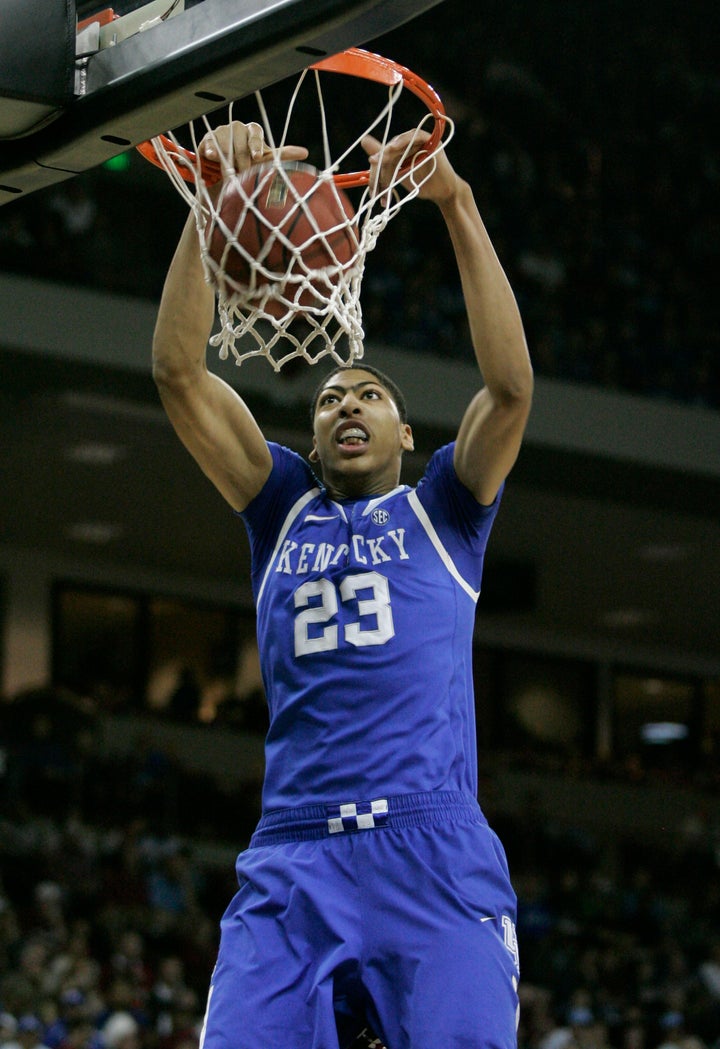 The next great shot-blocker in the NBA is barely old enough to vote: an 18-year-old prodigy at the University of Kentucky who is already drawing comparisons with Kevin Garnett and other premier defenders who are almost old enough to be his parents.
Not many college freshmen are hyped the way Anthony Davis was, so the potential for disappointment was sky-high. For those who don't know, Davis is the six-foot-ten albatross who grew 10 inches from the end of his sophomore year of high school to his senior year, only to become the consensus number-one recruit in America. He has since shattered UK's single-season blocking record while leading the Wildcats to a 25-1 record
Aside from his incredible length and dexterity, what has made Davis so effective as a shot blocker is his impeccable timing. Many young rim protectors (see Syracuse's Fab Melo, for example), have the tendency to swat down balls, as opposed to positioning straight up until the shooter releases the ball. This is an almost automatic foul and the classic example of an offensive player using a shot-blocker's size against him.
Given his unparalleled defensive ability at the rim, Davis' offense is understandably overlooked. While his perimeter jumper remains a work in progress (teams are daring him to shoot open 16-footers), he has actually strung together a highly productive and consistent season scoring the basketball. His 14 points per game leads an uber-talented roster of Wildcats, including future lottery picks Michael Kidd-Gilchrist, Doron Lamb and Terrence Jones. He is shooting a hyper-efficient 65.1 percent from the floor while averaging less than a single turnover per game, showing that he makes quality decisions under the duress of constant double-teams.
What also separates Davis -- and what has made him a lock to be the number-one overall pick in June's NBA Draft, should he leave school -- is his sheer versatility and multidimensional ability to affect a game.
Davis runs the floor like a gazelle, constantly beating big men and even guards (1:36-1:46) down the floor, where he is equally adept at catching lobs or receiving the pass early and making a move toward the rim. His 67 points in 44 transition opportunities (per Synergy) also slot him in the mid-90th percentile for all college basketball; in transition he converts an insane 77 percent of his attempts. It is a key reason why he is a shoe-in for National Freshman of the Year and a front-runner for the Wooden Award as the nation's best player.
Davis has also proven to be a wonderful option in a half-court set, where he excels running pick-and-roll and facing up from the high post. His metrics are so efficient as to almost defy comprehension, particularly when cutting to the basket or on rebound put-backs, where he almost always finishes or is fouled, or both.
At the NBA level, where post players are much stronger and more skilled, there will most certainly be an adjustment period for the 220-pound Davis, who in a recent win against Vanderbilt was pushed around at times by the super-physical Festes Ezeli. The same thing happened when Kentucky played Florida: Davis played well, but the stronger Patric Young bullied him hard in the paint far too often.
Davis will need to develop more post moves and become an efficient back-to-the-basket player, because right now most of his offense either comes from stick-backs and alley-oops. He is least effective in such situations, when his shooting percentage takes a drastic dip down to 25 percent, per Synergy. Even still, the ceiling for him screams "superstar," while he can also contribute to an NBA team immediately as an elite defender and rebounder (10 per game).
With such dynamic versatility for his size, coupled with a high motor and great efficiency on both ends of the floor, it's not a stretch to suggest Davis has the potential to become the next Kevin Garnett.
Plus, check out my new HuffPost sports blog, The Schultz Report, for a fresh and daily outlook on all things sports and listen to my radio spot on 1280 The Zone every Friday night at 6:25 EST.
Popular in the Community