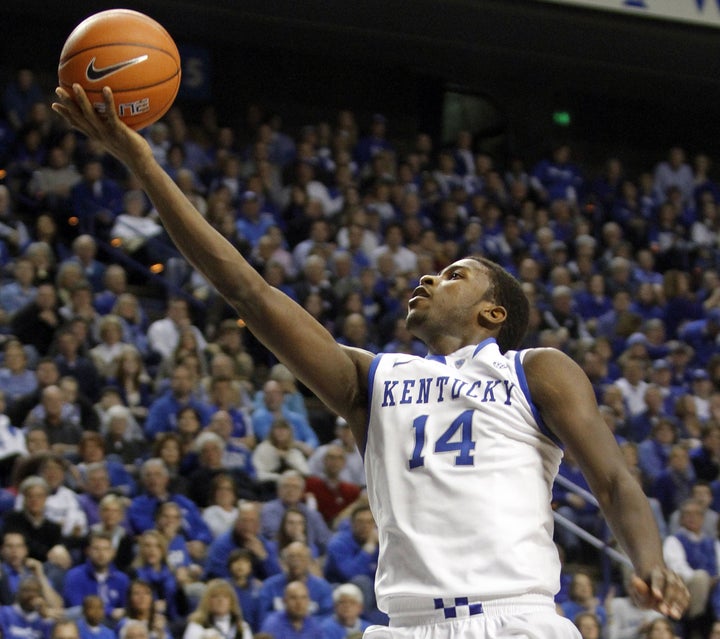 So much of this preseason's hype for Kentucky surrounded Anthony Davis that many people overlooked the overwhelming presence of fellow freshman Michael Kidd-Gilchrist, whom I've been high on for quite some time. At a rock-solid six-foot-seven and 228 pounds, though, Kidd-Gilchrist has proven to be one of the most versatile defenders in America and a capable scorer from 16-feet for the top ranked team in college basketball.
At the beginning of the season, highlighted by a showcase at Madison Square Garden against Kansas, he struggled offensively on the perimeter and looked uncomfortable away from the paint. But, 25 games into his freshman campaign, Kidd-Gilchrist has drastically improved his pull-up game and become an impressive playmaker.
While he excels in the open floor as a finisher, his transition and half-court skills (see 0:35-0:50) as a passer have been extremely notable as well. Blessed with a near seven-foot wingspan and an explosive first step, he has displayed surprisingly good vision and a general willingness to pass as well. But questions still remain about his inconsistent jumper, and rightfully so. Gilchrist shoots under 29 percent from three and is equally weak coming off of screens and spotting up, where he converts just 40 percent of his unguarded shots and 35 percent of guarded, according to Synergy Sports Technology.
The positive about his offensive game is his relentless slashing ability and desire to attack the paint. Kidd-Gilchrist ranks as one of the most efficient man-to-man players in America. In half-court situations, he is equally adept at both attacking off the bounce and using his strong frame to post up. In the vaunted John Calipari dribble-hand-off game (which has become a popular NBA offense at times), Gilchrist is an almost unstoppable threat, creating over 1.33 points per possession, according to Synergy Sports. His more than five free throw attempts per game show just how aggressive and effective he has become.
But NBA scouts and GMs alike are raving more about his defensive capacity than anything else. With great size, speed, agility and power, Kidd-Gilchrist has defended four different positions this season. In the NBA, he will be able to guard 1s, 2s and 3s and, because of his strength, won't be vulnerable in pin-downs off pick-and-roll switches against power forwards.
The scary part about Kidd-Gilchrist -- aside from his obvious measurables -- is his unwavering motor and physical stature. In the Kansas game, he was an albatross for Calipari and a crucial reason why Kentucky wore down the Jayhawks for an easy 10-point win that wasn't that close. In this scenario (see 0:13-0:26), he shows off his ability to help and, guarding All-America candidate Tyshawn Taylor, displays tremendous tenacity and foot speed to thwart the drive, followed by perfect shot-block timing in the open floor. Still just 18 years old, Gilchrist has the attitude -- in addition to the tools necessary -- to become both a defensive stopper and dominant rebounder as a pro.
As a result, his metrics are off the charts.
Kidd-Gilchrist -- who also scores nearly 13 points per game -- averages close to 8 rebounds from the small forward position while defending the opponent's best scoring option every night.
Aggressive in the passing lanes and aware off the ball, he is even more dominant on the ball, where he uses his length to bother scorers and quickness to cut off drives. According to Synergy Sports, he ranks in the 86th percentile of all Division One basketball guarding drives to the basket. Inside of 17-feet, where the game shortens, he is arguably the best defender in the country, forcing his man into a putrid 2-18 shooting in such situations.
The NBA Draft is largely based off of potential and projections as to who has the highest ceiling three to five years down the road. But with guards and small forwards, the majority of those projections comes from the offensive side of the ball. Whether he enters the draft or not, Kidd-Gilchrist has already emerged as an elite defender who has the opportunity to become one of the best in the league. As a pure shooter, he remains a work in progress, particularly from distance, but given his natural finishing ability above the rim and knack for drawing contact in the lane, he can -- without question -- step on an NBA floor and be a plus player today.
Email me at jordan.schultz@huffingtonpost.com or ask me questions about anything sports-related @206Child for my upcoming mailbag.
Plus, check out my new HuffPost sports blog, The Schultz Report, for a fresh and daily outlook on all things sports and listen to my radio spot on 1280 The Zone every Friday night at 6:25 EST.
Popular in the Community