I first came to Kenya via its northern border, crossing from Ethiopia to the nondescript town of Moyale. Somehow, I had forgotten to bring enough cash with me to pay for my Kenyan visa, and the ATMs in Moyale weren't working. The immigration officials could have turned me away, and forced me to head 200 miles north to the nearest town in Ethiopia with a cash machine. Instead, the officer, grinning broadly at my obvious relief, pasted the visa into my passport, stamped it, and asked me to pay the fee at the immigration headquarters in Nairobi.
The first 300 miles passed through beautiful but forbidding desert, scrubby dunes eventually giving way to mountains in the west. It had a frightening reputation, both for the terrible condition of the road -- four inch corrugations liberally scattered with rocks the size of fists -- and for its roaming bands of ill-intentioned militia and castle-rustlers. My budget didn't allow for the compulsory armed escort and, anyway, it seemed a little cowardly to have a guard riding pillion. I slipped out of town before dawn to avoid anyone taking issue with me leaving alone. I spoke briefly with some Samburu girls, stayed prudently far from the occasional truck lurching its way to Ethiopia, prayed my bike wouldn't shake itself to pieces before I reached Isiolo, and sweated, cursed and held on tight.

The Kenya I met in Moyale and across that desert was the Kenya of contradictions and anomalies, of great kindness and harsh realities that was going to become so familiar to me. I would spend the next seven years traveling back and forwards to Kenya, getting to know both the beautiful, resilient people and the punishing way of life that was far too common.
That first month, after both bike and I arrived safely in Nairobi, I volunteered at a children's home in one of the city's slums, along with two friends from the United States. The home was no doubt a lifesaver for the children that lived there, but with 300 children in a 3,000-square-foot building and no permanent staff, conditions were dire.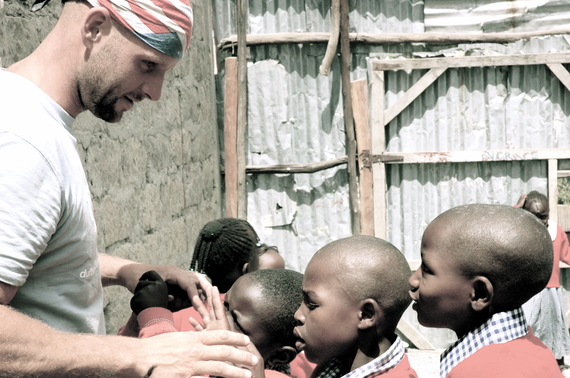 While there, I met a boy called John*. He was 12 years old and he had wanted to be a journalist. In more benign circumstances he would have had no problem fulfilling that ambition. He was intelligent, inquisitive, immaculately turned out -- the last no easy feat in the cramped conditions at the orphanage. He was head of the scout troop and thoughtful of the needs of the younger children.

When I met him, he had just realized he was never going to be a journalist. He had seen that he was going to have to leave the orphanage when he turned 18, under-educated, underprepared, with no support and no resources. He was, most likely, going to spend the rest of his life fighting to simply survive, selling CDs by the side of the road.

I understood the pain caused by the ending of a dream. I had already gone through a devastating career-ending setback. I, however, had had a great education and massive family support. I had been able to define a new goal and begin making progress towards it. To see a 12-year-old boy become aware that life was going to be a bitter disappointment was something I will never forget. My eyes were opened.
A year later, I co-founded Flying Kites, a home for orphans in Kenya. Our vision was not only to provide the children in our care with a great education, but also give them a support structure that would help them achieve their dreams, no matter what those might be. I have watched our kids grow up and overcome the often frightful hand they had been dealt. John was one of the first children to join us at Flying Kites and he is working incredibly hard to fulfill his potential. Certainly, it's rewarding to see his progress and the progress of the other children. Watching their efforts inspires me to try harder, pushing me to do more with my life.
How dare I not succeed, with all the advantages that I have?
*Not his real name.
Read more about my journey on Indiegogo and next week here on HuffPost Impact.
Calling all HuffPost superfans!
Sign up for membership to become a founding member and help shape HuffPost's next chapter