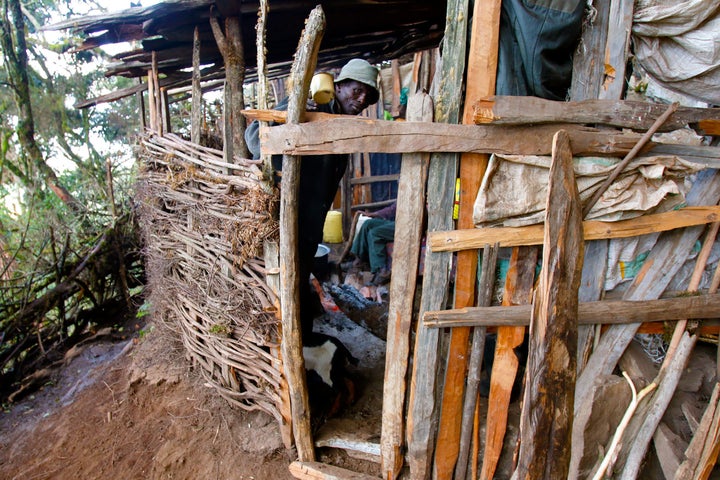 KITALE, Kenya ― The truck rolled to a stop in the middle of a bumpy dirt road at around 4 a.m. The engine cut off, falling silent. Ahead of us, encased in glowing fog, was a wall of trees.
"Better to go in on foot," my guide said. "The engine could wake up the officers."
We walked quickly across an open field that, in daylight, is fully exposed to a nearby barracks for Kenya Forest Service officers. Our visit to the Embobut Forest is unsanctioned ― hence sneaking past the barracks in the dark. I breathe a sigh of relief when we are successfully under tree cover.
Covering a 54,000-acre swath of rolling hills in western Kenya, Embobut is one of the country's last intact mountain forests. It's a vital watershed. The hills capture rain clouds, which feed rivers, which flow downhill to supply thousands of smallholder and commercial maize farms in Kenya's breadbasket. The forest is also home to several thousand Sengwer, a hunter-gatherer ethnic minority.
Embobut looks like a place frozen in prehistory, or lifted from Dr. Seuss. Ancient trees tower over carpets of grass; strange fluorescent flowers mingle with twisted vines and ferns; crystal-clear creeks crash through boulders.
But the beauty belies an undercurrent of controversy. The forest has become a flashpoint in a debate about indigenous peoples' land rights ― and the trouble that can ensue when those rights conflict with the country's strategy for fighting climate change.
The Sengwer have lived in this forest for generations, building simple wooden houses, and keeping bees for honey and livestock for milk and meat. The population is spread over a large area, and signs of their presence are few. Without a guide, a visitor could walk for hours and only encounter occasional cows.
But the Kenya Forest Service sees forest dwellers like the Sengwer as squatters whose growing demand for timber, water, pasture and farmland puts too much strain on a delicate ecosystem, especially as Kenya works to confront climate change and adapt to its impacts.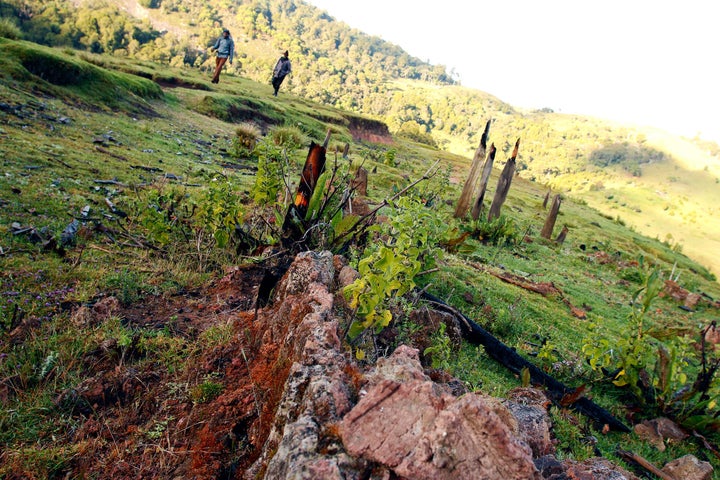 The Climate Factor
Forests like Embobut store massive amounts of carbon, and when the trees are chopped down, that carbon is released into the atmosphere as a greenhouse gas. Deforestation may be a less obvious culprit for global warming than a smokestack or tailpipe, but in fact it accounts for more greenhouse gas emissions globally than all cars, trucks, and airplanes together ― about 17 percent of all greenhouse gases released. Advocates against deforestation won a major victory in December 2015, when forest conservation in developing countries, which had been ignored in previous negotiations, was expressly mandated in the Paris agreement, as were billions of dollars in new funding to address the challenge.
For Kenya, preserving Embobut is an essential part of the country's contribution to lowering global emissions. Deforestation accounts for about 14 percent of Kenya's greenhouse gas emissions; the country loses an area of forest cover larger than Manhattan every year, as land is cleared for farming and trees are harvested, often illegally, for charcoal.
Nearly three-quarters of Embobut is considered "extensively degraded," meaning stripped of its original tree cover as a result of either logging or clearing land for small farms. Thus, improved forest conservation is key to reducing the country's carbon footprint. The Kenya Forest Service, in collaboration with the World Bank and European Union, has targeted Embobut for a number of multimillion-dollar initiatives to improve deforestation protection and to restore already-denuded areas.
At the same time, mountain forests like Embobut are vital to the Kenyan economy, because they provide water for its massive agriculture sector. A 2012 United Nations report found that deforestation in Kenya's mountain forests had cost the economy nearly $4 million, primarily because of dramatically decreased water availability for downstream farmers. Kenya's small farms, which are almost exclusively rain-fed, are particularly dependent on mountain river water during times of drought, which, thanks to climate change, are becoming more frequent.
Incentives, Intimidation
The upshot is that preserving Embobut is necessary for shielding Kenya from the ravages of climate change. Since the forest is already full of residents, how best to protect it is highly controversial. For the Kenya Forest Service, the answer is so-called fortress conservation: Remove the people and secure the forest.
Since the early 1980s, the Sengwer have lived through dozens of Kenya Forest Service eviction attempts. In some cases, families were induced with cash, up to $4,000, to pay for new property outside the forest. Other attempts were less diplomatic: The charred remains of houses and other buildings line the path through the forest, which the Sengwer allege forest service officers burned as part of a campaign of intimidation and harassment to drive them out. A 2014 World Bank investigation confirmed that evictions were commonplace, although the investigation failed to directly link evictions to bank-financed conservation programs.
Life in the forest remains perilous. In early December, activists say, forest service officers burned a dozen homes before a court order temporarily halted further evictions.
Rose Akombo, a senior official in the Kenya Forest Service climate change division, denied that officers were responsible for burning homes. But she said non-violent evictions are justified, as forest dwellers have transitioned from low-impact hunting and gathering to settled farming and construction of larger, more permanent housing, which is illegal in national forests.
"Many years ago they were smaller populations, and they weren't building houses, so the impact was minimal," Akombo said. "But every day the population is increasing, and the impacts have already been felt. When [the Sengwer] are there, the forest will be degraded and will not recover."
David Yator Kiptum, a Sengwer community organizer leading the campaign for a peaceful compromise with the forest service, disagreed. He said the Sengwer recognize the vital role forests play in the global campaign against climate change. The forest dwellers want to be seen as partners in conservation, he said ― not obstacles.
"Our ancestors have lived here since time immemorial, living the traditional way," Kiptum said. "Evicting us from our ancestral homes is not a solution to conservation. Neither is it a solution to climate change. But the evictions have really pushed the Sengwer community to the verge of extinction."
With each visit from Kenya Forest Service representatives, the Sengwer push deeper into the forest.
I followed Kiptum past several glades littered with the charred wreckage of old settlements, then veered off the trail straight up a steep hill. Houses are targets, so traditional wooden structures often have been replaced by small thatched huts, or even more primitive dwellings. At one point, we pass a hollowed-out tree trunk containing a dirty blanket and the remains of a cooking fire.
The most common refuges are caves. As we approached the top of the hill, Kiptum let out a whistle. A beat later, another whistle answers. We follow, Marco Polo-style, until we meet a man in rubber boots, a mud-splattered jacket, and a floppy bucket hat. He leads us toward an outcrop of rock overhanging the hillside. Beneath the outcrop, a rough wooden fence surrounds two dozen goats hungry for breakfast and raising hell. In the center of the pen is a secondary enclosure, pressed against the rock wall, containing a small mattress, a log bench, and a fire, over which a teenaged boy is preparing a pot of tea. Articles of clothing, water bottles, jerry cans, and cooking implements hang off the fence; goat feces and mud carpet the ground.
Scorched Earth And Prayers
David Kibor, the man who met us on the path, has lived here for the last three years. His wife and sons move between here and houses with family outside the forest. Here, Kibor, 57, tends to his goats and manages a few beehives. A yellow bucket near the bed is filled with dripping orange honeycombs. Kenya Forest Service officers burned his old house in the glade, he said. They haven't found this spot yet, although they've come close. The place is cramped and a bit smelly, but it's relatively safe.
"The bed is covered when it rains, at least," Kibor said.
After tea, Kiptum took us up the hill past another cave dwelling. It's unoccupied, but the cooking fire is still smoldering. The occupants have taken their goats out to graze, he said. At the top of the hill, an odd pile of fresh cow and goat bones, some still sticky with hair and bits of flesh, marks the place where a group of Sengwer elders recently completed a traditional religious sacrifice to pray for peace.
The view from the top of the hill is spectacular, revealing an expanse of rolling forest and grassland that stretches toward the horizon. It's easy to understand why people would be reluctant to leave this place. As we take in the scene, two young boys approach, one clutching a dinged-up Walkman crackling out Kenyan pop. They're shy and skittish, but guide us into a stand of trees. On the ground is a circle of blackened wood chips, like the remains of a giant campfire. Their family had a hut here that was intact when the boys left the forest a week ago to attend school. When they returned, a charred patch of dirt was all that was left. It was the second time the same house had been burned.
"They feel very bad," Kiptum translated. "Every time they come back, the situation is no better."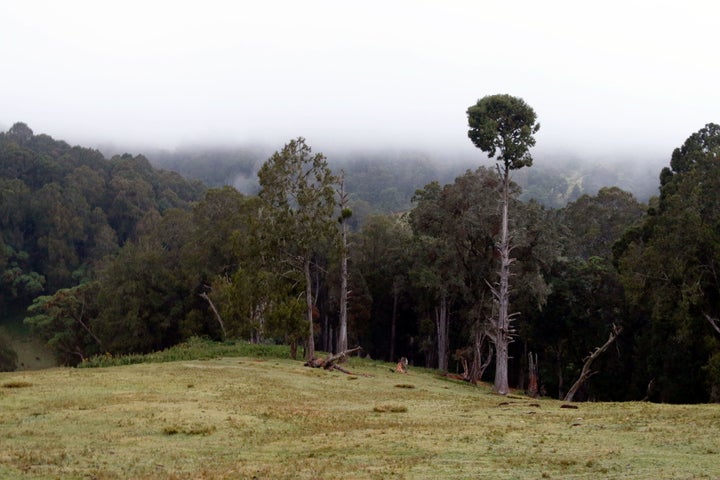 From Forest To Courtroom
Now, the Sengwer are fighting to give the younger generation a future beyond tree trunks, goat-filled caves, and burned huts. A growing chorus of activists and scientists say Kenya Forest Service's scorched-earth approach ignores the potential value of the community as live-in conservators, who could limit development to agreed-upon areas and help the forest service patrol for illegal logging.
"The truth is that most officials think the way out is just to pay people off and resettle them," said Liz Alden-Wily, a land rights lawyer with decades of experience in sub-Saharan Africa who has helped the Sengwer lobby the government for titles to land in Embobut. "There is hardened opposition to the obvious solution, which is that indigenous peoples should be made conservators and strictly bound to that duty. The tenure fate of these areas is directly linked to social justice, peace, and how climate change is mitigated."
That approach is grounded in research: A 2012 peer-reviewed survey by ecologists with the Center for International Forestry Research of 73 forests around the world found that those managed by local communities generally see lower rates of deforestation than those protected by government agencies.
Philosophical differences aside, Kibor insisted that the Sengwer claim to residency is supported not just by ancestry, but also a slate of new laws meant to confer formal land titles to indigenous communities for the first time. The fight over the Sengwer's future is shifting from the forest to the courtroom.
Recently, Kenya has adopted a series of land law reforms that, at least on paper, recognize a new right to communal land ownership by indigenous people. Kenya's 2010 Constitution provides for community ownership of "ancestral lands and lands traditionally occupied by hunter-gatherer communities," and the 2016 Community Land Act lays out the protocol for communities to apply for titles.
'It Cannot Be Owned By One Community'
Kenya Forest Service's Akombo said the agency is slowly loosening its grip on the forest, and adopting a more liberal policy toward access for forest dwellers. But Sengwer ownership is still off the table.
"We have to appreciate that the forest is full of people. There are people who are settled near these critical ecosystems and call it home. But these ecosystems are public goods," Akombo said. "It cannot be owned by one community, because other communities depend on it."
Over the last few years, the forest service and Sengwer leaders have argued the point in a series of mediated arbitration meetings, without reaching a resolution. The question of who owns Embobut will most likely have to be settled in court. Kiptum, with the help of Alden-Wily and the Katiba Institute, a Kenyan legal nonprofit that litigates constitutional cases, is gearing up for a challenge under the Community Land Act. But Kenyan local courts are notoriously sluggish, and the process is certain to be drawn-out and expensive. The act requires, among other things, exhaustive surveying and mapping of the land in question and a formal census of the community.
Still, Kiptum said as we walked out of the forest that it's a fight worth having: "We are hopeful that one day we will reach a solution where our rights will be recognized, to live in and to own our ancestral land. One day our voice will be heard."
Support HuffPost
The Stakes Have Never Been Higher
Related
Popular in the Community