MOMBASA, Kenya ― The morning of Aug. 8 should have been an incredibly exciting day for me. I was a young Kenyan voting for the first time in the general elections. It was exhilarating, don't get me wrong. But it was also a very trying experience. So much was at stake, and yet so many people had also already written the vote off as meaningless. Was I naïve to believe that I'd have a shot at democracy? That my vote could mean a better future? A better Kenya?
I headed to the polling station with my dad at around 10 a.m. It was late by most standards; some people had begun lining up at their respective polling stations hours before they opened at 6 a.m.
The streets were unusually empty ― everyone was either at home or queuing up. When we arrived at our station, the line was already snaking around the road and moving painstakingly slow. We waited for almost three hours.
As we waited, it began to pour. We shared two umbrellas between almost 10 people. Voters next to us edged themselves under the protective shade to escape the downpour. In our shared, frustrating experience, the people standing beside us became friends, and the conversation transitioned quickly into a scathing review of the politics of the day.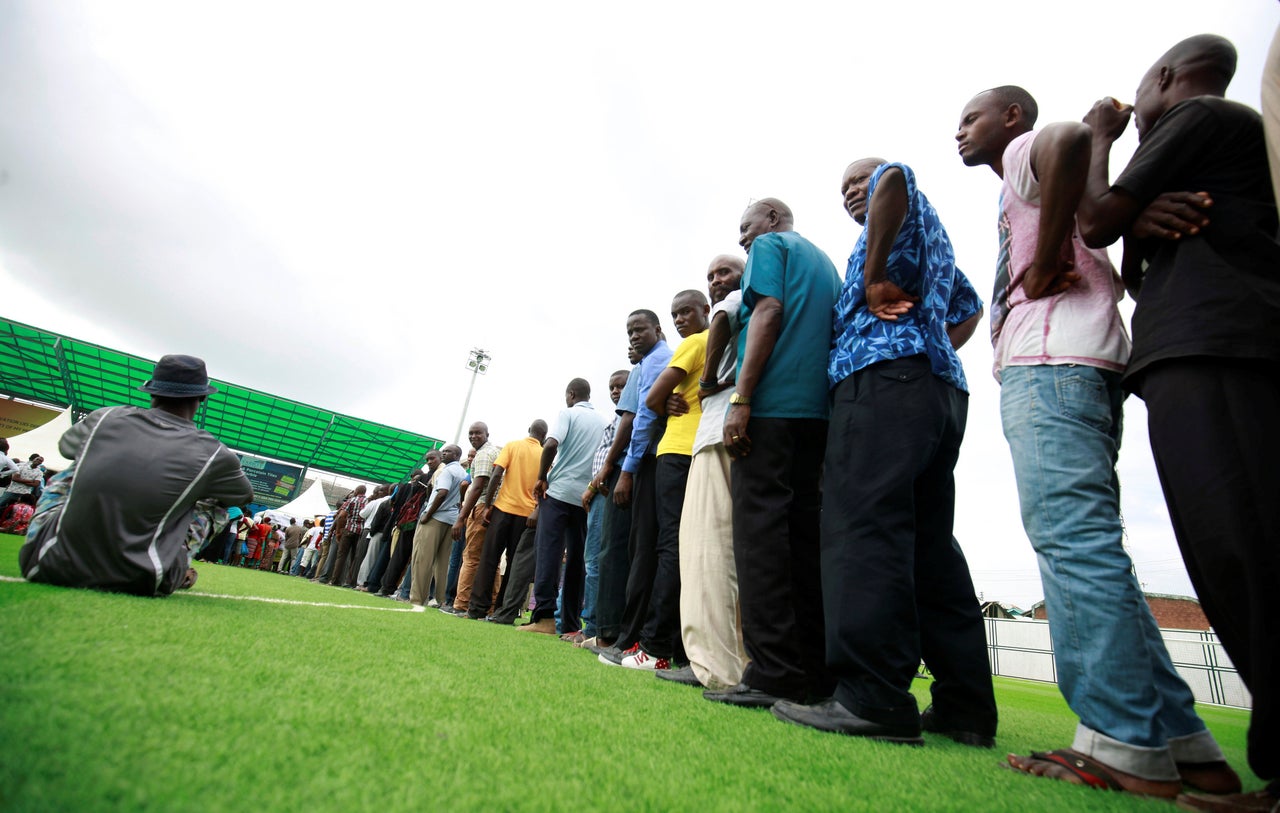 An old gentleman made a statement: "Whoever you support, in the end, all these politicians are part of the same club. Don't be deceived."
He was suggesting that we should not take the political divides that seriously and then fight amongst ourselves. People laughed and voiced their agreement.
For me though, the problem was precisely that. I was having a hard time separating person from politics ― the politicians simply blurred into one another.
This wasn't due to the fact that I was uninformed about the process or the candidates. Or because I am young and not accustomed to voting. In fact, perhaps it is because I had spent my summer working with artists and activists who were so dedicated to making sure the elections ran smoothly, that the optimism was contagious. These were people who wanted to inspire change, especially at the younger levels, and ensure democracy ran peacefully so we didn't see a repeat of the violence that rocked the country in 2007 and 2008. Back then, a disputed result led to unrest that left more than 1,000 dead and uprooted some 600,000 from their homes.
"'Whoever you support, in the end, all these politicians are part of the same club. Don't be deceived.'"
Still, it feels terribly embarrassing to admit my second-guessing on Election Day given this. I was part of a voter education program this summer led by a Nairobi-based organization called PAWA254 and supported by the International Foundation for Electoral Systems, or IFES.
In the lead-up to the 2017 general elections, PAWA254 implemented a program called Changamka Na Sanaa in Swahili, which loosely translates into "creative action," in partnership with several other organizations. The project educated voters by communicating procedures, rights and responsibilities, as well as calling for peaceful elections using various art forms like music, spoken word and graffiti. It took place in major Kenyan cities like Nakuru, Kisumu, Nairobi and Mombasa, with a particular focus on neighborhoods that might be considered hotspots for violence during or after the elections.
The idea of using art to call for peace, perhaps like a first-time voter celebrating her exercising of democracy, may seem idealistic. One young Kenyan PAWA encountered in the Nairobi slum of Mathare, for instance, brushed off the idea as useless.
"Every election year you preach to us about peace and voting, but nothing ever changes. Why should we continue to care?"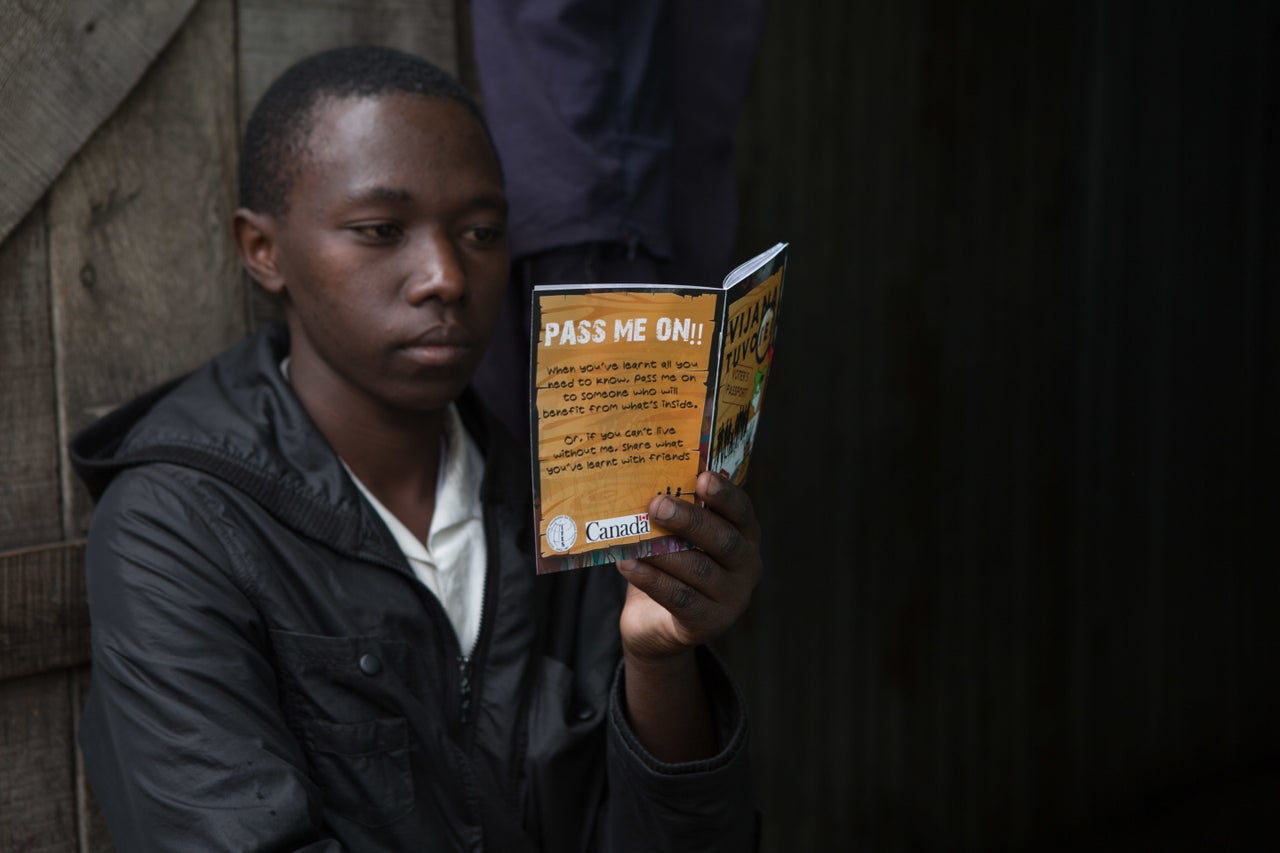 Another young man next to him agreed, saying that many youth also feel that the system is so corrupt that even if they go out and vote, it won't make any difference since the outcomes are already decided.
"It's a jungle out here. No jobs or stable income. The only day that you get to worry about is today. Tomorrow and the next day will sort itself. That's why you see us taking even the very little that the politicians offer us during this campaign season. After they are elected, we hardly see them around."
Messages of peace are generally not being taken in good faith here. Many Kenyans say that peace cannot involve simply staying silent and needs instead to be predicated on justice and credible elections. This is a tough idea to contend with, because it does contain significant grains of truth. Does peace mean that we should stay silent in the face of injustice?
One graffiti artist ― known as "Shakes" ― in Mombasa taking part in Changamka Na Sanaa finds his answer by taking a form of art known for its rebelliousness and channeling it into a positive force for society. In this case, he used graffiti to remind people to vote consciously ahead of the election.
"'We have a lot of scars in our past ... We have to paint the stains over with peace messages, just to remind Kenyans that it's not always about tribe, it's not always about killing, it's not always about shedding blood.'"
"We have a lot of scars in our past, especially when we remember the violence that erupted in 2007," he told PAWA254. "We therefore have to paint the stains over with peace messages, just to remind Kenyans that it's not always about tribe, it's not always about killing, it's not always about shedding blood."
I agree with him. Taking into account the yet unhealed wounds of post-election violence a decade ago, creative movements like this can help us peacefully channel our frustration and anxiety into something meaningful. This is particularly true for the youth, who today make up the majority of the total population and are often targeted by politicians to carry out violence. Graffiti has the unique feature of bringing young people together through the medium as well as the message since, through its very nature, it's public and has street credibility.
While at PAWA, I also had the opportunity to go into some informal settlements with the team and witness mock elections. What was really incredible to me was the chance to interact with other Kenyans of diverse backgrounds, providing information about the electoral process and answering any questions people had.
All of this informed me as I stood in line to vote on Tuesday. I passed on messages to those around me, and I made sure they had the information they needed and understood what the process would look like generally so they would not be confused.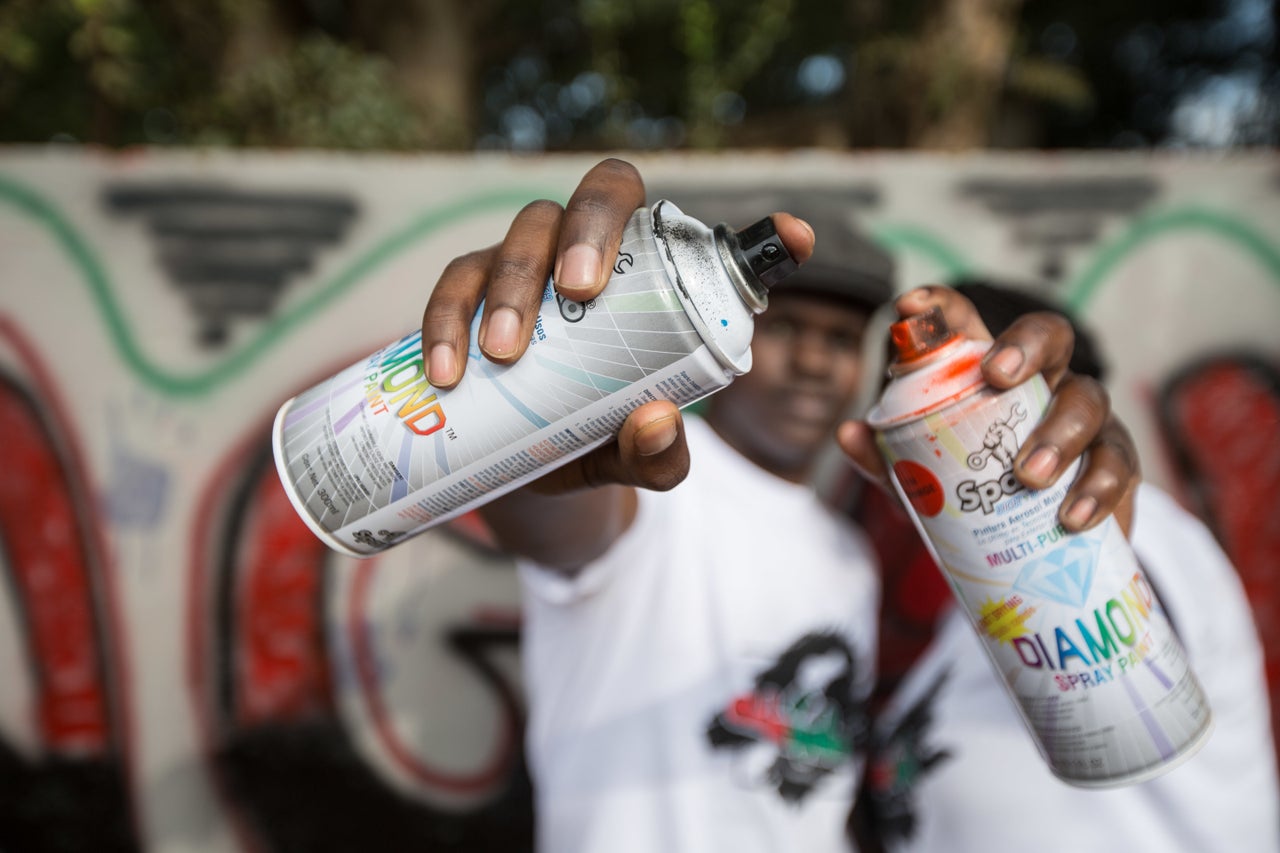 Yet I was still extremely torn about where my political loyalties lay. In a conversation about the election with my Uber driver about two weeks prior, he was extremely shocked to find out that I was an "undecided voter."
"Wow!" he exclaimed. "I'd heard rumors that about how 8 percent of voters were still undecided, but I didn't believe there were any in reality!"
In return, I asked him if he knew who he would vote for.
"Of course! I already decided that years ago."
A little over a week later, I had another conversation with a different Uber driver. The election was only a few days away, so the topic was inevitable. We started talking politics in general, and then he revealed to me that he wasn't going to vote this year.
"'Why should I waste my time when it won't have any impact on my life? I haven't seen any results from the past few years.'"
"Why should I waste my time when it won't have any impact on my life? I haven't seen any results from the past few years, and only now, when they want our vote, is when they show up to our doorsteps and give handouts so they can have power," he said.
"Well, don't you think it's your duty as a citizen to vote and then hold them accountable?" I replied.
He laughed. "How are you going to hold them accountable? They could easily just ignore you for the next five years!"
I thought about it, then I said to him: "I understand why you don't believe it's possible, but I have to believe that it is. We need to figure out the methods of accountability and keep at it, tirelessly, so we can have improvements."
We didn't come to a consensus before the ride came to an end, but it really got me thinking. It took me back to an experience I had while we were doing voter education in an informal settlement area of Nairobi called Mukuru kwa Njenga.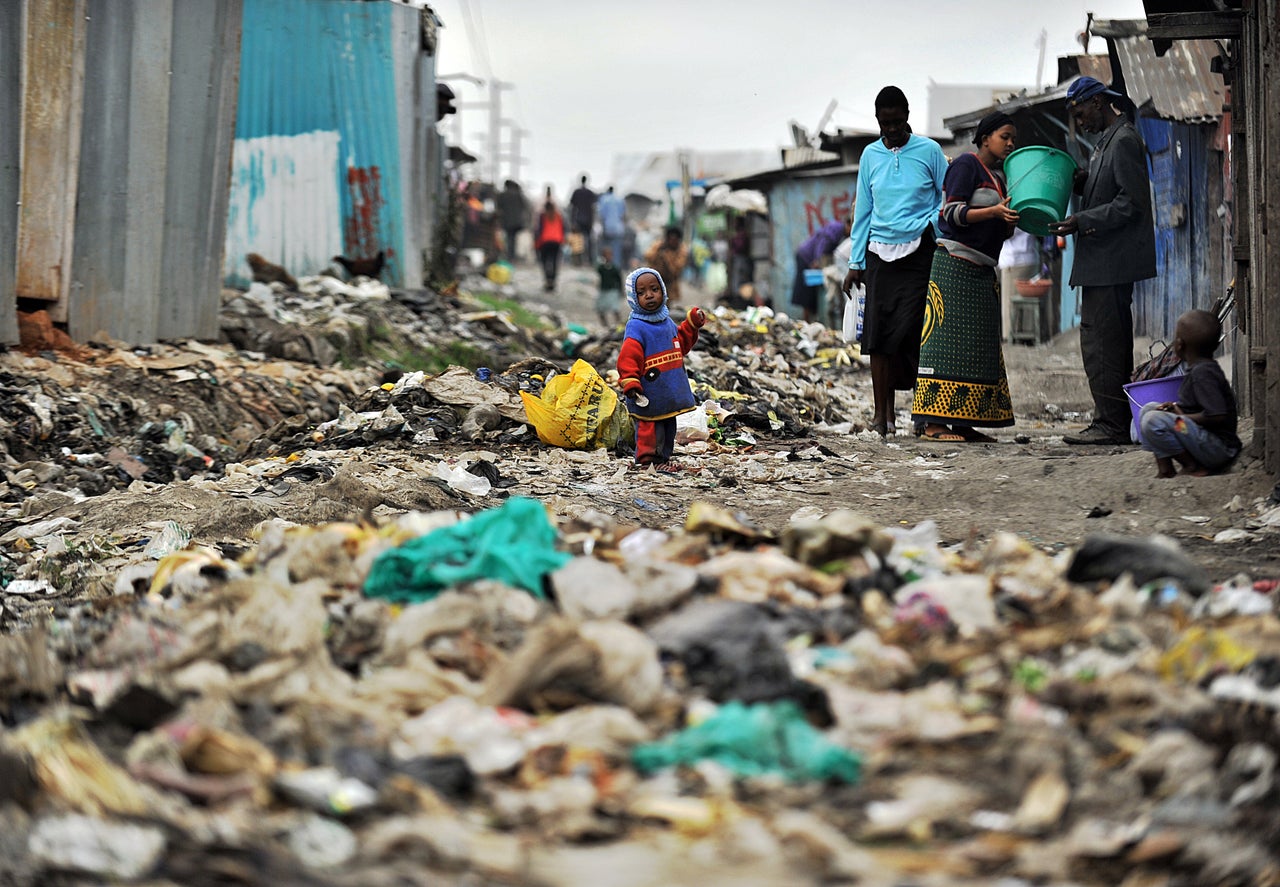 We were walking through a pathway that seemed almost like it was paved with trash. The garbage had become part of the road, flattened out from countless feet walking over it, day in and day out. As I was stepped forward, my feet began to sink into the quagmire with a squelching sound.
I spotted a campaign billboard nearby with a picture of the politician vying for a position in the area. The billboard had a long list of items he had delivered over the past five years. This list was so long that the billboard was more text than image. I weeded through the trash by stepping on some stones and clutching onto the nearby wall. All the while, I kept thinking to myself, "what was this guy really doing for the past five years if there's still no system to get rid of this trash and there isn't even a proper road?" Of course, this is just the tip of the iceberg when it comes to the issues facing Kenyans today. But it's something.
It's now been a few days since the vote. Early results from the presidential election put the current president, Uhuru Kenyatta, ahead of his opponent, Raila Odinga. Odinga has cried fraud and hacking, and there have been small-scale riots in pockets of the country. People fear even more violence in the days and weeks ahead as we await the official results ― a déjà vu of elections past with more polarization driven by ethnic and other divides. It's another instance of African democracy faltering and not the perfect example for the continent, some say.
But I don't see it that way.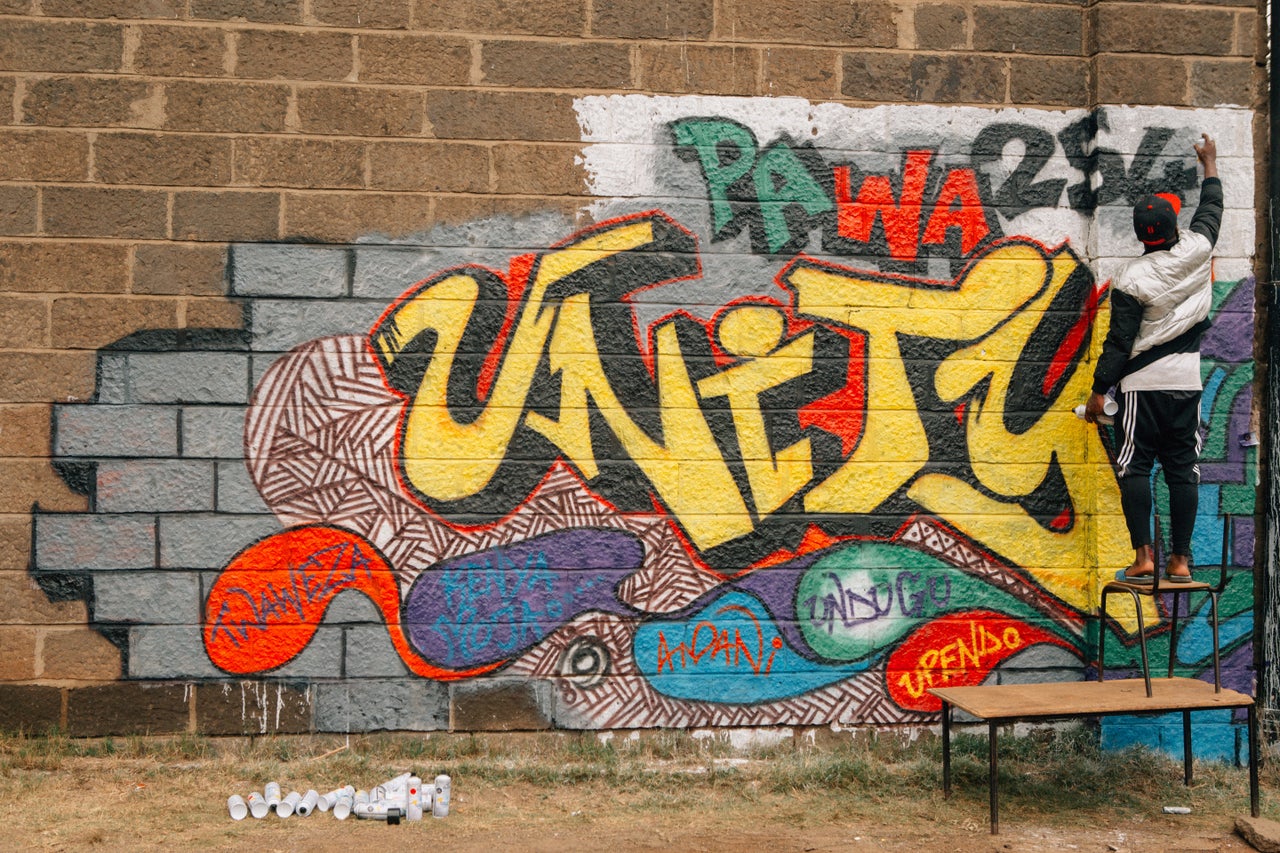 However the results and aftermath turn out, Aug. 8 was a historic day for Kenya. Kenyans cast their votes relatively peacefully. This much makes it clear that despite their cynical view of the country's politicians being useless or corrupt, Kenyans still believe in the value of democracy. If they didn't, they wouldn't have woken up so early in such large numbers and braved the unpredictable weather and potentially violent conditions to wait in a seemingly never-ending queue just to cast their ballot.
Whatever happens, and whoever is elected president, our task as citizens in upholding democracy has just begun. It's up to us to make sure we don't just trudge through garbage-infested streets and turn a blind eye to our problems. We must make the calls and hold politicians accountable to ensure this isn't our reality.
When I finally got to tick my ballot papers and ink my finger, I didn't feel so uneasy anymore. Standing in line at the mercy of the rain with my fellow citizens around me, I realized that no matter who comes into power at the various levels of government, my duty, and the duty of every Kenyan citizen, is to actively raise the issues that impact us to our leaders, to band together, and to make sure that real, positive development takes place within our respective communities so we move forward as a collective whole. That, to me, is true democracy.
Before You Go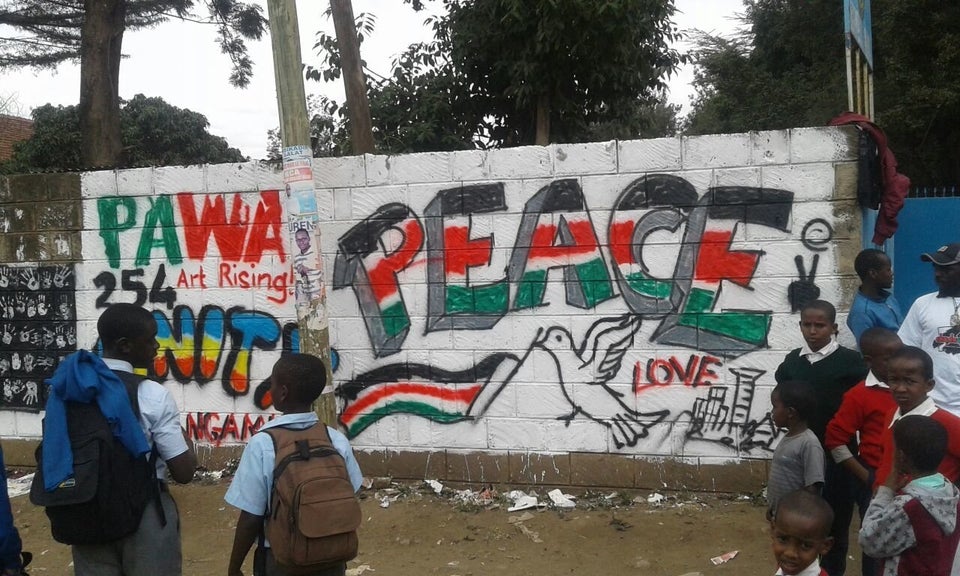 Peace Through Graffiti In Kenya
Popular in the Community