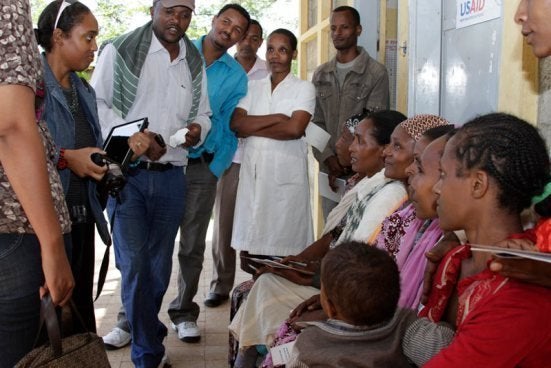 This post is part of the Global Mom Relay. Every time you share this blog, $5 will go to women and girls around the world. Scroll to the bottom to find out more.
It's quite amazing how often people reach their life's epiphany moment when visiting or living in other countries. I reached mine when I visited Kenya a few summers ago with ONE and saw U.S.-funded programs in practice and met the people they help every day.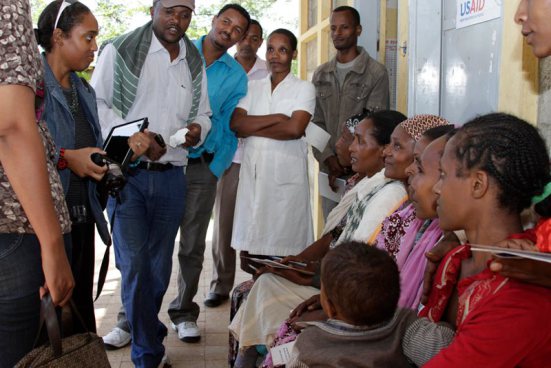 Jennifer James (iPad, sunglasses) in Ethiopia visiting health workers at a community health post. Image credit: Save the Children/ Michael Tewelde
Jill Sheffield, President and founder of Women Deliver, is no different. She had her life's epiphany moment decades ago while working in a family planning clinic in Nairobi, Kenya. The clinic, at that time, was the only family planning clinic in Nairobi, Sheffield told me last week via phone. Many women sought services at the clinic without their husband's signature, which was required for them to get access to family planning services. As the only non-Kenyan who worked in the clinic, Sheffield thought that was unfair and told everyone she was prepared to disobey the rules for the women who desperately needed help.
One day, on Sheffield's 27 birthday, a 27-year-old rural Kenyan woman arrived at the clinic. She had boarded a bus at 4 a.m. in the morning with two of her youngest children in tow; one on her back and one swaddled on her front and she waited to be seen for hours in the burning sun with little to drink. After finally getting to Sheffield's patient desk, she learned the woman had had 11 total births and only six of her children had survived.
Sheffield's life, in comparison, was markedly different even though both women were 27. She had no children and had not been pregnant. She had choices that many Kenyan women only dreamed of being able to make. "That was the moment the light bulb went off for me to give more women choices," Sheffield said. "For me it was so clear," she said through tears while thinking back to that moment. "I thought it was a miracle she was alive. I think about her often. She was my touchstone."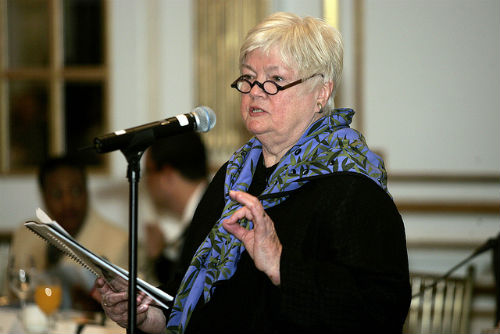 Jill Sheffield, welcoming attendees to an African First Ladies and Ministers of Health MDG5 Forum focused on Maternal Health issues. Image credit: Women Deliver
Most of us can think back on the precise moment or person who has affected our life's work. A week in Kenya did it for me! I came back to the States with an immense fire to lend my voice to women and mothers who are often voiceless, and to travel often to learn more. That led me to start Mom Bloggers for Social Good, a 1000+ member-based organization of mothers who care. Since living in Kenya, Sheffield told me, she has tried to focus on issues that not only save women's lives, but make their lives better. "We have the solutions," she said. "We just need to scale them."
Issues that affect women and girls will be on the global agenda during Women Deliver's 2013 conference. It will be held in Kuala Lumpur, Malaysia starting May 28 through May 30. Women Deliver, as well as conference partners, sponsors, experts, researchers and advocates, will make the case once again about the importance of investing in women and girls. "Investing in women and girls is not just the right thing to do," Sheffield noted. "It's the smart thing to do."
"When women and girls are educated and healthy and have access to sexual and reproductive health poverty will decline, Sheffield stressed. "It all depends on them having choices.
As a leader in the global movement to help women and girls in developing countries, Jill Sheffield has taken her epiphany moment and has used it to touch the lives of millions. We can all take a cue from Sheffield and utilize our epiphany moment to fuel us to help as many people as we can during our lifetime.
Each time you share this Global Mom Relay piece on Facebook, Twitter, or Email, or donate $5 or more through clicking on the above graphic, a $5 donation (up to $62,500 per week or $125,000 every two weeks) will be donated by Johnson & Johnson and the Bill & Melinda Gates Foundation to the Mobile Alliance for Maternal Health(MAMA). Join us by sharing it forward and unlock the potential for women and children around the globe. For more information, visit www.unfoundation.org/globalmomrelay. The United Nations Foundation, Johnson & Johnson, BabyCenter, The Huffington Post, and the Bill & Melinda Gates Foundation created the Global Mom Relay, a first-of-its-kind virtual relay with a goal of improving the lives of women and children around the globe.
Related