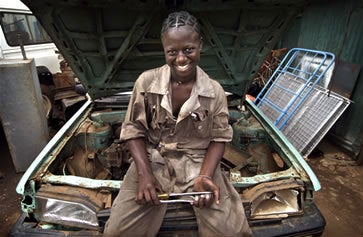 It is estimated that 3000 Kenyans are born every day, a million a year. With a median age of 18 years, Kenya is witnessing a massive youth bulge, which could either be a demographic dividend, or a disaster.
Africa's youth bulge, and Kenya's in particular, should largely be the basis for optimism offering great opportunity for socio-economic take-off. Six of the countries with the highest economic growth rates are in Africa.
These statistics call for a reconsideration of the current emphasis on indicators such as Gross Domestic Product (GDP) to measure well-being. At the just concluded World Economic Forum in Davos, Switzerland, speakers passionately urged nations to move the focus away from plain wealth creation and instead embrace a more inclusive development agenda.
A recent ECA report underscores the importance of ensuring that marginalized and excluded groups, including the youth, are integrated into the development and decision-making process so as to accelerate the transition towards a more sustainable and equitable development.
Today's youth are key to any sustainable development strategies as enunciated by the SDG 8 - Decent Work and Economic Growth. However, soaring unemployment among the youth is a major problem across the region. The ECA report cites an estimated 10 to 12 million new people join the labour force each year in Africa, yet, the whole of Africa creates on average of merely 3.7 million jobs per year, of which only 28 per cent are wage-paying formal jobs.
President Uhuru Kenyatta, once remarked "the crisis of mass youth unemployment… is a crisis so serious as to amount to a fundamental, existential threat as well".
The country's formal sector is unable to absorb the huge number of job seekers contributing to high informal sector employment rates in the continent, with about three out of four workers employed in casual jobs such as subsistence farming or urban street hawking.
At the moment, Kenya has about 81 dependents for every 100 working-age adults. Countries that have realised a demographic dividend typically have a dependency ratio of less than 50 for every 100 working-age adults. Gender inequality for example costs sub Saharan Africa US$ 95 billion in lost revenue. "If gender gaps can be closed in labour markets, education, health, and other areas, then poverty and hunger eradication can be accelerated", said UNDP Administrator Helen Clark at the launch of the Africa Human Development Report in Nairobi.
Supporting the informal sector will result in better infrastructure and an improved business climate, besides lowering the cost of production. In order for the informal sector to take a transformational leap, recognising and legitimising the sector is crucial.
According to the World Bank, Africa's agribusiness sector could be worth $1 trillion by 2030. To unlock this potential, Kenya needs to focus on industrializing its agricultural and commodity sectors, and on value addition.
A large generation of tech-savvy youth is already driving up the internet's contribution to Kenya's GDP. The current estimates show that by 2025 this contribution to GDP could grow to at least 5 to 6 per cent. With one of the fastest internet penetration rates on the continent, Kenyan youth can exploit information technology for various value-addition ventures in agri-business.
Also other sectors as for example Health can be looked at. Kenya for example faces a deficit of 180,000 midwives offering great job opportunity for young people. Equally, skills gap in the extractive industry needs to be addressed, as it holds potential of creating approximately 40,000 jobs for the next 10 years.
Steps should be taken to strengthen youth employment strategy in line with the education system in Kenya, to better deliver relevant skills and competencies by the job market. Norway is among the partners that support technical and vocational training, which is essential for both jobs and development.
Important lessons can also be drawn from, the McKinsey's Generation Social Initiative with 91% employment rate achieved after the program with 4000+ graduates were employed in its first 18 months of operation, or Andela, supported by the Chan Zuckerberg Initiative, training more engineers in Africa to get tech jobs.
The potential of a youthful generation that is better skilled than ever before must be fully translated into demographic dividend. Failure to meet the livelihoods challenge of the young people will have significant humanitarian, economic and political implications that will resonate internationally.
If Kenya is to make any meaningful headway towards achieving sustainable development, deliberate focus must be on investments that create jobs for young people. However, those jobs must be strategic in triggering a socio-economic transformation.
THEMES Youth unemplyment, Kenya, United Nations, Siddharth Chatterjee, Helen Clark, Demographic Dividend, SDGs,
Related
Popular in the Community