In late 2011, I began to give serious attention to my long-held ambition to climb Mount Everest. It had been a dream for many years, but was sidelined by my work helping to establish Flying Kites, a home for orphaned children in Kenya. As Flying Kites became more sustainable, and as we supported the children to chase after their dreams, I knew I could no longer ignore my own.
I wanted to climb Everest and I wanted to do it in a way that would make a difference to these children, and to Kenya. While researching my climb, I quickly discovered there had never been a Kenyan expedition to Everest. I decided to set out and find an eligible and willing Kenyan climber, to climb alongside him or her, and to turn the climb into a platform to inspire the country. The main goals of the expedition would be to share with Kenyans the belief that all dreams are achievable if you have the courage to pursue them, and to to inspire confidence in a bright future both for themselves and for Kenya.


When I first met Steve Obbayi, the Nairobi-based entrepreneur who will become the first Kenyan to climb Everest, I knew he was an incredible guy. Strangely, his Everest climb might, in the end, not be the most inspiring thing about him. His willingness to commit to the extraordinary challenge of climbing the world's highest mountain is merely one more manifestation of his fighting spirit.

The true inspiration -- and I am speaking as one he has inspired -- is how he has built his business and his life. He is determined, professional and passionate. He is humble and, in the pursuit of his dream, he has endured and overcome setbacks that will be familiar to so many Kenyans. Is there still merit in resilience when one has no choice except to be resilient? I'm not sure, but if I can face the same challenges he has faced, and remain cheerful throughout, I will be happy.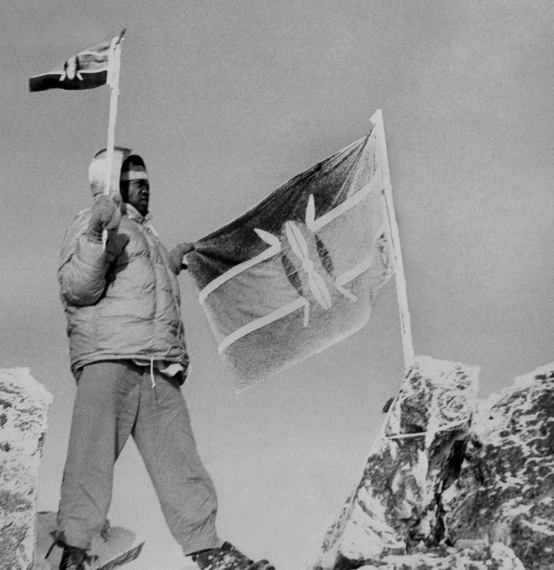 On the Dec. 12th this year, Kenya celebrated the 50th anniversary of its independence. Half a century ago, at midnight on Dec. 12, 1963, Kisoi Munayo raised the country's flag on the top of Mount Kenya. He radioed back to Nairobi, telling the country,
Hello all citizens and our visitors. I am speaking to you from the peak of Mount Kenya. Kenya, Kenyatta, the flag is flying. All over Kenya, the light is shining.
For Steve to echo that act by hoisting the flag on the summit of Everest would have such powerful symbolism. I am already excited in anticipation of that moment when Kenya sees that it has a new hero, a role model for the next fifty years.
Steve has told me, "This is not about being anyone special. It's about being a simple person with a passion so strong it pushes you to fulfill your dreams." I agree. We are all simple people, but it doesn't mean our dreams must be. I had a dream to climb Everest; I just never imagined that I would be doing it alongside Kenya's newest hero. As our departure draws closer (less than 100 days to go!), I vow to do whatever it takes to help Steve succeed and inspire his nation. For many years I've been trying to make sense of why my life has unfolded the way it has. I'm aware that I'm searching for a sense of destiny, for a feeling that fate has contrived to bring me to this point in life. Intellectually-speaking, I know that that is impossible; things happen without rhyme or reason. Maybe, then, I'm just not that intellectual because, whether it's fate, whether it's my agency or whether it's a rudely measured concoction of the two, I feel an incredible sense of convergence. The time is now.

Learn more about our climb here on Indiegogo.
Calling all HuffPost superfans!
Sign up for membership to become a founding member and help shape HuffPost's next chapter