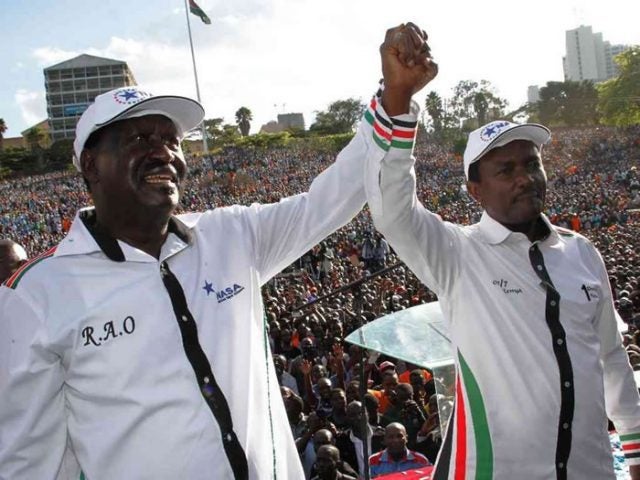 With Kenya's General Elections less than three weeks away, I want to reiterate a point most of my audience already know:
On August 8, 2017, I am voting for the National Super Alliance (NASA) ticket of Raila Odinga and Kalonzo Musyoka.
I am voting for the duo, not because they are "perfect" or "weupe kama pamba" i.e. "white/pure as cotton" – the straw man narrative peddled by their critics.
I am certainly not supporting the ticket because of "my last name" as banally and weakly offered by some readers. Yes my "last name" "Osiro", like "Odinga" (and "Obama"), is from the Luo tribe. However, I have been so far removed from the acrimony of Kenya's ethnic-driven political machinations for so long that my American-born teenage son's quizzical look whenever that subject rears its ugly head says it all:
"Seriously Dad? You are ALL Kenyans – right?"
I am voting for the duo because the choice this election cycle is between the last four years of Uhuru Kenyatta's and William Ruto's corrupt, incompetent and hyper-ethnic Jubilee Coalition and a Raila Odinga/Kalonzo Musyoka NASA ticket that offers a demonstrably more representative coalition and is better equipped i.e. more experienced to tackle the issues Kenyans identify as important to them including:
- Basic food and personal security,
- Devolution hastened by a more representative NASA partnership (The Coalition has five co-principals from across the entire country),
- Effective and efficient use of national resources,
- Aggressive and expeditious fight against gross AND official corruption,
- Honest review and remediation of historical injustices - for ALL Kenyans.
The choice between the principals Uhuru Kenyatta and Raila Odinga is NOT the proverbial choice between the "devil you know" (Kenyatta) and the "devil you don't know" (Odinga) or "the 'angel' you don't know" as some derisively characterize Odinga. Like the "white as cotton" meme, the "angel" characterization is another straw man his critics have tried to saddle him with so as to make tearing him down that much easier – classic "build him up to tear him down" move.
The reality is that Kenyans have enough data on Mr. Kenyatta and Mr. Odinga to make a choice.
I would argue that they have more information on Mr. Odinga given his long life in public service and as the face of the country's fight against the authoritarian, despotic and entrenched ruling elite – conversely embodied by Mr. Kenyatta; a man whose lineage includes Kenya's three invariably authoritarian, despotic, corrupt and ethnically-predisposed presidents of yore: father Jomo Kenyatta, mentor Arap Moi and godfather Mwai Kibaki.
NASA principal Raila Odinga, for all his faults (of which some would argue are many), has been the indefatigable "enigma" and embodiment of Kenya's fight – literally and figuratively – for democratic, multi-partyism and constitutional governance his entire adult life.
The race is a choice between a Jubilee leadership of the past four years that has been proven corrupt, incompetent and unaccountable to a majority of the country and a NASA coalition that is arguably less corrupt, more experienced and the very agents of change away from the "tyranny of the majority" the country has endured since independence.
The National Super Alliance Coalition (NASA) is accountable to a broader cross-section of the country – not the duopoly that formed Jubilee's "tyranny of numbers" coalition in 2013.
- Put food and clean water on every Kenyan table.
- Ensure that every child in Kenya gets quality education.
- Ensure that every Kenyan gets quality and affordable healthcare.
- Empower Kenyan women to take their rightful place in developing this country.
- Keep Kenya safe and secure both internally and externally.
- Develop a cogent foreign relations and trade policy for Kenya.
Effectively the duo told the country that they would have food on the table, access to basic healthcare, safe and secure communities, incorruptible and competent governance because the president and his deputy are a "digital duo" both with "their own money" thanks to their supposed youth, and respectively, membership in the country's richest family AND the work ethic and ethos of a "hustler".
The results are there for all to see:
- Kenyans are hungry and thirsty because of poor planning (to mitigate inclement weather, develop and expand infrastructure and increase food production) and corruption i.e. hoarding and price-fixing.
- President Kenyatta, his family and his deputy William Ruto and an assortment of friends have all been implicated in the most extensive, expensive and detrimental collection of grand corruption scandals Kenyans have ever seen – all during their 50+ months in office!.
- Extra-judicial killings are rife and some parts of the country are no-go zones due to insecurity and a corrupt and incompetent/ethnicized law enforcement and security apparatus.
- Basic healthcare is barely existent, in part due to poor planning and malfeasance; implicating the president's sister and cousin.
- While the relationship with China has generated unprecedented access to financial aid that has enabled the fast-tracking of Vision 2030 projects such as the standard gauge railroad (formalized in 2009 during Raila's Coalition government), said level of borrowing AND resultant abuse of availed funds have combined to create a level of public debt that has "put the Kenyan economy and its future at the risk of turbulence" according the World Bank.
All told, the current government of Uhuru Kenyatta and William Ruto has failed to deliver on the most basic pocket-book needs of Kenyans and that's why I am supporting the candidacy of Raila Odinga/Kalonzo Musyoka for the Presidency/Deputy Presidency of Kenya.
At this critical moment in Kenya's evolution, Raila Odinga and Kalonzo Musyoka are the right choice for a country that has been treated as the piggy-bank and playground of a select few. The NASA Coalition has availed additional seats at the national table for hitherto marginalized communities to partake in the "fruits of independence" - devolution on steroids as previously written.
And as offered during an exchange with colleagues on Facebook, I will make it a personal goal to track Raila Odinga's fidelity to elements and recommendations of the Truth, Justice and Reconciliation Commission Report (TRJC) – or variants of said report – because that one metric is arguably the single most important determinant of Kenya's long-term viability as a peaceful and stable polity.
Finally, and regardless of which party wins, it is my hope that ALL Kenyans will join me in pledging to:
- Partake in a PEACEFUL but even more importantly FAIR election.
- Accept results of the elections OR use the existing (legal/constitutional) mechanisms to resolve any disputes, the historical and demonstrable lack of independence and objectivity of said mechanisms/institutions notwithstanding.
- Reject in no uncertain terms, ALL forms of violence or incitement to violence INCLUDING use of law enforcement, para-military AND military assets to provoke/goad and/or brutalize those expressing how they feel about the outcome of the elections.
Calling all HuffPost superfans!
Sign up for membership to become a founding member and help shape HuffPost's next chapter
This post was published on the now-closed HuffPost Contributor platform. Contributors control their own work and posted freely to our site. If you need to flag this entry as abusive,
send us an email
.