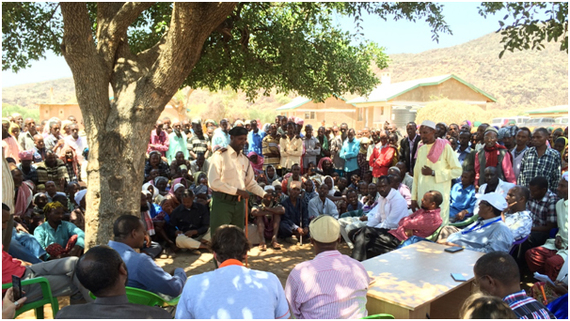 UNFPA and private sector representatives in Mandera county in Northern Kenya to develop solutions with the community and the county government. Credit: © Ilija Gudnitz Weber
The increased budgetary allocations to the health sector by county governments point to an acknowledgement not only of the enormous challenges facing the sector, but also of good health as a prerequisite to overall development.
There has never been a better time for partnerships that harness the power of business to drive prosperity by tackling health challenges. The combination of a growing population and preventable infections means that companies with a focus on solving consumer challenges can expect to record impressive profits while at the same time serving a social good.
The partnership seeks to significantly improve health outcomes in the counties, while also potentially creating shared value business opportunities, ensuring a sustained engagement that has a social as well as economic return on investment.
With support from the World Economic Forum, PSHP Kenya has built a strong platform to engage with key public and private stakeholders, create political support for the initiative as well as catalyse expertise for design of leapfrogging innovations.
It is not a partnership that is led by any one sector, but a coalition model where all players can see opportunity in line with their individual missions.
The active participation of the county governments and community organisations is helping to tweak technologies to suit local purposes.This approach is working impressively for instance in Mandera where Philips is establishing a Community Life Centre.
The Life centre is a health facility for providing vital primary care to mothers and children as well as a community hub. The local community can buy clean water and sustainable products like smokeless stoves and home solar lighting products, and benefit from solar-powered LED outdoor lighting that illuminates the area at night, improving security and extending daylight hours.
Other players like Safaricom and Huawei have started to pool their unique expertise and services in IT and mobile connectivity to design and test transformational digital health solutions. MSD has announced a USD 1.5 million grant, through its Merck for Mothers initiative, to a new project by JHPIEGO which will engage with the Kenya Red Cross Society (KRCS) in Mandera and Migori.
The situation in the six counties has in the past contributed to the country's reputation as a dangerous place for a woman to give birth. Reduction of maternal and child mortality rates are some of the Millennium Development Goal targets that Kenya missed last year. However, it is clear that it is also an opportunity for collective action and a commitment to shared value creation.
In the words of Michael Porter; "for too long have business and society been pitted against each other". The PSHP is showing the way in how different sectors with separate mission statements can be galvanized to find intersections in solving social problems.
For long, suspicions about the private sector's motives have created a wedge, preventing social programmes from accessing the knowledge, ideas, capabilities and resources that abound in private companies.
Shared value propositions will enable different sectors to leverage each other's assets, connections, creativity and expertise to achieve mutually beneficial outcomes.
We must continue finding new and creative ways to increase collaboration between government, the private sector and non-profits if we hope to reach Sustainable Development Goals.
Siddharth Chatterjee, (@sidchat1) is the United Nations Population Fund (UNFPA) Representative to Kenya. Dr. Amit Thakker (@dockker) is the chairman of Kenya Healthcare Federation.
Related
Popular in the Community