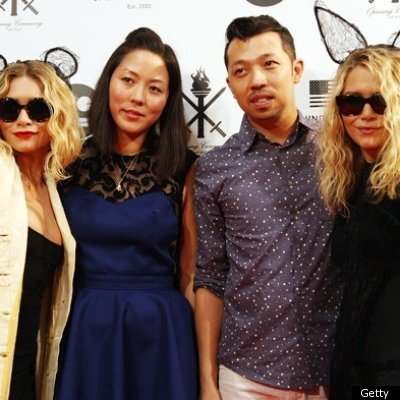 The fashion world has been doing a lot of chess moves lately, the latest, Kenzo has hired the Opening Ceremony duo Humberto Leon and Carol Lim to inject a bit of cool kid attitude into what has been a rather moribund house over the last decade.
Leon and Lim, proprietors of the ultimate It-boutique Opening Ceremony have officially been named creative directors of the LVMH-owned Kenzo. The french label has been lead by designer Antonio Marras for the last seven years and although his collections were keeping the label afloat in established European markets, according to WWD the bigger-picture numbers and future projections were really the deciding factor for a change.
So why the OC pair? Well what is surprising is that the two aren't actually trained designers, nor have they ever worked within a major fashion conglomerate before. Though they clearly have the creative mind set to design a full collection (Opening Ceremony does have its own in-house line), it did come as a surprise that such a storied label would take on two young up-and-comers to take the reigns for its revamp.
But again, it really was all about the money for Kenzo and re-entering the American market that they abandoned in 2003. If Carol and Humberto are experienced in anything it's how to make money in this business - and do it with a whole lot of style and flair (and famous fashion bff's like Chloe Sevigny and the Olson twins). The pair are an incredibly savvy business team, and with the combination of their engaging aesthetics, genius marketing/PR skills, and growing visibility among the world's most recognized style stars, there's no doubt that we'll be craving a lot more Kenzo after their debut collection is shown this October.
Leon and Lim are enthusiatic about their new endeavor, confessing their love for the Kenzo brand by saying, "Kenzo Takada came to Paris from Tokyo with bold new ideas for fashion and established an international company full of vibrant energy and color. We are thrilled to take Kenzo, a source of great inspiration for us, into the future with our generation and the next in mind."
Though the switch was just announced this morning, Humberto and Carol are already hard at work in Paris (notice how we said their first Kenzo collection will be released this October). And really, it makes total sense for these two to jump right in - that's just how they roll.
Related