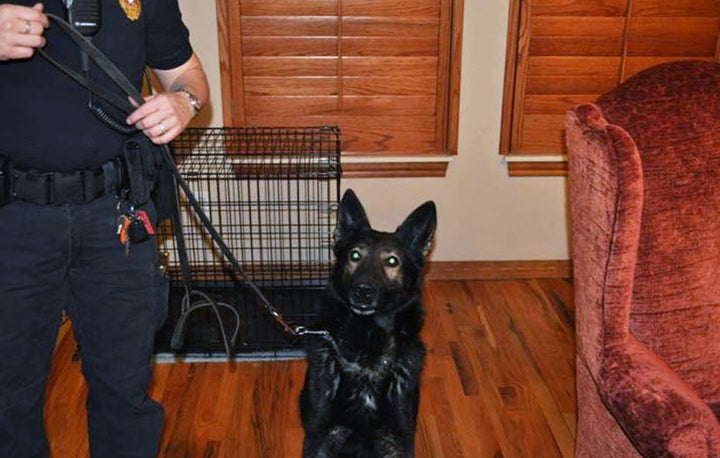 Authorities in Oklahoma are mourning the loss of a beloved police K-9 that was found dead under suspicious circumstances Saturday.
"We sent him off to a vet," where they will perform a necropsy on the dog, Moore Police Officer Jeremy Lewis told The Huffington Post.
According to police, Bak, a 5-year-old German shepherd, was last seen Friday night in a kennel on the property of his handler, Sgt. Kerri Andrews. Someone removed the lock on the security pen and either took the dog or allowed him to escape, police said.
"Someone let him out, but we don't know who," Lewis said. "We are still investigating."
A police officer found Bak's remains the following day more than a mile away, near Interstate 35 in Moore. The location was within the Oklahoma City Metropolitan Area. According to Lewis, there was obvious trauma to Bak's body.
For three years, Bak worked for the police department, tracking suspects, conducting building searches and sniffing out narcotics. He was one of two K-9s on the force and was considered a member of Andrews' family, police said.
"It's kind of hard to explain unless you've been in the situation. The bond between the handler and the dog is remarkable. They realize when the officer puts on his uniform, they go to work. When he comes home and takes off his uniform, they revert back to a family dog," US Police Canine Association National Executive Director Russ Hess told The Huffington Post.
While police are still trying to determine what exactly happened to Bak, authorities do suspect foul play.
"[He] was inside a kennel, inside a backyard, inside a gated neighborhood, so someone basically had to let him out of three things," Lewis said.
It is not uncommon for someone to target a police K-9, but Russ said it occurs less today than it has in years past.
"When we first started getting involved with dogs finding narcotics, there were several cases where dogs who found large stashes of narcotics had bounties put on them," Russ said.
According to Lewis, police are not aware of anyone who wanted to harm Bak. If a suspect is identified, he or she will be charged. Causing the death of a police dog in Oklahoma is a felony offense.
"The K-9s are considered an officer, but they are still an animal," Russ said. "Most states consider inflicting harm on a police animal, and that includes horses, with an increased penalty. It is not the same penalty as killing a human being. There is a distinction."
Anyone with information on Bak's disappearance and death is asked to contact Moore police at 405-793-5171.
Calling all HuffPost superfans!
Sign up for membership to become a founding member and help shape HuffPost's next chapter