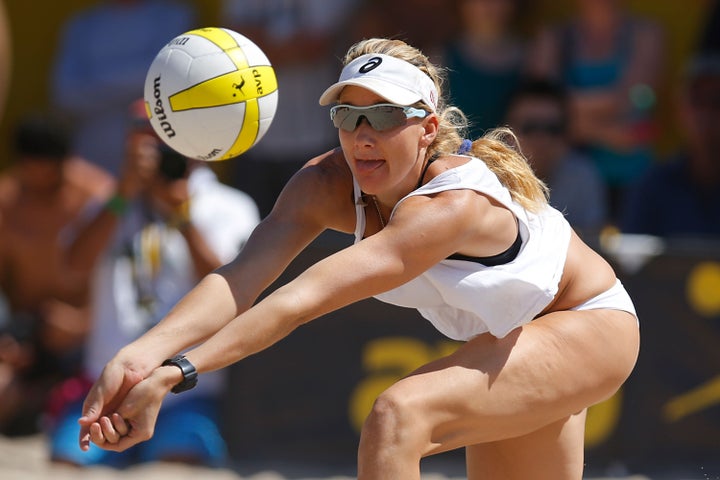 At 37 years old, Kerri Walsh Jennings continues to defy logic. She has won the women's beach volleyball gold medal in three consecutive Olympics, dating back to the 2004 Games in Athens. This summer, the former Stanford standout will embark on Brazil for the 2016 Olympics, with the hope of a four-peat, despite the retirement of her longtime playing partner, Misty May-Treanor.
Walsh Jennings, who is married to American pro beach volleyball player Casey Jennings, has balanced the role of mom to their three children seemingly effortlessly with a successful career. The Huffington Post caught up with her to discuss motherhood, her incessant training schedule and how sleep has become her biggest ally.
Early on in my career finances were an issue, and their competitor program really spoke to me because it's all about getting the Olympians the opportunity to fund their dreams, basically. It's a work program, they work with their schedules, they give them flexible hours, and if they have a qualifying meet or a tournament they work around it so they can go there.
They hire them; the wages are competitive. They're getting no freebies here, they're getting the opportunity to work. I can't even tell you how many companies have said, 'We hire athletes.'
What have been your biggest challenges getting ready for Rio? Has your body broken down more? Do you have the same level of energy in your training?
You know, considering that I had my fifth shoulder surgery in early September, coming back from an injury regardless of age is a journey. There are so many emotions and it's a rollercoaster. I can't have surgery. It's a process. That's been not a frustration, but a challenge, and it's a challenge that I'm very happy to accept. With my life now being a 37-year-old-woman, athlete, aspiring gold medalist, Olympic contender, mommy of three, wife to an amazing husband, my life is full of responsibilities that I didn't have my first two Olympics, to be quite honest. My plate is very, very full, but I'd have it no other way.
Do you have to schedule for when you're going to be with the kids, for a date night or when you're going to go the gym? How do you accomplish that?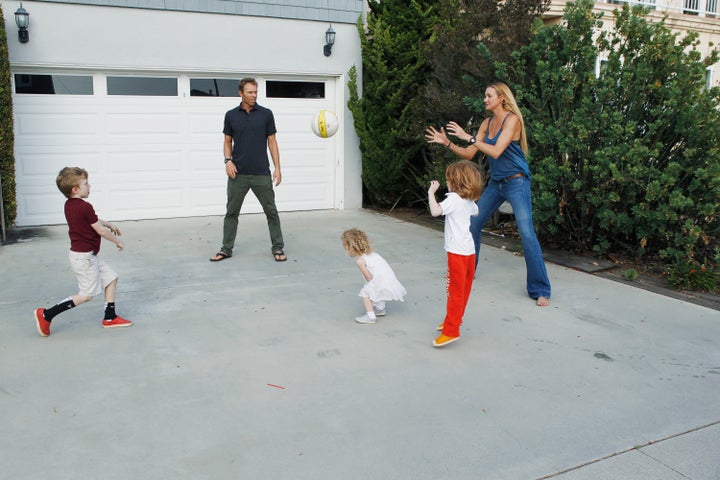 We're very scheduled, and it's not a limiting thing -- it allows us freedom. People look at our lives and think it's so restrictive, but it's like no, if you ask any parent, your kids need and want to be on schedule, and as an athlete that's what your life is.
You have to make sure you're checking all the boxes, that you're allowing time to recover, that you do your weight room, your Pilates, your recoveries, the beach training. So scheduling is very important, because if I don't' have that connection to what is most important to me in my life -- which is my family -- then all of that goes down the drain. So my husband and I work very hard as a team to make sure we plan and organize, and once we plan then we can adapt as we need to.
Everyone talks about flow and getting into that 'flow state' and being able to be very present, and that's what parenting has taught me, and that's so much of my work right now is working on being present and in that mindset where I can get into being a mommy or getting things done with my husband, or with my coaches. So much is possible if you're present and you have the right crew around you and the right mindset.
Being very honest with you, this is something that just this year I committed to. It took me my whole life to get to this point where I now understand the total value of sleep. I've woken up very early in the day to the cry of one of my kids, then once I'm up it's off to the races. I get them ready for school, pack their lunches, go, go, go. So I got sick of hearing myself complaining about that, and feeling like I was rushing through life, so I've been waking up between 4:45-5:30 to find some stillness in my life. To create that stillness I meditate, I journal, I listen to music -- I just have me time.
Me committing to waking up early means me committing to going to bed early. Ideally I get eight hours of sleep -- I average probably around seven, which is way better than it was before. I wish I could talk to my 18-year-old self, so I could commit to going to bed early so that I could wake up early. It's that important.
What are the benefits that you've noticed unequivocally due to enjoying better sleep?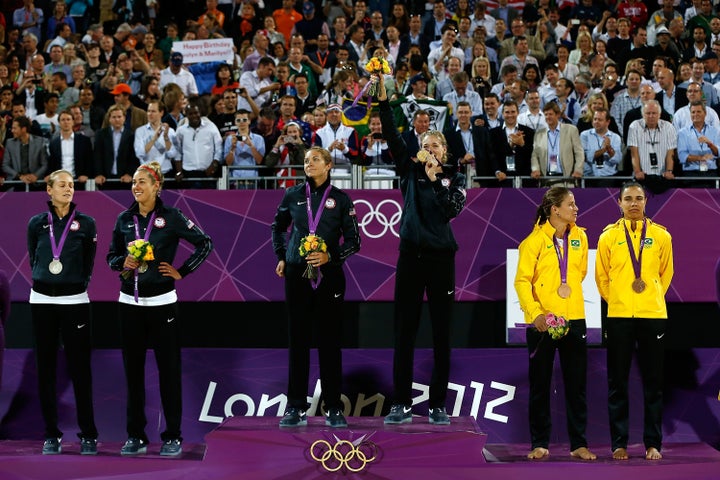 I'm better in all areas. It doesn't mean I'm perfect by any means. I'm a very positive person by nature and my upbringing as well, and this has allowed me to be really honest about it. If a frustration comes up I can look at it in the face and have that pause moment where I can say, 'What's really going on here? How can we fix this?'
The pace of life, even though it's very full, nothing has changed in regards to responsibilities, but even though I have a very fast paced life it feels more in control because my internal landscape is calmer. I'm figuring it out. I can't speak enough about committing to this process. I've been really addicted to podcasts. I've been listening to Michael Gervais, Tim Vance...
I could literally sleep 14 hours a day. I'm a sleeper. It's the Leo in me. If I have time to nap ― which I very rarely do ― I will seize the opportunity. I really believe that even just disconnecting from everything, putting my phone down, closing my eyes, and being in nature ― that's just really refreshing for these crazy long amazing days.
And you're confident that sleep has helped you recover more so after your fifth shoulder surgery?
No doubt. When I talked to Gervais last night he was like, 'You sound different.' He was so proud that I was committing to myself, committing to the recovery process. When you're younger you take things for granted and you're able to endure. This is like an easy change, an easy flip of the switch. It takes commitment and dedication, but it makes my life so much easier. So sleep is absolutely essential, and I even see it in my kids. I'm a huge sleep advocate.
This interview has been edited and condensed for clarity.
For more Olympic coverage: