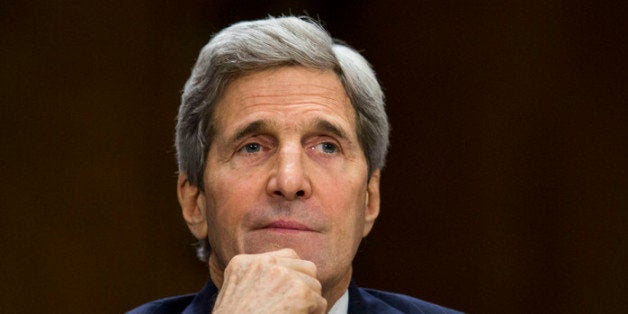 Looking across the landscape of world affairs, from sectarian carnage to Middle East instability, from climate change that threatens the earth to a Russian dictator who threatens security in Europe, from the bellicosity of China to nuclear issues with North Korea and Iran, if there is a Winston Churchill of modern times who issues warnings and offers solutions, it is Secretary of State John Kerry.
Since the founding of Israel in 1948, Israel has had no better friend than John Kerry. His aspirations and efforts for Middle East peace might soon be dead, and if they are, historians will long condemn the intransigent and small-minded Israeli and Palestinian leaders who will force young Israelis and Palestinians to pay the price of their pettiness for generations to come.
While commentators grow impatient with Kerry's Churchillian warnings about the consequences of failure in the Middle East peace process, the world might sadly witness how right Kerry is.
As Vladimir Putin escalates his war against Ukraine, employs lies as an instrument of invasion and subversion, and wages war against the sanctity of sovereignty and borders that has kept the peace in Europe since Hitler fell and the Berlin Wall tumbled, Kerry calls on a timid Europe to demonstrate resolve with the moral force with which Churchill addressed Neville Chamberlain.
While certain commentators opine about how little the free world can do in the face of Russian aggression against Europe, Kerry understands that, if Putin believes America and Europe will impose sanctions against Russian energy and banks if the Russian invasion continues, either Putin will be deterred or the Russian economy will crash with a devastation reminiscent of the darkness of Stalin.
When John Kerry witnesses war crimes and carnage on an epic scale by a murderous dictator in Syria, using weapons made in Russia, he calls for action to stop it, even if it requires hard choices that must not be avoided by a world that is understandably "tired."
When John Kerry studies reports from scientists that say the Earth is gravely endangered by climate change caused by polluters who pour money into corrupting our politics while they pour toxins that poison the planet, he warns about these dangers, as Churchill warned about dangers in his day, and does what he can to stop it.
John Kerry on Middle East peace is like the John Adams character in the play 1776, who says: "Is anybody there? Does anybody care? Does anybody see what I see?" That question will be answered, when Pope Francis soon visits the Middle East. It will be answered by theologians of all faiths as far as the eye can see. It will be answered by the grandchildren of Israelis and Palestinians who will someday mourn the failure or celebrate the triumph of peace efforts that would save the young from the hatreds of the old.
Kerry is right when he offers his Churchillian warnings to Israelis that their nation's demography and democracy will be deformed if Israel becomes a permanent occupying power. Kerry is right when he offers his warnings to Palestinians that if ancient hatred against Jews and Israel prevails, they will be doomed to endless poverty, futility and carnage.
To Israelis, I counsel: Name a true national unity government and freeze ALL settlements for 90 days. To Palestinians, I propose: Set aside any deals with those who would destroy Israel and try once more for peace. To both I plead: Listen carefully to the Churchillian call from Kerry, because the hourglass of his effort is running out of sand, and if you miss this moment, you will rue the day until the end of time.
Similarly, to our friends in Europe, this is a moment for strength and resolve. When Kerry calls, you will have heard that voice before. It is the voice from bloodstained battlefields of Europe for time immemorial, from those who learned the hard way what happens when aggression is not resisted with courage.
Calling all HuffPost superfans!
Sign up for membership to become a founding member and help shape HuffPost's next chapter