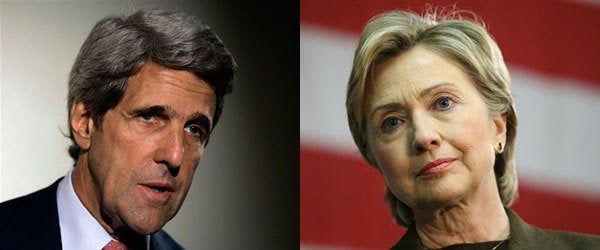 Sen. John Kerry, the 2004 Democratic presidential nominee, took aim at Hillary Clinton on Monday, saying her criticism of Barack Obama's stance on the Iraq war was "not founded on accuracy." He also ripped into comments made by Clinton surrogates hinting at Obama's past drug use, calling the remarks "negative in the worst, petty way," especially in the light of Bill Clinton's admitted use of marijuana.
"That kind of discussion," Kerry said, "from a campaign where the former president made famous the words 'I did not inhale' is to make something an issue that they themselves acknowledged shouldn't be."
In an interview with the Huffington Post, the Massachusetts Democrat touted Obama as a unity leader with a deft political touch who could, if elected, lead a "transformational presidency." But he also warned that should Obama end up the Democratic nominee, he, like Kerry, would face a tidal wave of opposition. Obama has argued that, unlike in 2000 and 2004, he could enter an election without "half the country already not wanting to vote for Democrats."
"He hasn't yet had 100 millions of dollars of negative advertising dumped on him," said Kerry. "So let's wait and see. But certainly you start out [with support from more than just Democrats] and hopefully the campaign will do well... I do think the Republicans and the Republican attack machine is very adept at branding and framing and we are going to have to be equally adept at taking lessons we've learned in the last years."
Kerry spent much of the interview taking Clinton to task for her recent, more aggressive criticism of Obama. Asked to respond to Clinton's contention that Obama has been more rhetoric than substance on Iraq -- speaking out against the war before entering the Senate, but voting for funding resolutions while in office -- Kerry said the attack was baseless. Yet he would not go so far as to compare it, as Sen. Dick Durbin has, to the "swift-boating" of his Vietnam war record in 2004.
"If you're criticisms and/or your attacks are not founded on accuracy, that's an unfortunate tactic under any circumstance, whatever you call it," said Kerry. "The fact is Barack Obama - and I know this because I'm the one who invited him to speak at our convention in 2004 and I campaigned with him out in Illinois - was against the war. And in his answer to a question he diplomatically tried to avoid creating a confrontation with John Edwards and John Kerry, the two nominees of the party, when he came to Boston [for the convention]. But he did say in my judgment - this is a quote at that time - that the case was not made."
When pressed to discuss how two presidential frontrunners differed on the war since Obama entered the Senate, Kerry did not cite a speech, policy, or vote. Indeed, he acknowledged their virtually identical voting records, but emphasized Obama's ability to "change the perception of the United States" internationally and "speak with an enormous amount of ability and gravitas."
"I think that he essentially -- in many ways as you go along the road, the votes we've had, they have paralleled each other on the votes," said Kerry. "But I think Barack has been very clear -- I mean they've both been clear that they are going to try and end the war in a way that is responsible. There is a great similarity in their articulation since then."
"My decision," Kerry went on, "is based [as much] on the war component as it is on the larger issues as to who has the ability to unite the country around these decisions... I want to emphasize that I think Hillary Clinton is a very talented and capable person. And if she is the nominee I'm going to work my heart out for her. But I think Barack Obama has the best opportunity to be able to unite the country and create, what I would call, a transformational presidency."
Since Kerry announced his support for Obama following the Illinois Democrat's loss to Clinton in the New Hampshire primary, rhetoric between the two candidates has grown increasingly heated. In recent days, debate has centered over comments made by Clinton, her husband Bill, and their surrogates, that were perceived to be racially insensitive. Clinton's campaign has argued that Obama took the remarks out of context and -- pointing to an Obama campaign memo -- sought to capitalize on them for political gain.
Most recently the issue of Obama's past drug use has resurfaced, with BET founder and Clinton supporter Robert L. Johnson alluding to it during a Sunday campaign stop. Johnson insisted he was referring to Obama's work as a community organizer. But Kerry was clearly upset with the tone and implication of the remark.
"I thought that was uncalled for," said Kerry, not even waiting for the question to be finished. "I thought it was negative in the worst, petty way. I thought it was unfortunate. And if it is done in surrogacy for the campaign itself then it is really wrong... I think [Obama's] proven record as a public person stands as a significant knock down to whatever youthful transgressions somebody might have had. And who in the world hasn't had some transgression of some kind?"
The former presidential nominee said his decision to endorse Obama came before Obama's win in the Iowa caucus. "I thought it was better to wait until the campaign felt there was a reason," he said of holding off the announcement.
REAL LIFE. REAL NEWS. REAL VOICES.
Help us tell more of the stories that matter from voices that too often remain unheard.