U.S. Secretary of State John Kerry told reporters on Monday that the U.S. has additional information about the alleged chemical weapons attack in Damascus last week.
Kerry said in a press conference that the number of victims of the attack on Wednesday, the reported symptoms and the accounts of humanitarian organizations strongly indicate that chemical weapons were used in Syria.
Kerry added that the U.S. believes the regime of president Bashar al-Assad is responsible for the attack, and that the Syrian government's decision to grant U.N. investigators access to the site of the attack came "too late to be credible."
Syrian opposition forces said last Wednesday that hundreds of people were killed near Damascus in an alleged chemical weapons attack. The international medical organization Doctors Without Borders announced on Saturday they had counted at least 355 deaths in the suburb of Ghouta.
U.N. investigators inspected the site of the alleged chemical attack on Monday, despite being targeted by snipers earlier that day. Reuters reports that the investigators met with survivors and took samples on the site.
It was unclear who was behind the attack on the officials. While members of the opposition blamed the Assad regime, Syria's government held rebels responsible.
More from the Associated Press:
WASHINGTON — Secretary of State John Kerry declared Monday that there was "undeniable" evidence of a large-scale chemical weapons attack in Syria, toughening the Obama administration's criticism of Bashar Assad's regime and outlining a justification for possible U.S. military action.

Kerry, speaking to reporters at the State Department, said last week's attack was a "moral obscenity" that "should shock the conscience" of the world. Officials said there was very little doubt that the attack was perpetrated by the Syrian government.

"The indiscriminate slaughter of civilians, the killing of women and children and innocent bystanders by chemical weapons is a moral obscenity. By any standard, it is inexcusable and – despite the excuses and equivocations that some have manufactured – it is undeniable," said Kerry, the highest-ranking U.S. official to confirm the attack in the Damascus suburbs that activists say killed hundreds of people.

"This international norm cannot be violated without consequences," he added.

Officials said President Barack Obama has not decided how to respond to the use of deadly gases, a move the White House said last year would cross a "red line." But the U.S., along with allies in Europe, appeared to be laying the groundwork for the most aggressive response since Syria's civil war began more than two years ago.

The international community appeared to be considering a response that would punish Assad for deploying deadly gases, not sweeping actions aimed at ousting Assad or strengthening rebel forces. The focus of the internal debate underscores the scant international appetite for a large-scale deployment of forces in Syria and the limited number of other options that could significantly change the trajectory of the conflict.

"There is not a military solution to that conflict," White House spokesman Jay Carney said.

The Obama administration was moving ahead even as a United Nations team already on the ground in Syria collected evidence from last week's attack. The U.S. said Syria's delay in giving the inspectors access rendered their investigation meaningless and officials said the administration had its own intelligence confirming chemical weapons use.

"What is before us today is real and it is compelling," Kerry said. "Our understanding of what has already happened in Syria is grounded in facts."

The U.S. assessment is based in part on the number of reported victims, the symptoms of those injured or killed and witness accounts. Administration officials said the U.S. had additional intelligence confirming chemical weapons use and planned to make it public in the coming days.

Syrian President Bashar Assad has denied launching a chemical attack. The U.N. team came under sniper fire Monday as it traveled to the site of the Aug. 21 attack.

It's unclear whether Obama would seek authority from the U.N. or Congress before using force. The president has spoken frequently about his preference for taking military action only with international backing, but it is likely Russia and China would block U.S. efforts to authorize action through the U.N. Security Council.

Kerry on Monday made several veiled warnings to Russia, which has propped up Assad's regime, blocked action against Syria at the U.N., and disputed evidence of the government's chemical weapons use.

"Anyone who can claim that an attack of this staggering scale can be contrived or fabricated needs to check their conscience and their own moral compass," he said.

British Prime Minister David Cameron, who also cut short his vacation because of the attack, spoke Monday with Russian President Vladimir Putin to outline the evidence of chemical weapons use by Assad's regime.

Cameron's office also said the British government would decide on Tuesday whether the timetable for the international response means it will be necessary to recall lawmakers to Parliament before their scheduled return next week. That decision could offer the clearest indication of how quickly the U.S. and allies plan to respond.

More than 100,000 people have died in clashes between forces loyal to Assad and rebels trying to oust him from power over the past two and a half years. While Obama has repeatedly called for Assad to leave power, he has resisted calls for a robust U.S. intervention, and has largely limited American assistance to humanitarian aid. The president said last year that chemical weapons use would cross a "red line" and would likely change his calculus in deciding on a U.S. response.

Last week's attack in the Damascus suburbs is a challenge to Obama's credibility. He took little action after Assad used chemical weapons on a small scale earlier this year and risks signaling to countries like Iran that his administration does not follow through on its warnings.

Syrian activists say the Aug. 21 attack killed hundreds; the group Doctors Without Borders put the death toll at 355 people.

The president did not speak publicly Monday about the chemical weapons attack, leaving Kerry as his administration's most prominent spokesman. Carney said the president would speak about his decision after settling on a response.

Obama pressed on with an array of events unrelated to Syria, including a Medal of Honor ceremony for an Afghan war veteran.

The president has ruled out putting American troops on the ground in Syria and officials say they also are not considering setting up a unilateral no-fly zone.

Rep. Adam Schiff, a California Democrat on the House Intelligence Committee, said the most likely option appeared to be the U.S. and NATO partners deploying airstrikes against Syrian missile sites, aircraft and other infrastructure that may be used to deploy chemical weapons.

"I think that would be punishing and a deterrent to their future use," Schiff said in an interview, adding that the approach would carry "less risk of drawing us in further, or spreading the conflict."

It's unlikely that the U.S. would launch a strike against Syria while the United Nations team is still in the country. The administration may also try to time any strike around Obama's travel schedule – he's due to hold meetings in Sweden and Russia next week – in order to avoid having the commander in chief abroad when the U.S. launches military action.

An Obama decision to attack Syria could present an eerie parallel to a U.S. military campaign against Iraq in 1998 that was ordered by President Bill Clinton.

After then-dictator Saddam Hussein refused to let U.N. weapons inspectors into Iraqi sites, the U.S. and Great Britain unleashed a 70-hour barrage of hundreds of cruise missiles, bombs and rockets on Baghdad and elsewhere in the country. The assault aimed to prevent Iraq from building the chemical, biological and nuclear weapons it was prohibited from having under U.N. resolutions after its 1990 invasion of Kuwait.

But the Iraqi leader himself was unharmed, and taunted the U.S. and Britain by declaring victory afterward.

U.N. Secretary-General Ban Ki-moon on Monday countered the U.S. claim that the investigation at the site of last week's attack was too little, too late.

"Despite the passage of a number of days, the secretary-general is confident that the team will be able to obtain and analyze evidence relevant for its investigation of the August 21 incident," U.N. spokesman Farhan Haq said in New York

___

AP writers Deb Riechmann, Kimberly Dozier and Lara Jakes in Washington, Sylvia Hui and Raphael Satter in London, and Peter Spielmann at the United Nations contributed to this report.

___

Follow Julie Pace at http://twitter.com/jpaceDC
Before You Go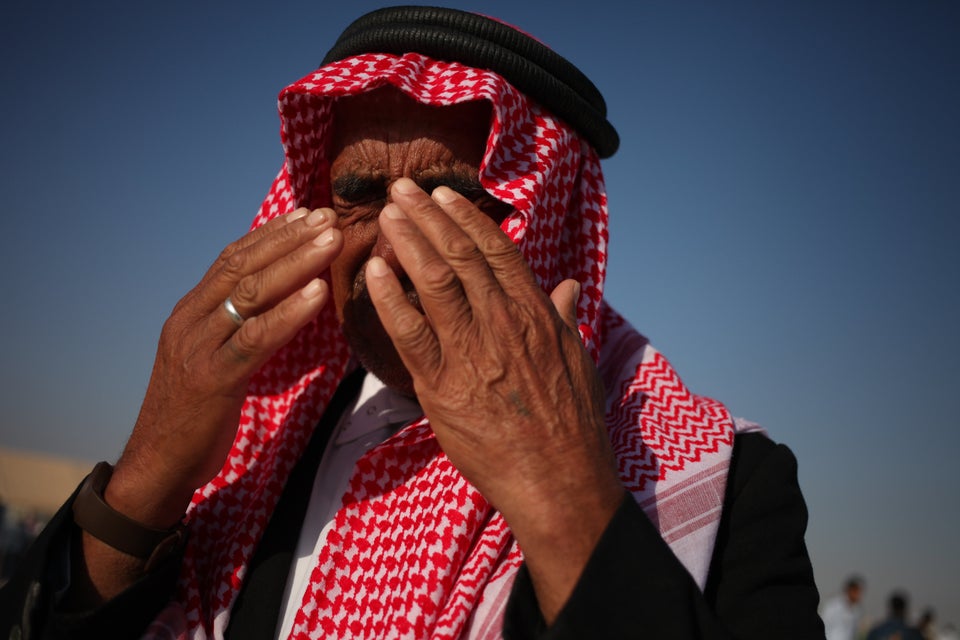 Syria War In August (Warning: Graphic Images)
Popular in the Community