WASHINGTON -- House Speaker John Boehner (R-Ohio) appeared to have pulled off a masterful political victory against the Obama administration Wednesday when he revealed that he had invited Israeli Prime Minister Benjamin Netanyahu to address Congress on the dangers of the administration's negotiations with Iran.
Coming a day after President Barack Obama threatened to veto new Iran-related sanctions legislation that he said could harm the negotiations, Boehner's move looked like a smart way to reinforce support for such bills -- a priority for the Republican-led Congress -- by showing that the U.S.'s top ally in the region supported them.
Then things started to fall apart.
Secretary of State John Kerry, fresh off his fumbling on the issue of French solidarity, pulled off a diplomatic bank shot by using a different part of the Israeli government against Boehner. Asked about the invitation at a press conference with European Union foreign policy chief Federica Mogherini, Kerry diplomatically said Netanyahu was welcome in the U.S. any time -- and proceeded to both steal Boehner's thunder and turn news coverage in a different direction.
"In Israel, one of the top intelligence –- one of the top intelligence personnel within the Israeli intelligence field –- I won't name names, but this person was asked directly by a congressional delegation that visited there over the weekend what the effect of sanctions would be. And this person answered that it would be like throwing a grenade into the process," Kerry said. "So we're asking people to be responsible here, and then let's have a good, responsible debate about what the best way to proceed is."
Kerry's comment altered the conversation, making it about whether Republicans want to torpedo nuclear talks with Iran. The Obama administration describes the negotiations as the only way to ensure that Iran cannot gain a nuclear weapon to threaten the very country Boehner says the administration is failing: Israel. Kerry's message: It's Republicans, and the Democrats who support them on new sanctions, who would fail Israel by antagonizing Iran and destroying the chance of a peaceful resolution to the years-long controversy over Tehran's nuclear program.
Within hours of Kerry's comment, Bloomberg View columnists Josh Rogin and Eli Lake were out with an explosive story that said lawmakers present at the briefing with Israeli intelligence and staffers who were informed about it confirmed Kerry's comment. They added that two senior U.S. officials had told them members of the Mossad, the Israeli intelligence agency, "shared its view with the administration that if legislation that imposed a trigger leading to future sanctions on Iran was signed into law, it would cause the talks to collapse."
The question of what the Mossad said and how it is being interpreted is important because it forces lawmakers to be open about their intentions. Are they simply worried that Iran will renege on the agreement? Or do they genuinely want to blow up the talks?
The Republican freshman congressman-turned-freshman senator from Arkansas opened up while speaking to a conference at the Heritage Foundation on Jan. 15. In previously overlooked remarks, he had this to say about congressional proposals to threaten Iran with new sanctions: "Certain voices call for congressional restraint urging Congress not to act now, lest Iran walk away from the negotiating table, undermining the fabled yet always absent moderates in Iran. But the end of these negotiations isn't an unintended consequence of congressional action. It is very much an intended consequence -- a feature, not a bug."
Cotton is a member of the Senate committees on intelligence and the armed services.
In December 2013, when The Huffington Post first reported that backers of new sanctions were hoping to blow up the negotiations and would push the region closer to war, charges of anti-Semitism were leveled by the Anti-Defamation League and two other national Jewish groups.
Meanwhile, on Tuesday, Germany, Britain and France published an extraordinary joint op-ed in The Washington Post, pleading with Republicans to back off the effort before the sensitive talks are derailed.
Kerry's comment indicated that some elements within Israel share that view. His suggestion that Israeli officials were advising U.S. lawmakers as to how to save the diplomatic process presented the Mossad as out of step with Netanyahu's stated skepticism about how Obama is handling the nuclear negotiations. In fact, the Mossad comments gave the administration a new talking point in convincing lawmakers to oppose sanctions, Lake and Rogin claimed. The Jerusalem Post quoted Israeli officials calling Kerry's revelation "Obama's revenge" for the Boehner invite.
Israeli officials scrambled. The Mossad's leader issued a statement Thursday denying that he was opposed to sanctions, calling them "the sticks necessary for reaching a good deal with Iran." He said that he spoke about "throwing a grenade," as Kerry had said, he meant that new sanctions would mean "creating a temporary crisis in the negotiations at the end of which talks would resume under improved conditions" -- seemingly giving pro-sanctions lawmakers the ability to once again call themselves supporters of smart nuclear diplomacy.
Back in Washington, Sen. John McCain (R-Ariz.) was left to explain away the discrepancy Kerry had exposed -- and to try to sustain the image of solidarity between Israel and the sanctions supporters that Boehner had hoped to project.
"There's always been some differences, because Mossad is sort of autonomous, and the way that the Israeli system works, I'm not surprised that there are some differences," McCain told HuffPost. "But both Mossad and Bibi are together on a major aspect of this -- they're against the Iranian deal. They are in agreement in that. The question is what do they feel about actions here in Congress? And there are some differences about the sanctions regime between Mossad and Bibi."
Still, the story had shifted as Kerry boxed the Republicans into admitting their possible true intentions -- and all Boehner was left with was a promise for a Netanyahu address at the time of the annual American Israel Public Affairs Committee conference in early March, by which point the administration has said it hoped to already have a framework for the deal.
Meanwhile, Netanyahu got his own rebuke as the White House revealed that it would not meet with him during that March trip. "We do not see heads of state or candidates in close proximity to their elections, so as to avoid the appearance of influencing a democratic election in a foreign country," said National Security Council spokeswoman Bernadette Meehan.
Ryan Grim and Ali Watkins contributed reporting.
This article has been updated to include comments from McCain and additional background on Cotton.

Before You Go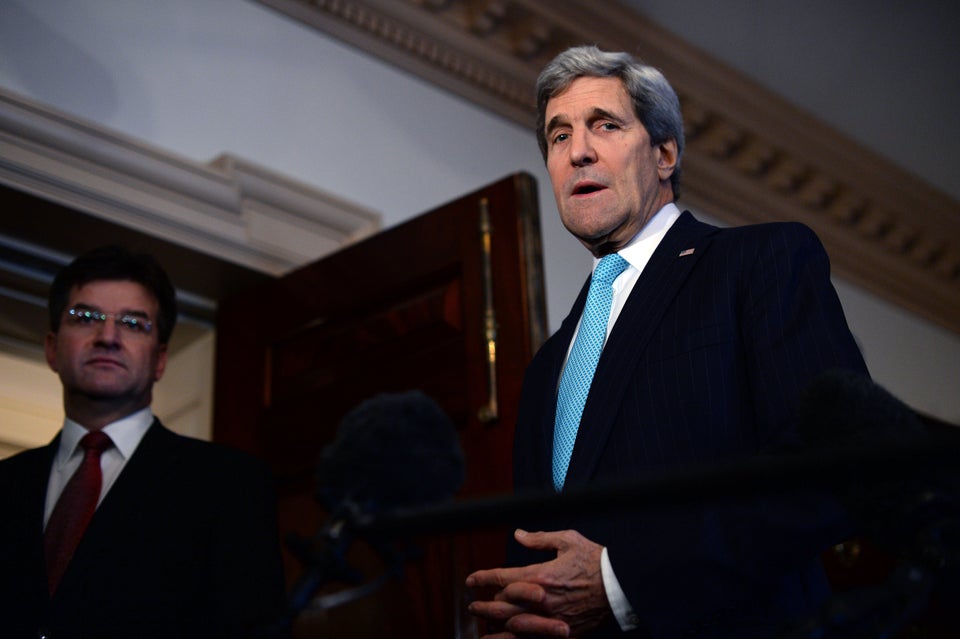 John Kerry
Popular in the Community