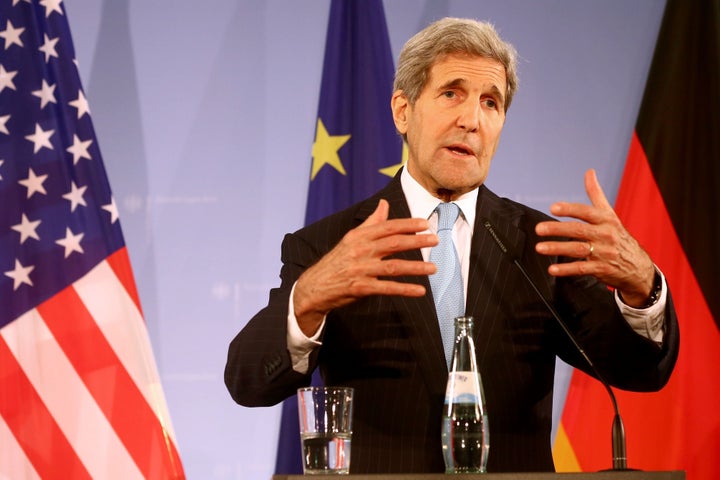 BERLIN, Oct 22 (Reuters) - U.S. Secretary of State John Kerry on Thursday voiced cautious hope there may be a way to defuse Israeli-Palestinian violence that has killed nearly 60 people this month.
Speaking to reporters after about four hours of talks with Israeli Prime Minister Benjamin Netanyahu, Kerry said he thought there were steps that could reduce the violence and said they needed to be discussed with Jordanian and Palestinian officials.
"I would characterize that conversation as one that gave me a cautious measure of optimism that there may be .... a way to defuse the situation and begin to find a way forward," Kerry told reporters after he met Netanyahu at a Berlin hotel.
"If parties want to try, and I believe they do, want to move to a de-escalation, there are a set of choices that are available," he told a joint news conference with German Foreign Minister Frank-Walter Steinmeier, offering no details.
Steinmeier said both he and Kerry "are calling on both sides, the Palestinians and Israel, to do everything to de-escalate in this conflict."
Nine Israelis have been killed in Palestinian stabbings, shootings and vehicle attacks since the start of October. Forty-nine Palestinians, including 25 assailants, among them children, have been killed in attacks and during anti-Israeli protests.
Among the causes of the turmoil are Palestinians' anger at what they see as Jewish encroachment on the al-Aqsa mosque compound in Jerusalem's Old City, Islam's holiest site outside Saudi Arabia, which is also revered by Jews as the location of two ancient temples.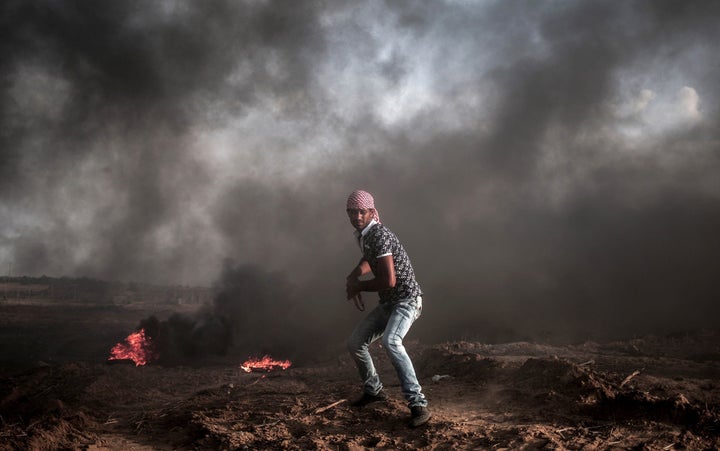 Kerry made no reference to Netanyahu's suggestion this week that Haj Amin al-Husseini, the Mufti of Jerusalem during the 1940s, persuaded Adolf Hitler to exterminate the Jews.
Those comments, which come after three weeks of Israeli-Palestinian violence, have attracted wide criticism from Israeli opposition politicians and Holocaust experts, who accused the prime minister of distorting the historical record.
It is not clear why Netanyahu launched into the issue of the late mufti's role, with Israeli-Palestinian tensions at a new peak, notably over the Jerusalem holy site overseen by the current mufti.
Earlier, the EU's top diplomat said the "Quartet" of Middle East peace mediators would meet in Vienna on Friday to urge Israeli and Palestinian leaders to tone down their rhetoric and calm down the situation on the ground.
EU foreign policy chief Federica Mogherini said the Quartet would "pass a strong message to the parties to calm down the situation on the ground."
Whatever immediate steps might be taken, diplomats hold out little hope for any resumption of broader Israeli-Palestinian peace talks, which collapsed in 2014.
Netanyahu blamed the Palestinians for the recent surge in killings, singling out Palestinian President Mahmoud Abbas.
"There is no question that wave of attacks is driven directly by incitement. Incitement from Hamas, incitement from the Islamist movement in Israel, and incitement, I am sorry to say, from President Abbas," he said.
A senior U.S. State Department official told reporters that Kerry hopes to persuade both sides to "tamp down" their rhetoric during a four-day trip to Europe and the Middle East in which he also plans to meet Abbas and Jordan's King Abdullah.
Jordan has custodianship of the al-Aqsa mosque compound. This was recognized in Jordan's 1994 peace treaty with Israel but dates back to 1924 when Palestinian leaders in Jerusalem granted custodianship to King Abdullah's great grandfather.
The area, also home to the Dome of the Rock, is known to Muslims as the Noble Sanctuary and to Jews as the Temple Mount.
(Reporting By Arshad Mohammed; Editing by Noah Barkin and Susan Thomas)
Calling all HuffPost superfans!
Sign up for membership to become a founding member and help shape HuffPost's next chapter