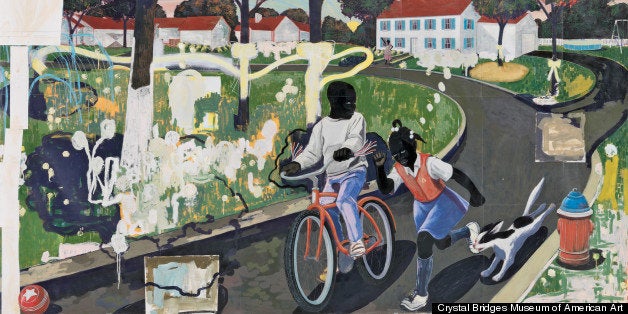 WASHINGTON -- "I try to make work about things that matter," Kerry James Marshall says to describe his art, which uses paint and canvas to tell stories of the African-American experience.
That work goes on display Friday at the National Gallery of Art's Tower Gallery in Marshall's first solo exhibition in Washington, D.C.
Story continues below slideshow
PHOTO GALLERY
In the Tower: Kerry James Marshall
Marshall's work "confronts the idea of the American dream from a black perspective," exhibition curator James Meyer explained during a preview. Subject matter ranges from the Middle Passage and African mythology to public-private housing and depictions of real-life African-American figures.
The exhibition adds to the diversity of the National Gallery's collection, which currently includes more than 150 works by African-American artists, according to Earl A. Powell III, director of the National Gallery of Art.
Marshall addressed the need for diversity in art museums in an interview with curator Meyer:
When you walk through the museum you don't have a sense that the variety of different people who made up the nation as a whole have many any real meaningful contributions to the development of this country in the ways that people talk about its greatness. And I think to finally start to bring into a place like the National Gallery somebody who does work like mine that is not always celebratory of American ideals, that has an ambivalent and at times critical relationship to the overall story, to finally start to allow that work to be seen and those narratives to be articulated, starts to fulfill the promises that the idea of the country and the founding documents set out to guide us.

Each Marshall painting is multi-layered and tells a plethora of stories through symbols, from a recurring red cross (symbolizing both aid and a literal crossroads) to the significance of water.
Another piece, "Our Town," puts an African-American face on the classic Dick and Jane childhood stories. "What was your town has become our town," Marshall said of the racial transitions many American neighborhoods experienced in the past half-century.
"In the Tower: Kerry James Marshall" is on display in the National Gallery of Art's East Building Tower from June 28 to December 7.
Calling all HuffPost superfans!
Sign up for membership to become a founding member and help shape HuffPost's next chapter