A woman who disappeared after moving from Alabama to Florida to be with a man she met online is missing, and friends said they're concerned for her safety.
Kerry Jones, 46, was last heard from on Feb. 7. Her live-in boyfriend, Jackie "Nick" Kelly, reported her missing to police in Jacksonville, Florida, two days later.
"Not knowing is one of the worst feelings ever," Jones' close friend, Tommie Ann Jones, told The Huffington Post. "We all miss her and don't understand why this would happen. We're really heartbroken."
Tommie Ann Jones, who was once married to Kerry Jones' ex-husband, said the two are "more like family than friends."

The disappearance "is being worked as a missing person only at this point -- no foul play," a spokesperson for the Jacksonville Sheriff's Office told HuffPost.
Kelly told investigators he and his girlfriend argued on Feb. 7, the day he said he last saw her, according to the sheriff's incident report.
"Ms. Jones got upset over a post that he made on Facebook and left the residence," the report says. HuffPost was unable to reach Kelly for comment.
Deputies found Kerry Jones' vehicle parked outside Bealls Department Store, where she works as a cashier. The store manager told police she was uncertain how long the vehicle had been there.
Store surveillance video obtained by police shows Kerry Jones leaving work in the car on Feb. 7. There's no footage showing her vehicle returning to the store, police said.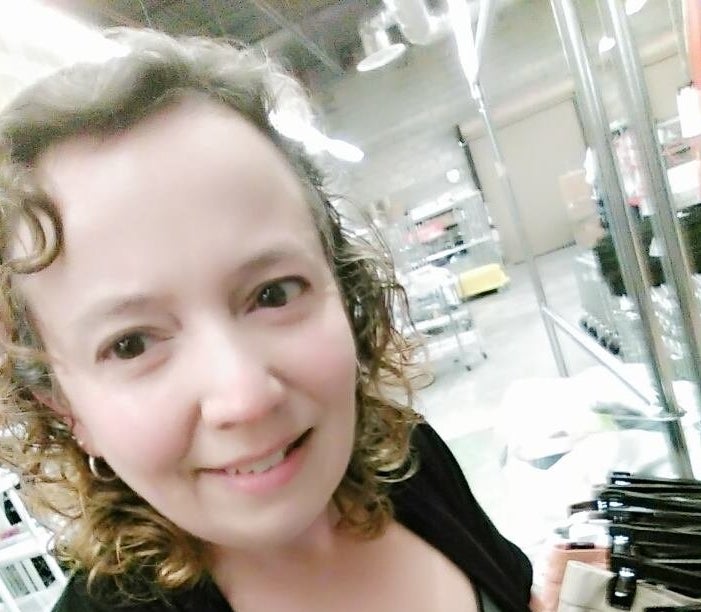 Authorities searched Kerry Jones' car before turning it over to her family. It's unclear whether anything was found that sheds light on her disappearance.
Tommie Ann Jones said it's extremely unlikely that her friend, whom she described as a "devoted mother" of two older boys, would disappear and lose contact with friends and family.
"She's a very family-orientated person and stays in touch on a daily basis," Jones said. "She is one of the best people you could ever meet. She's down to earth and loved by everyone."
She said her friend, who is legally deaf, is originally from Pell City, Alabama. She moved to Jacksonville in October, after she met Kelly on the PlentyOfFish dating website.
"She told me she really cared for him and was moving down there," Tommie Ann Jones said. "She thought that was what she needed to do to be happy."
Kerry Jones wrote about her relationship with Kelly in several Facebook posts, including one she shared on New Year's Eve 2015.
"This year gone by so fast," she wrote. "So much have changed and I didn't imagine how my life is now. It was ups and downs but I have no regrets of the choices I made this year … I am very much happy of my new life and with the love of my life."
A Facebook post using Kelly's name was made on Feb. 15, less than a week after his girlfriend disappeared.
"Kerry was very intoxicated that night. At some point she hit me in the head with a very heavy coffee cup and knocked me out. When I regained consciousness the next morning, I was laying in a big puddle of blood from a gash to my head. I realized that Kerry was gone. I thought at the time that she might think she had killed me, or at least seriously injured me, and she left and was hiding out because she was worried."
Tommie Ann Jones said she has never known her friend to be violent.
"That would be completely out of her nature," she said. "She's 5 feet tall and deaf in both ears. He's a much larger person. I find it would be out of character."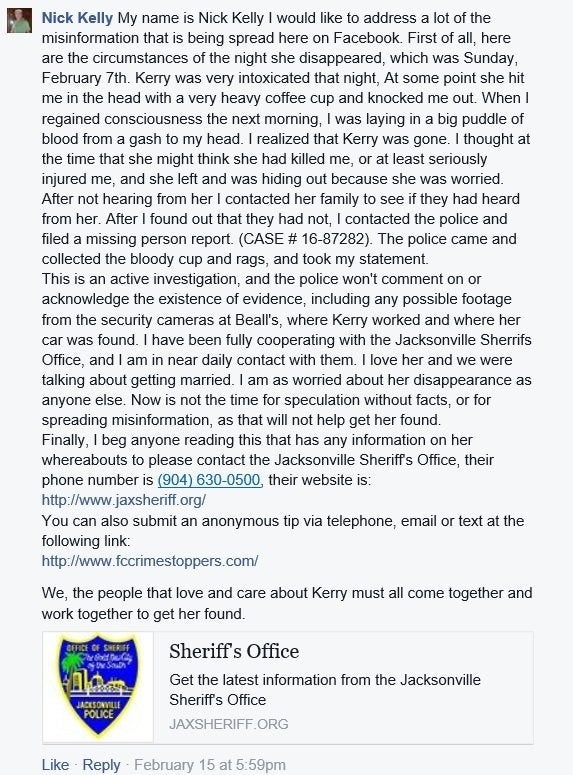 Authorities said they have not confirmed the scenario described in the Facebook post.
For now, friends and family have more questions than answers.
"We're all just struggling," said Tommie Ann Jones. "We're hoping for the best, but preparing for the worst."
Kerry Jones is described as a white female, with brown hair and brown eyes. She is 5 feet tall and weighs 120 pounds.
Anyone with information on Kerry Jones' whereabouts is asked to call the Jacksonville Sheriff's Office at 904-630-0500 or Crime Stoppers at 1-866-845-TIPS.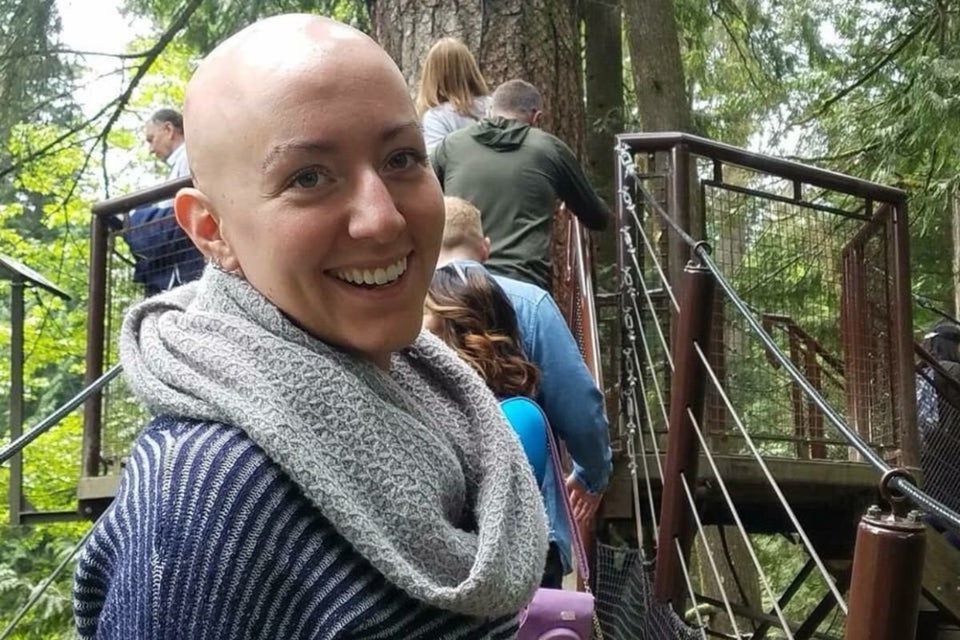 Missing People
Related
Popular in the Community