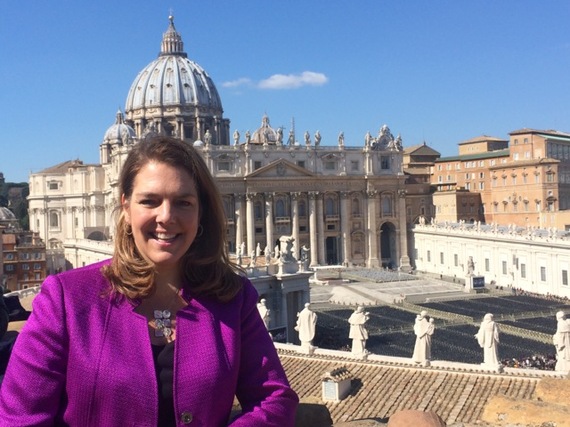 The question of women's leadership has long been a contentious issue in the Catholic Church. While Francis has changed the tone of the Church through his messages and actions, when it comes to women, many people agree: Pope Francis isn't perfect.
But that isn't the whole story. In Evangelii Gaudium, Pope Francis said, "We need to create still broader opportunities for a more incisive female presence in the Church." And, just this past week, Francis called the wage gap between men and women a "pure scandal." For many, there is hope that Francis will change the way the Church involves women in leadership.

Among those hopeful include Kerry Robinson, the Executive Director of the National Leadership Roundtable on Church Management. Robinson's positivity comes from a 70 year family tradition of servant leadership that has been witness to "the best of the Church in the form of extraordinary ministry," Robinson explains.
Robinson's great grandparents, John and Helena Raskob, started the Raskob Foundation. When it was formed, the intention of the foundation was to support the Church in all of its ministries, "anything the Catholic Church is interested in, involved in and advocating for or offering a broken world is eligible for funding."
The Raskob family entrusted their descendants with the foundation's resources and mission. A steward in the truest sense of the word, Robinson sees her responsibility as a tremendous privilege. As a young girl, her family's spirit of selflessness and love that so often accompanies those who dedicate their lives to the Church inspired her to serve others:
I began to pray that my life could be in service to their lives. I thought, 'God, help me to do something with my life that can positively impact my moral heroes' and heroines' work in ministry. And I think that is why I keep getting invited into these extraordinary leadership roles, working with truly exceptional people in serving the church and trying to meet some of these really difficult social challenges.
Through hard work, her strong faith and an incredible positivity, she has had tremendous success reaching leadership roles within the Church -- something she acknowledges is not easy for most women:
My biggest worry is that a young Catholic woman (particularly from the West) can look at the landscape of her professional life and know that she can reach the highest level of leadership in any sector or industry, but if that same woman discerns a vocation to serve the Church she loves, she is often met with limitations which prevent her from bringing her full complement of gifts and talents to that leadership.
This is why Robinson believes firmly that it is important to ensure there are meaningful roles and positions of leadership for women at every level of the Church and that women are a vital part of the Church's decision making. Her reasoning, though, may surprise some:
I am convinced of this, not because it's what women deserve -- it is what women deserve -- but my overriding motivating factor for this is that it's what the Church deserves. If we care deeply about the Catholic Church and fail to recognize the full gifts and talents of women and fail to invite them to lend those gifts and talents in service to the faith community, we are squandering an enormous asset.
While the Church often ignores the many gifts women have to offer, Robinson and her colleagues from Voices of Faith have made it their mission to shine a light on the accomplishments of women of faith. On International Women's Day, Voices of Faith -- lead by Chantal Götz of the Fidel Götz Foundation -- hosted an event at the Vatican to celebrate prominent women all over the globe who are making amazing contributions to the Church and the world.
Their efforts didn't stop there. They also made recommendations to the Vatican on how the roles of faithful women can be improved. They recommended that more women serve on each dicastery's international advisory body and that the pool from which women are selected is radically expanded so that it's more reflective of the Catholic Church, globally. Instead of being limited to administrative roles, they recommended that women be promoted to director-level roles within the Roman Curia. Robinson and her colleagues also suggested women be considered in the Communications Apostolate and in the Diplomatic Corp.
But, perhaps their most powerful recommendation was crucial advice about what the average Catholic woman, the average global Catholic woman, needs from the Church:
If the Church is to be merciful and effective in attending to the needs of the poorest among us, and if we want to take seriously the deleterious effects of war, inequity, climate change, violence, lack of access to clean water, food, education and safety, then we must see the faces of women and their children who represent the largest percentage of people suffering. That is the way to really respond to Pope Francis' overarching invitation to all of us to accompany the poor but it is also an opportunity to really highlight women and girls.
When it comes to where the Church stands on women's leadership today, Robinson says we are at a threshold and "it is up to women and men of goodwill who care deeply about the Catholic church to work together in an inspired, humble, respected and joyful way to take full advantage of this moment in time."
At the end of the day, Robinson only wants what is best for the Church she loves dearly:
I think when you love someone or something so much you hold it in the highest aspiration, you have the highest aspirations for that. That is what I have for the Church. I know that our faith community can be better, more effective, more merciful, more just and more welcoming. I'm an optimist and an enormously hopeful person and I always believe that over time, grace aids us to do the right thing. I think we're at a perfect moment in history right now, that the future will look really bright for our daughters and granddaughters.