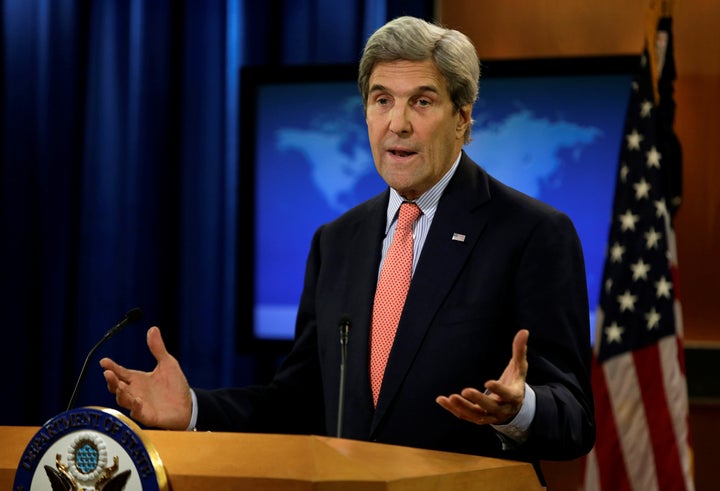 WASHINGTON – Secretary of State John Kerry on Thursday defended President Barack Obama's handling of Russian meddling in the presidential election, arguing that saying anything more specific than he did in October would have been seen as political meddling of his own.
"People need to remember that the president issued a warning, but he had to be obviously sensitive to not being viewed as interfering on behalf of a candidate or against a candidate or in a way that promoted unrealistic assessments about what was happening," Kerry said, responding to a question following his remarks about Syria at the State Department. "I think the president did that, and now we have to get out the facts, and I'm confident we will in the months ahead."
Obama has been criticized by Democrats recently for failing to make clear prior to Election Day that not only was Russia interfering, but that it was actively trying to help Republican nominee Donald Trump win. Trump did wind up winning narrowly in three key states, allowing him to defeat Democratic nominee Hillary Clinton.
Recent reports say that U.S. intelligence agencies are now confident that Russian leaders were trying to help Trump. NBC News reported Thursday that Russian leader Vladimir Putin personally was involved in that effort.
Kerry declined to respond to that latest twist. He pointed out, though, that Obama did take action, weeks ahead of the election.
"We sat in the Situation Room, I remember, in the White House, with the president of the United States, and the president made the decision, based on the input that was carefully, carefully vetted by the intelligence community and presented to everybody, that he did have an obligation to go out to the country and give a warning, and he did so," Kerry said.
"Back in October, the president authorized the director of national intelligence and the Department of Homeland Security together to make a very clear statement to this nation, to our nation. And they said unequivocally that they assessed with high confidence ― that's what we said in October ― with high confidence, that the Russian government directed comprises of emails from U.S. institutions, including political organizations, and that these thefts and disclosures were intended to interfere with our election process."
Trump has rejected that assessment, going as far as to theorize at a debate that U.S. intelligence agencies had no idea who had hacked emails from Democrats and given them to Wikileaks, which was releasing them daily in the final weeks of the campaign. "I mean, it could be Russia, but it could also be China. It could also be lots of other people. It also could be somebody sitting on their bed that weighs 400 pounds, okay?" Trump said.
Both Trump and his campaign continue that stance today. Spokesman Jason Miller responds to queries about the matter by calling the discussion an attempt to delegitimize Trump's victory.
Trump himself tweeted Thursday morning: "If Russia, or some other entity, was hacking, why did the White House wait so long to act? Why did they only complain after Hillary lost?"
REAL LIFE. REAL NEWS. REAL VOICES.
Help us tell more of the stories that matter from voices that too often remain unheard.
BEFORE YOU GO