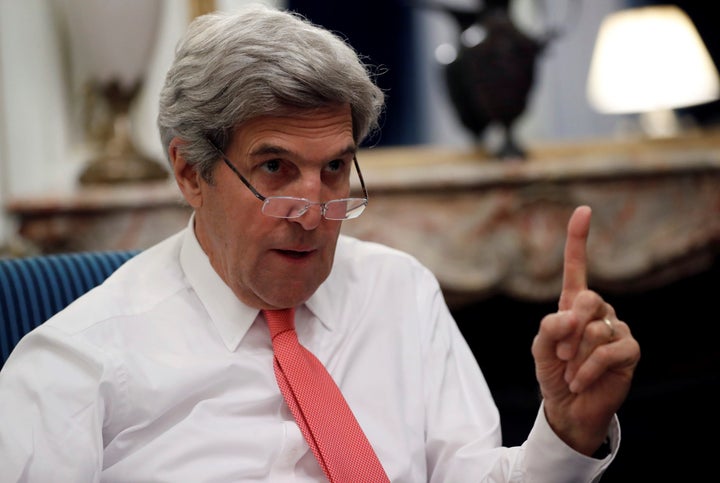 WASHINGTON ― Secretary of State John Kerry said Monday that President-elect Donald Trump had made a mistake by attacking German Chancellor Angela Merkel's history of admitting refugees to her country.
"I thought, frankly, it was inappropriate for a president-elect of the United States to be stepping into the politics of other countries in a quite direct manner," Kerry told CNN's Christiane Amanpour. "He'll have to speak to that. As of Friday, he's responsible for that relationship."
Trump said in an interview with the Times of London and the German newspaper Bild that Merkel had made "one very catastrophic mistake, and that was taking all of these illegals," referring to the Syrian refugees and other migrants the country took in. The president-elect has frequently derided Syrian refugees as a "Trojan horse" for terrorists ― and once officially proposed banning all Muslims from entering the U.S., but later said he would like to ban people from certain countries, mostly majority-Muslim ones.
Trump isn't the president yet, which means the Obama administration is still in charge of foreign policy ― even when the president-elect makes it difficult. When Merkel responded to Trump, she stressed that he hadn't taken office yet. 
"I'm waiting for his inauguration, as is proper," she said in Berlin, Politico reported. "Then we'll work with him on all levels. He has just stated his positions, which have been known for quite some time. My positions are also known."
Kerry said he thought Merkel "was extremely courageous" in her response to the refugee crisis and that the Obama administration "valued her leadership enormously."
"I think we have to be very careful about suggesting that one of the strongest leaders in Europe and most of important players with respect to where we are heading made one mistake or another," Kerry said of Trump's comments. "I don't think it's appropriate for us to be commenting on that."
Trump's transition team did not immediately respond to a request for comment. 
REAL LIFE. REAL NEWS. REAL VOICES.
Help us tell more of the stories that matter from voices that too often remain unheard.
BEFORE YOU GO