Anyone who watches Food Network Challenge knows that judge Kerry Vincent isn't easily impressed. To me, that's what makes her so impressive. Though she's been called "the Simon Cowell of cake" and "the dominatrix of decorating," when I spoke with Kerry Vincent in a phone interview, I didn't come away with the impression of a villain.
Kerry didn't just land on Food Network Challenge, she was invited to be a judge when the show first went into production in 2003. The author of "Romantic Wedding Cakes", she has 25 years of sugar art experience--and a 15 year undefeated record on the international competition circuit. She also invented two decorating techniques--Vincent Marquetry and pleating rolled fondant.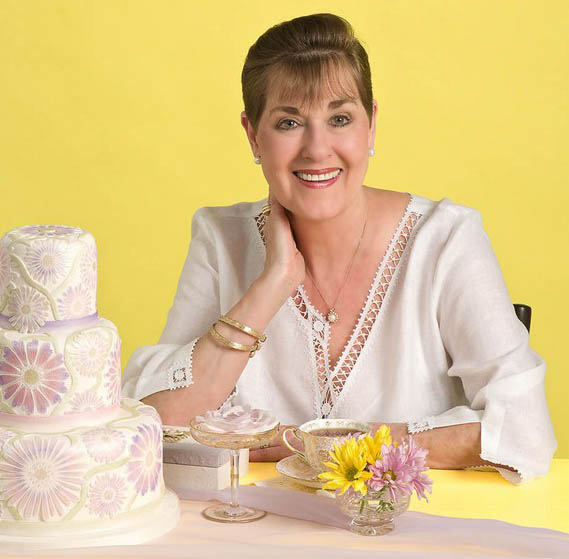 Kerry Vincent with one of her cakes. (Courtesy of Kerry Vincent)
Kerry Vincent was born in hard times, in the Australian Outback, in a town called Wyalkatchem (pronounce that!). Raised among sheep shearers, from age 6 she was helping out her mother who fed the hungry shearers three meals a day, plus two tea times. Of course, she made the sponge cakes. "I wasn't cut any slack when I was young, we all had to pitch in," said Kerry. "I was a war baby and I had it rough, but I'm glad. I learned how to stand on my own two feet."
Viewers of Food Network Challenge might not realize that Vincent didn't go straight into decorating in adulthood. She was a beauty queen and fashion model first, then pursued a career in PR and Marketing. At age 28, she up and moved to London, via boat to Singapore.
"I arrived in London with not a friend or contact. I stood there in Heathrow and thought Ok here I am, now what do I do?"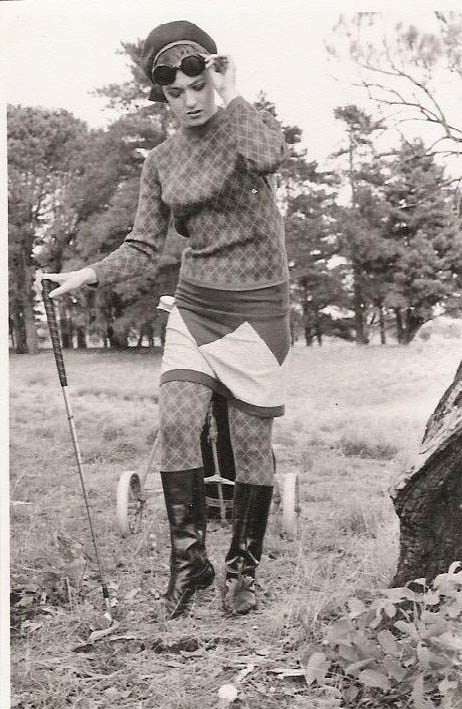 In the 1960s, Kerry before cake. (Courtesy of Kerry Vincent)
With a sense of adventure that stems from growing up in the Outback, Kerry spent five years living in London and traveling throughout Europe, where she met her American husband Doug. The couple moved in high society and diplomatic circles, where Kerry became known as "the hostess with the mostest."
"We did a lot of entertaining, but unlike the other wives, I actually did all the cooking myself. So I got a reputation for not only throwing a great party, but actually make all the food... and the desserts. I specialized in desserts because that was my favorite part."
Kerry began taking cooking classes wherever and whenever she could, including Le Cordon Bleu in London. But it was in Zurich that she had an epiphany. "I fell in love with the art of decorating when I walked into my first chocolate shop in Zurich and saw all of these gorgeous decorations and displays for Valentine's Day," said Vincent. "Then the next thing was to see if I could do it myself!"
Professional cakes came later in life for Kerry, and quite by chance, when she and her American husband moved to the U.S. "As an ex-patriot, the first thing you do is go out and look for a home. So while Doug was working, I was trying to find a place with the help of one of his colleague's wives."
It turned out that new friend was planning her son's wedding, and she needed a cake. She begged Kerry to make it, and although Kerry knew she could do the cake part no problem, she didn't know how to work with fondant or gum paste. "Then I realized that while we'd been doing fondant and gum paste in Australia for three generations, in America it was all butter cream. So I thought, Well I could do that!"
Kerry had a crash course in piping butter cream roses at a local cake shop, elbows on the counter with the owner of the shop, practicing with cream cheese and pastry bags.
Her cake was a huge hit. Not only was it beautiful, but the butter cream she made was the best anyone had ever had. "I didn't know Americans were making butter cream out of Crisco, and I used real butter of course, so everyone loved it." (Butter cream with Crisco?? Glad we're over that phase in American dessert history!)
Word of the cake spread like wild fire, and the calls started pouring in for her to make more cakes. But she told everyone it was a one off thing, that cakes weren't her profession. Then, when Kerry was on holiday, she had a thought. "Everyone in America was doing butter cream wedding cakes, so if I could decorate with fondant and gum paste, then maybe I could carve out a niche for myself." So she bought an armful of books and taught herself how to do it. The rest is herstory.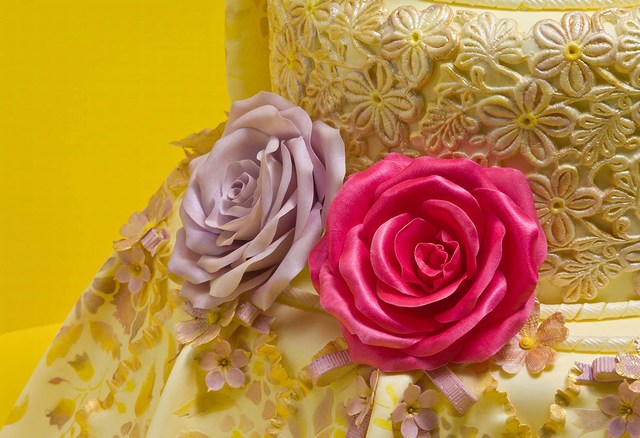 Detail of Kerry Vincent cake and roses. (Courtesy of Kerry Vincent)
Kerry Vincent has judged over 100 Food Network Challenges. She's the founder of the Oklahoma State Sugar Art Show, the country's largest competition of its kind. "Eighteen years ago," said Kerry, "I thought the heartland needed a competition because everything was happening in New York City or on the West Coast."
But most of us know Kerry from The Food Network, where she's earned a reputation as the toughest judge. "To me, competition is the most important thing for anyone who wants to be great at what they do. You need practice and competition."
Although she's been branded as the "mean judge" by many a losing competitor and viewer--she even gets hate email--Kerry says, "There's a big difference between mean and constructive criticism. Constructive criticism helps people improve their work, being mean is personal. I'm never personal, I judge what's put on the table and hope people will learn from it."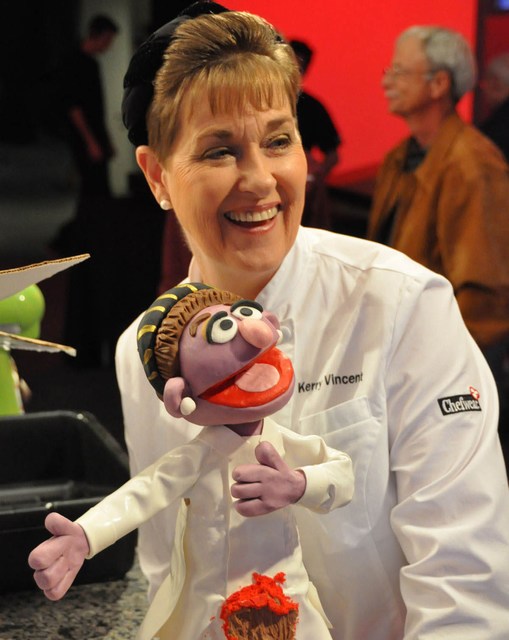 Kerry muppetized in cake. (Courtesy of Kerry Vincent)
One competitor in particular seems to have it in for Vincent, Stevie Famulari. I've seen every Challenge with Stevie, and she always tries to ruffle Kerry's feathers. "Stevie tries to upset me. The rivalry is real on her side... she definitely does not love me."
In one Challenge Kerry was the surprise client and the competitors had to make her birthday cake--an idea Kerry herself came up with when one competitor cried and complained so much about her judging that Kerry walked off the set. Stevie lit Kerry's birthday cake on fire in an attempt at pyrotechnics, and the creation welded itself to the stainless steel table. The crew moved it out to the dumpster--table and all--and the next day when Kerry drove onto the set, she nearly fell out of her car laughing. "We'd had a good snow overnight, and there was Stevie's cake all covered in snow, and it was the prettiest I'd ever seen it! I called my husband and said I finally have a beautiful birthday cake from Stevie!"
Not only branded as the villain on Challenge, Kerry Vincent is also known for her trademark head bands--something she says she doesn't often wear off camera. She only took up the head band after she cut off her butt-length hair a couple of decades ago. "My husband and I go to a lot of black tie functions, and I just thought I needed something to dress up my sporty short hair." But when she showed up on the set a couple times without the head band, her producer asked if she had one in her bag. When she replied yes, he said Good, don't ever show up without one.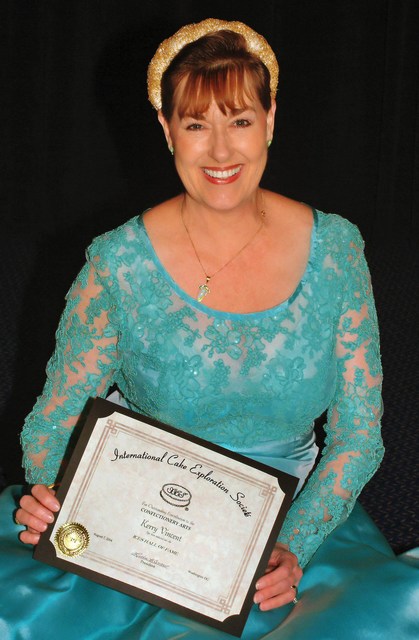 Induction into The Hall of Fame for Sugar Artists (Courtesy of Kerry Vincent)
Today Food Network Challenge is seen around the globe and dubbed for foreign audiences. Despite Food Network Challenge being on someone's television at any given point in dozens of countries, as well as being a launching pad for stardom (like Buddy Valastro, The Cake Boss), Vincent has kept a relatively low profile and is still surprised when a stranger asks for her autograph. Kerry lives the good life with her husband in quiet Tulsa, Oklahoma, where despite her rise to fame, she's remained decidedly down to Earth.
Check out some of Kerry's beautiful wedding cakes in this slide show!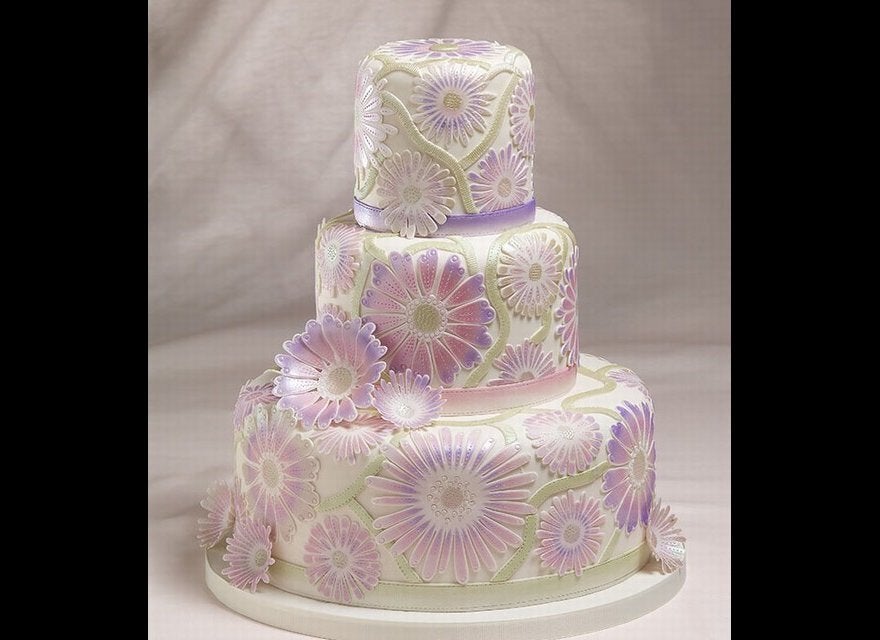 Wedding Cakes by Kerry Vincent of Food Network Challenge
Related