When Kerry Washington's character on the primetime political drama "Scandal" chose to have an abortion without shame or regret last year, the actress says she faced a backlash on social media. But she doesn't put up with trolls for very long.
"A lot of the people that may have reacted negatively are probably blocked on my Twitter, because I tend to be a pretty outspoken person when it comes to all kinds of human rights -- women's reproductive rights, immigrants' rights, workers' rights, rights for people of color, voting rights," she said in an interview with The Huffington Post at the United State of Women White House summit on Tuesday. "I have no problem with people expressing a difference of opinion ... but I do block people who express violence, sexism, racism -- that's inexcusable to me."
In the abortion episode, Washington's character, Olivia Pope, unceremoniously skips a political event to have the procedure. Washington said that while she didn't help write the episode or have any say in how the abortion was portrayed, she was proud to play a character who exercised her reproductive rights without apology.
"I just think it's important that we remind ourselves that we live in a country where choice is important, and I was grateful to be able to portray a character who makes a choice and doesn't have shame about it," she said.
Washington has been involved in politics since long before she played Pope, a character whose job it is to clean up political scandals in Washington, D.C. Washington campaigned for Secretary of State John Kerry when he ran for president in 2004, and then for President Barack Obama in 2008 and 2012. She also serves on the President's Committee on the Arts and the Humanities. On Tuesday, she spoke about gender-based violence at the White House summit, a celebration of the Obama administration's legacy on women's rights.
Washington also speaks out often about feminism and racial politics. She told HuffPost that she has been turned down for certain roles in the past because she didn't fit someone's idea of the kind of African-American woman she needed to be.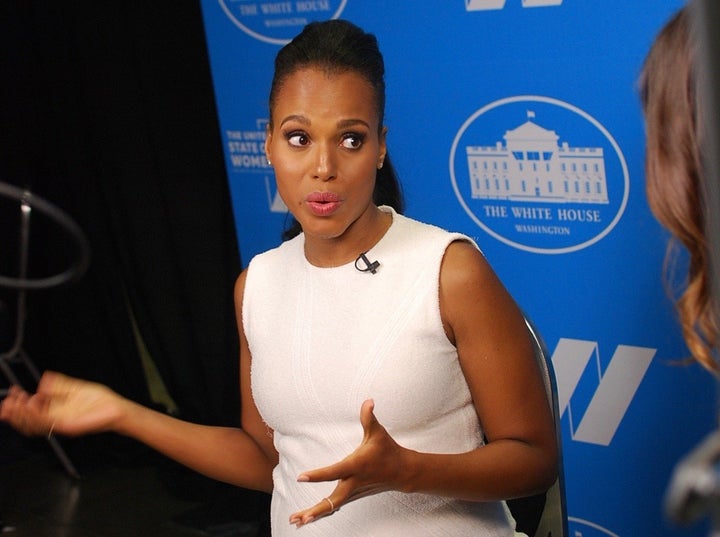 "I think there were expectations of how I was supposed to look and act as a woman, or a woman of color, a black woman, a woman from the Bronx," she said. "I think I did one role that was pretty well-known in [the 2001 film] 'Save the Last Dance,' where I played a girl who was from an urban community, and from that point on that was the only kind of black woman that people wanted me to play."
Since that film, Washington has proven that she can play many "kinds" of black women, including attorney and academic Anita Hill, who famously accused then-U.S. Supreme Court nominee Clarence Thomas of sexual harassment. Washington said that playing that role, in the 2016 HBO film "Confirmation," "was one of the first times I really became aware of the intersectionality of my identity as a woman and a person of color."
The very first time she felt that way, however, was when she had to choose between Obama and Hillary Clinton during the Democratic presidential primary in 2008. She chose to campaign for Obama at the time -- but now she has a second chance to support Clinton. "I felt like, well, I am a woman and I'm a person of color, so I can't just rely on identity politics," she said. "But I've been a fan of hers for a long time, and just as I felt that he was the right person at that time, I feel like she's the right person at this time."
Washington endorsed Clinton in March and has taped political ads for her. She said while she is very excited for the possibility of the first female president, and proud of having helped elect a man of color to the Oval Office, she's not sure the country will be ready for a woman of color to be president anytime soon.
"We're in a really challenging place as a country right now," she said. "Some of the rhetoric around women and immigrants and people of color is breathtaking to me."
But when the time does come, Washington said, she already has her eye on a candidate.
"Somebody that I'm a huge fan of, but she's running for Senate right now, is [state Attorney General] Kamala Harris in California," she said. "I think she's extraordinary. I do think she could be president one day."
Popular in the Community