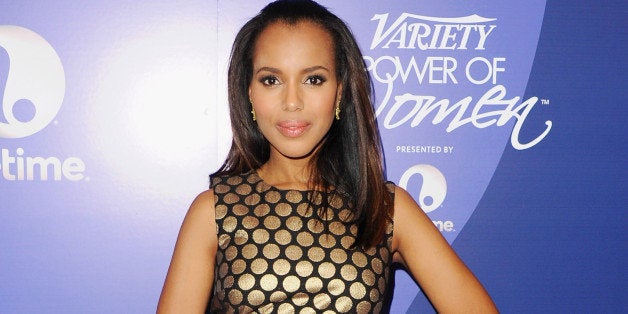 Gossip blogs might have assumed Kerry Washington was a lesbian because she was never candid about her love life, but that didn't faze the superstar leading lady.
"It's interesting how much people long to fill in the gaps when someone in the public eye doesn't share their personal life," she told the Advocate in a lengthy interview published Thursday. "I understand their frustration. I like how people will post pictures of me with other women that I adore, hugging on red carpets, and say, 'See?' Are we so uncomfortable with love between two people of the same gender that we immediately label it as sexual? But I've never been bothered by the lesbian rumor. There's nothing offensive about it, so there's no reason to be offended."
The "Scandal" star is not gay. Over the summer, she married NFL star Nnamdi Asomugha in a secret ceremony (and is now rumored to be secretly pregnant). Although she is an A-list, Emmy-nominated actress, she has decided to keep her private life private.
Washington has also known closeted professionals in the biz. She said she and her friends have compared being closeted with the idea of "passing" as white in the black community, and have rooted it back to societal prejudices.
"When you buy into the cultural idea of what's acceptable and unacceptable, you reinforce negative stereotypes and prejudices," she said. "That wouldn't work for me. I don't love to give advice to anyone because we all have to make our own choices, but I'd want to live my life in truth. But there also have to be changes within the Hollywood community. Casting directors and producers have to look beyond sexual orientation in the way that they're just barely, barely beginning to look beyond race. Until Hollywood learns that actors are artists of transformation, it will continue to be limiting for minorities."
PHOTO GALLERY
Celebrities Who've Faced Gay Rumors
CORRECTION: A previous version of this article stated Kerry Washington was nominated for an Oscar. She was nominated for an Emmy.
Calling all HuffPost superfans!
Sign up for membership to become a founding member and help shape HuffPost's next chapter