The release of Kesha's first album in five years was going to be a watershed moment for the pop singer regardless of its reception.
"Rainbow," out Friday, represents a musical silence-breaking after her drawn-out legal battle with former boss and producer Lukasz "Dr. Luke" Gottwald, whom Kesha had accused of sexual assault and battery in a 2014 lawsuit that has dragged out for years.
While "Rainbow" is a personal success for Kesha, reviews from top outlets on Friday indicate that the album is a musical triumph as well.
Rolling Stone awarded "Rainbow" four out of five stars and called it "the best music of her career." The New York Times praised the album for deftly navigating a difficult hat-trick for the singer: successfully establishing a new sound, telling the world who she is today and navigating the after-effects of her much-documented legal battle.
"The risk was that the record [...] would grasp for a sound, ask for pity and rely on the conflict with Dr. Luke for all of its tension," reads the NYT review. "But Kesha, who was executive producer on the album, chose a different path." The Los Angeles Times cited her "impressive singing," which "persuades you she's truly found peace by moving on." Entertainment Weekly was nothing short of laudatory, calling the album a "triumph." NPR Music called it "an album full of hope, one that celebrates love and exhorts the listener to believe in herself."
The complimentary critical reviews of "Rainbow" are what many hope will be a closing chapter in Kesha's legal battle with Gottwald. In 2016, a New York judge denied Kesha's motion requesting to be released from her recording contract with Sony, though the judge also ruled she could work with another Sony producer. The loss for Kesha remains in appeals.
Gottwald is no longer part of Kemosabe Records, the studio behind "Rainbow" and Kesha's previous albums, though it's unclear whether he will profit from its release. Despite a lack of legal resolution at the album's release, "Rainbow" marks a personal win for Kesha, who had largely been unable to put out music while her lawsuit was ongoing.
The singer's third full-length album features empowering kiss-offs in the vein of its first single, the triumphant "Praying," along with opening track "Bastards" ― a paean against letting the bastards get you down — and rallying cries for weirdos like "Let 'Em Talk" and "Hymn." She also expands her sound to encompass twangy, country-infused pop on "Hunt You Down" and "Old Flames," featuring none other than Dolly Parton.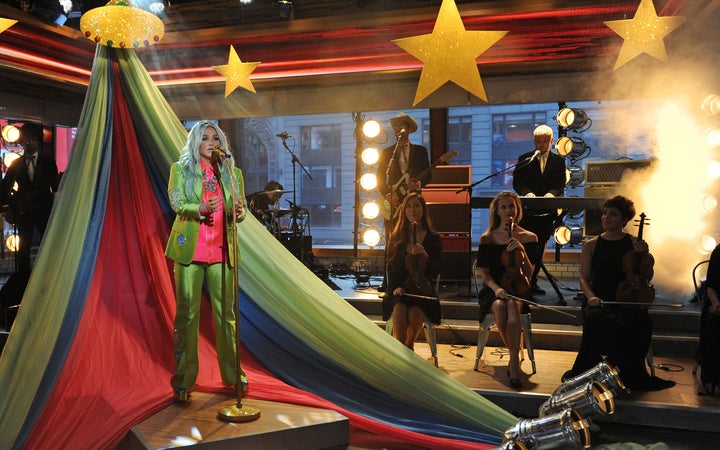 There are shades of the pop singer who gave fans 2010′s "Animal" and its 2012 follow-up "Warrior," the raucous partier who loves Gold Trans Ams and brushing her teeth with whiskey. The same glitter-encrusted Kesha we knew and loved is present throughout "Rainbow," but this time around, she's self-assured, mature and rife with lessons to impart without coming off as a rote platitude dispenser.
"I was in a dark place," Kesha wrote on Refinery 29 of her album's conception, detailing how the title track was written during a stay in rehab for an eating disorder. The staff would only allow an hour's worth of piano time each day.
"The whole album idea and tour and everything, came from me crying and singing and playing and dreaming until my hour was up and they took the keyboard away again," she wrote.
The "Rainbow," Kesha explains, is what emerges after a storm. "Recently, I feel like I've gone through some things that have felt like a storm in my life," she wrote. "This was my way of telling myself that I was going to make it through."
Listen to "Rainbow" on Spotify below.
REAL LIFE. REAL NEWS. REAL VOICES.
Help us tell more of the stories that matter from voices that too often remain unheard.
BEFORE YOU GO