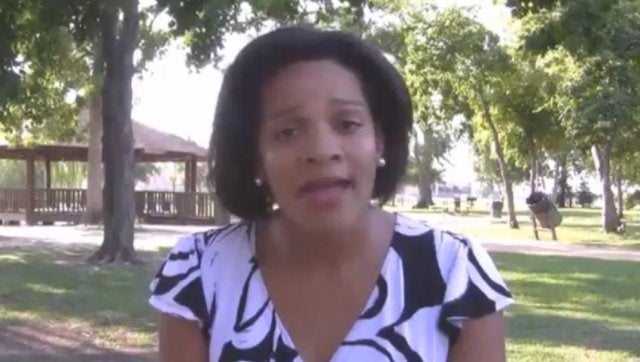 Charlotte, N.C. -- Last week, Texas Democrats sent more than 300 delegates to represent the Lone Star State at the Democratic National Convention. But Kesha Rogers, the Democratic nominee for U.S. Congress for Texas's 22nd District, was notably absent.
"She's not here in a lot of different ways," Gilberto Hinojosa, chairman of the Texas Democratic Party, said sarcastically.
One of Hinojosa's aides chuckled when asked if the state's party was backing Rogers' bid. "She wants to impeach the Democratic president," he said. "I think it's safe to say we're not endorsing her."
At a quick glance, some of Rogers' ideas might fit in with either party. She was opposed to the government bailouts of the financial sector. She wants to reinstate the Glass-Steagall Act, the Depression-era law that curtailed financial speculation; many blame the financial crisis on its repeal.
But Rogers is a follower of Lyndon Larouche, who heads the fringe political movement that bears his name. Over his long career, LaRouche, who is 90, has been called the leader of a political cult, labeled an anti-Semite by the Anti-Defamation League, run for the Democratic nomination for president repeatedly and unsuccessfully, and convicted of mail fraud. (He shared a prison cell with Jim Bakker, the disgraced televangelist.) LaRouche followers believe that his ideas are the only thing that can save the world from a coming nuclear war.

(A key plank in Rogers' platform is "interplanetary defense," defending the earth from asteroids and America from nuclear missiles from hostile countries -- and Mars colonization, which is why she opposes cuts to NASA's budget.)
Rogers, 35, was asked to characterize her relationship with Larouche. "I would say [he is] an associate and advisor in terms of our collaboration on a political mission," she told The Huffington Post.
This is the second time Democrats in Texas have had to figure out how to deal with Rogers. In 2010, she stunned the party when she won the primary for her district, which encompasses a swath just south of Houston. Her win, which Hinojosa thought may have been fueled by African-American voters who weren't familiar with her political stances, put the party in a serious bind, since she had called repeatedly for the impeachment of President Obama.
"What made me decide to run was the dire state of the economy and the non-leadership of President Obama," she said.
"At that point in time, my campaign put a mustache" -- as in Hitler -- "on Obama as part of the national campaign drive." Like LaRouche, Rogers said that that the Affordable Care Act, the president's signature health care law, was rooted in the same eugenicist impulses that fueled the Holocaust. "I was comparing Obama's health care law to Hitler's 1930s policies that said that health care laws were based on those unfit for life," she said.
Rogers said she has 12 full-time employees on staff, and that she had been a Democrat "pretty much all" her life. But if elected to Congress, she said she wouldn't caucus with either party. "I don't identify with party structure," she said. "Right now, I feel that both parties are going in the wrong direction."
In such a politically polarized country, the Texas-22 race could have national implications. Hinojosa said the Democrats had a real chance of picking up that seat in the district if KP George, Rogers' main Democratic opponent, won the primary. County party officials even took the unusual step of endorsing George for the primary, to keep Rogers from winning again. ("If I can figure out what that silver bullet is to make sure that she is not on my slate after May, then I'll definitely do that," the local party chairman told The New York Times.)
"That's sad, because the Democrats could have used that because it would have helped the Democrats take control of Congress," Hinojosa said. "If we had that seat we were going to have it back."
In 2010, Rogers was summarily crushed in the general election by Pete Olson, who is her Republican opponent this time around, too. Because the Democrats have essentially given up on that seat, Hinojosa said, they didn't have any polling on how the current Rogers-Olson rematch was going.
"Given her extreme positions, she shouldn't have any of the resources that the Democratic party has available," Hinojosa said. "The moment that this woman won the primary we just kind of walked away from that race."
He wouldn't rule out the possibility that Republicans somehow played a role in Rogers' primary win.
"I'm not sure, but I would not be surprised," he said. "I would not be surprised if they had a hand in getting her elected since they strategically knew that they had their best chance to win that [seat]."
There's some recent precedent for this suspicion: In 2010, Alvin Greene, an unemployed South Carolina man who did no campaigning and spent little money somehow managed to win the Democratic nomination for Senate there. Many people assumed that there were some electoral shenanigans involved -- Rep. James Clyburn (D-S.C.) called Greene a "Republican plant" and asked for an investigation -- but no wrongdoing was ever proven.
Rogers said she wasn't worried about not being invited to the party's national convention. "I have no reason to be in Charlotte when the American people are suffering and they need leadership," she said.
"Right now my concern is for the prospects of the nation surviving," she said. "If Obama commits thermonuclear war, I won't have to worry about November and neither will you."

Popular in the Community