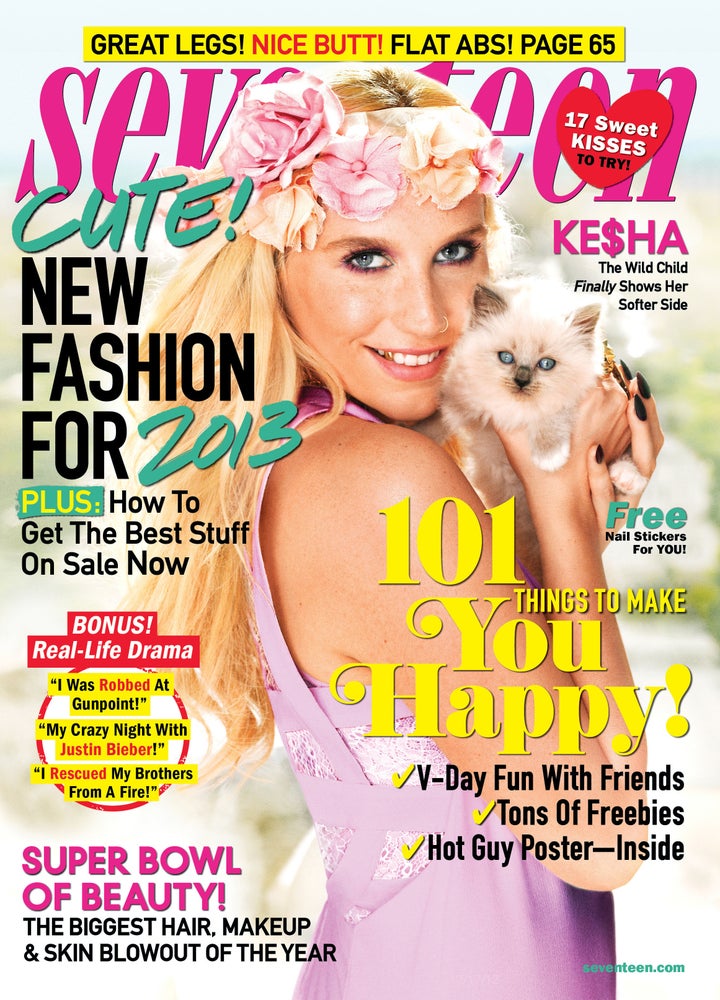 Since she rose to stardom with the success of 2009 party anthem "Tik Tok," we've seen Ke$ha rock head-to-toe glitter, nose rings, wild headdresses, and torn-up clothing that puts even the most distressed denim to shame. But this year, pop music's reigning wild child is showing a new -- and very different -- side of herself, appearing on the cover of Seventeen magazine wearing pink flowers and cuddling a kitten. In the magazine's February issue, the "Die Young" singer tries out a new style and opens up about bullying, dealing with negativity, and what she finds most attractive in others. Scroll down to view the full cover.
Since her career launched in 2009, Ke$ha has encountered her fair share of criticism, but she says that the negativity has only motivated her to succeed. In November, Ke$ha released an illustrated memoir, "My Crazy Beautiful Life," detailing the many obstacles she's overcome on her journey from the "worst waitress in LA" to pop superstar.
"I used it to motivate me then, and I still do. I remember every person who told me I couldn't do something or that I was ugly or too fat," she told Seventeen. "I have a 's*** list' -- people from my past who have been soulless and judgmental. Even after I got through my awkward phase, got my braces off, and figured out how to dress my body, people in the music business were like, 'You're never going to make it.' I see them now and I'm like, 'Ha!' That's one of the reasons I named my record 'Warrior.' You can be a victim and let that eat your soul, or you can say, You're going on my list and I'm going to prove you wrong!"
In 2010, Ke$ha opened up about her bisexuality to Out Magazine. "I don't like labeling things anyway," she told the magazine, in reference to labeling people gay and straight.
"I don't love just men," she told Seventeen. "I love people. It's not about a gender. It's just about the spirit that exudes from that other person you're with."
"I'm all about standing up to gay/lesbian/transgender bullying, but it's also about my little brother," she said. "He's 13 and he gets made fun of because he has a stutter. I just have zero tolerance for people making fun of others."
For more on Ke$ha, go to seventeen.com/ke$ha and pick up the February issue of Seventeen, on newsstands January 8.
Do you agree with Ke$ha's views on negativity and bullying? What do you think of her new look? Tell us in the comments below or tweet @HuffPostTeen!