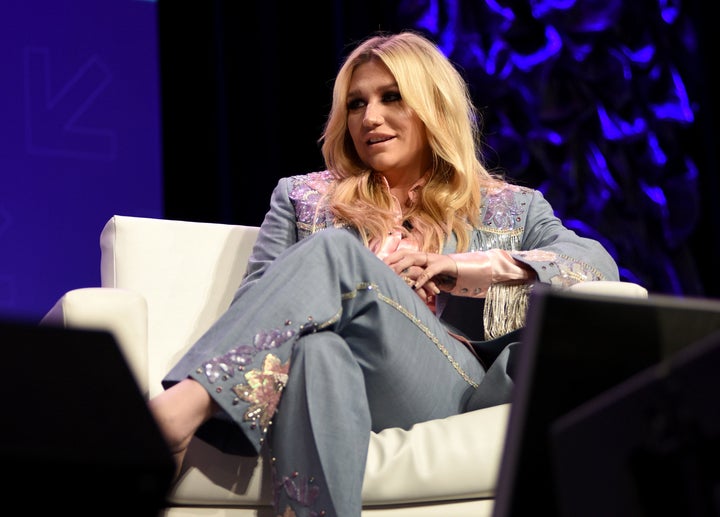 Kesha is no longer letting internet trolls dictate her self-image.
Kesha talked about how seriously she had been taking insults from online trolls, and how deeply the harassment was affecting her. "I was making trolls, I was making bullies, I was making people I had never met before who were projecting their insecurities on me, on the internet — I was making them the truth, the higher power," she said in a conversation with Refinery 29's Amy Emmerich. 
This coincided with Kesha's longtime disordered eating, which she also talked about at Tuesday's panel. 
"I almost died," Kesha said. "I came closer than I ever knew." She went to rehab for the issue in 2014.
"By the time I entered rehab," she said, "they were surprised I hadn't had a stroke — because I hadn't consumed enough." 
After years of staying silent about her eating disorder, Kesha said that she no longer carries the stigma that comes along with it. "I'm not ashamed anymore," she told Emmerich. "It's emotional because it's a deep-rooted disease. It can really affect your self-worth."
Since her lawsuit against Dr. Luke over multiple alleged instances of sexual assault and emotional abuse, Kesha has put much of her painful past behind her. She dropped the dollar sign from her name, going from Ke$ha to Kesha, and since going to rehab in 2014, she's been an outspoken advocate for seeking help with mental health and eating disorders. Kesha has also refocused on her music ― last May, she performed at the Billboard Music Awards, and she said on Tuesday that she's been working on her music nonstop and has 70 to 80 songs in the pipeline. 
"I have a lot to talk about," she said. 
And we can't wait to hear what she has to say. 
REAL LIFE. REAL NEWS. REAL VOICES.
Help us tell more of the stories that matter from voices that too often remain unheard.
BEFORE YOU GO