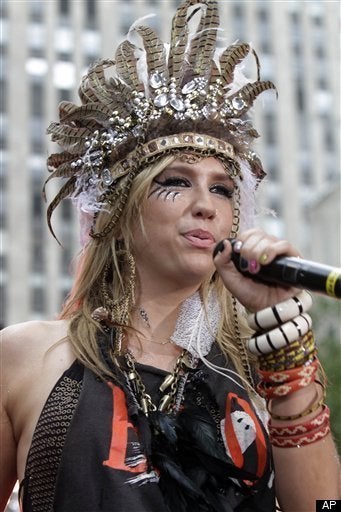 Ke$ha may need to see a dentist for some advice. ASAP.
The wild-child singer spoke with Vanity Fair about her career thus far, hitting on her hard-partying ways and her interesting declaration in the song 'Tik Tok.' In the first verse of the song, she says, "Before I leave, brush my teeth with a bottle of Jack." And apparently, she wasn't making it up.
"Absolutely not!" she insisted to the magazine. "Jack Daniels is an anti-bacterial and it's way better than morning breath. Let me put it this way, if you wake up naked in a bathtub and you have the choice between rinsing out with Jack Daniels or trying to make out with some dude with morning breath, I would recommend picking up the Jack."
Well, take note of that for those situations. It is an interesting twist to her story, one that most people think is filled with lyrics of exaggeration and nonsensical rhymes. A Princeton professor even spoke about the subject, if only to mock her.
The singer did sober up when talking about her Grammy snub, however.
"I was disappointed that I didn't get nominated," she admitted. "But I've only been around for a year. I'm friends with the Black Keys, and they were nominated for the first time this year. And they've been around for a decade. That's like half my life. So I really can't be a brat about it. I plan on making a lot more records, and hopefully one of them will be Grammy worthy."
Of course, her age hasn't really stopped her from doing things in the past. In addition to the rapid rise to stardom, last month, she talked about the very early age that she learned about sex.
Calling all HuffPost superfans!
Sign up for membership to become a founding member and help shape HuffPost's next chapter