 Ke$ha (or Kesha, depending on where you look) made news this May by not looking like a mess. Her outfit at the BMI Awards was reserved and, by her standards, fit for a nunnery.
The red carpet look probably doesn't foretell a great shift in her style of self-image, just like her transition from "Animal" (her first studio album) to "Warrior" (out Tuesday on RCA) isn't really a distinct break. While the new disc features a smarter mix of party anthems and actual rock songs (hints of The Flaming Lips' Wayne Coyne and The Black Keys' Patrick Carney, who both worked with Ke$ha, are everywhere), oftentimes the differences are more stylistic than substantive. As the Los Angeles Times notes, she may have swapped the Jack Daniels of "Tik Tok" for wine on "Only Wanna Dance With You," but she's still drinking "on the cement outside 7-11" (also, from "Warrior": "Champagne tastes like piss to me").
It's these streaks that simultaneously please her rabid fans (that's not an over-the-top adjective -- they send her their teeth) and give some critics pause. There's a gleeful sense of youthful self-invention that permeates her catalogue, but this same attitude translates harshly outside of music. When The Huffington Post asked the singer how she balances writing her own songs with writing contributed by others, she simply said, "I write my own music." It's true that she writes far more of her own material than, say, Rihanna, but her response belies a peculiar defensiveness, especially given that her book, "My Crazy Beautiful Life" (out now on Touchstone) is rife with stories of her working closely with producer-songwriters like Dr. Luke and Max Martin. Both Luke and Martin are credited as writers on the album (ten songs bear Luke's name, six were co-written with Martin). Even "Dirty Love," her track with Iggy Pop, wasn't written in a vacuum: "I wrote 'Dirty Love' with my mom and Matt Squire," she says in the book.
But perhaps that's precisely the point. Though Ke$ha probably vies with Lady Gaga when it comes to our most musically talented and knowledgable pop star, she's content to let her work come to the listener through a barrage of glitter and sweat. The albums will tell a story, but details don't matter when the hype sets the scene. HuffPost's emails with the charming singer are available below.
What's the biggest misconception about you that you hope "My Crazy Beautiful Life" will clear up?
It's not that I'm trying to clear up any particular misconception. I've already chosen this life in the spotlight so I said well if I'm doing this then I might as well go all the way and put it all out there so that if someone is interested in me then they can get a more complete picture of what my life is really like. I'm putting by balls on the table. But mainly I just wanted to make a fun scrapbook for my fans. They deserve to get the whole story from me.

At what point did you decide that you wanted to share so much of your own story, as opposed to just letting the music speak for itself?
I write about my life in my music and I have very little filter so basically it would be impossible for me to separate my music and the rest of my life. My music is a representation of my life and vice-versa.

Your album veers strongly toward rock (and obviously you worked with Patrick and Wayne), but also includes a number of dance and pop tracks. Do you think you'll ever make an album that focuses only on one genre? Or, alternatively, you find genres unnecessary?
I think it's fun to not adhere to any rules in the studio. I mean I would want to make an electro-cockpop-new wave-honky tonk-Christmas album...That's a genre I can get behind, but other than that one, no I don't believe in labels.

Everyone is very excited about the "bra made of human teeth." At what point did people start sending you teeth?
When I asked them to. About a year ago I think. Yet another reason I love social media. Can you imagine if I had to ask you guys to print a story soliciting human teeth for my undergarments? But while we are on that topic... would you please?

Have you seen this episode of "Teen Mom," where a woman who's due in jail begs her lawyer to keep her out until she can attend one of your shows? What's your reaction to that?
She is the reason I do what I do. Go grrrl don't let the man hold you down! We R Who We R!!!!

You write in the book that you've grown over the past couple of years and thus transitioned from an "Animal" to a "Warrior." Do you find that you're at a point now where you're in control creatively, both in relation to your music and your image? What's something you wish you have a bit more of a handle on?
I've always been in the driver seat with the creation of my music because I have been writing music constantly, like every day, since I was 12, but yeah, the first time around when I was stumbling down red carpets and cursing through interviews on pop radio I had no clue what I was doing. I've certainly got a better handle on things this time around but I still refuse to sensor myself for anyone.

In that vein, are there any songs from "Animal" that feel like they spoke to a very different place in your life? Is it awkward to perform those songs now?
No. I am still a wild child just with a different life. Those songs are about real things and they are as real as my memories of the days when I wrote that album. I love to play them all around the world and create new memories every night I play them.
Who is someone outside of music who inspires you? And what musical act would you love to work with that you think might surprise casual fans?
Richard Branson because he has a spaceship. I want one. I would offer a signed copy of my book in return for his spaceship. Do you have his phone number? Rolling Stones.

What's your biggest non-music goal or New Year's Resolution?
To get Mr Peep$ toilet trained and he needs to exercise more and not be soooooo BAD.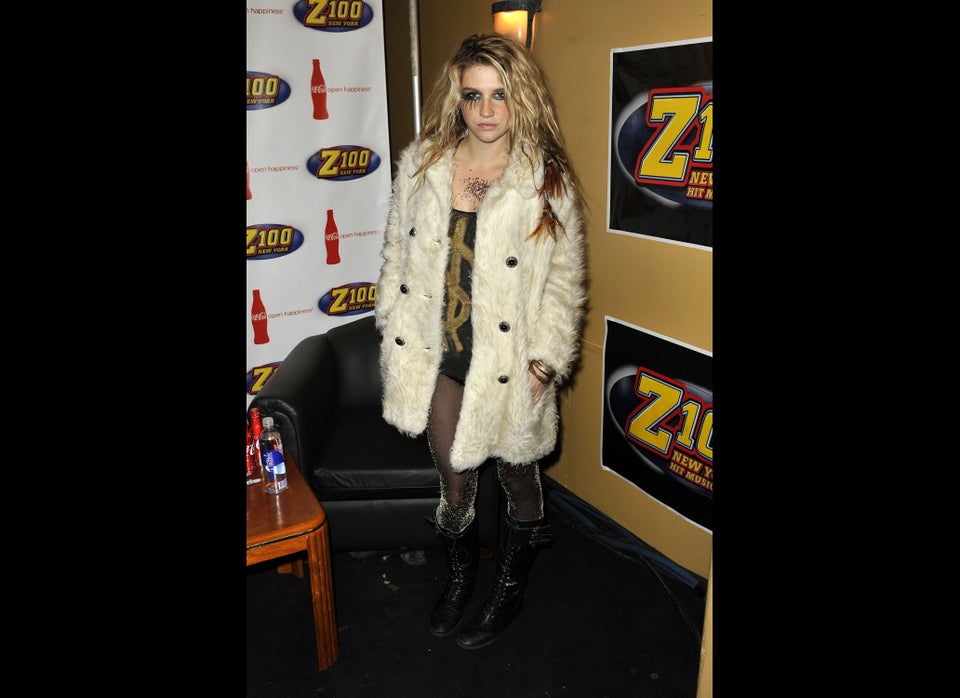 Ke$ha's Style Evolution
Popular in the Community