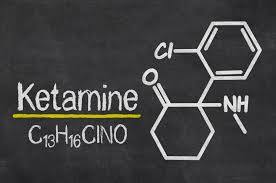 Ketamine infusions are one of the latest treatments available for treatment resistant depression. There are many hospitals and research centers offering free or fee for service treatments in order to gather data to support FDA approval as well as insurance approval. There are also many "pop-up" private ketamine clinics throughout the country that offer ketamine infusions. These clinics are usually run by a medical doctor (psychiatrist) and may be safely providing this new and exciting treatment but I would like to offer a warning: be cautious who you decide to treat you with this carefully measured substance.
My personal experience involves having ketamine infusions at one of the best psychiatric hospitals in the country. They are collecting every bit of data involving what happens to the patient prior to each treatment, during the infusion as well as post-treatment. I always felt in good hands and felt grateful to be receiving the treatment at a teaching hospital. While I had to pay for the first four treatments, the price differential as compared to a "pop-up" ketamine clinic was worth it. My research into the cost of ketamine infusions at these private clinics revealed costs ranging from $475 to $550 per infusion. I paid approximately 60% more than that per treatment but felt extreme comfort with the high-level of care I received which included the research and data collection aspect of my care. The cost is the key as far as I am concerned. It is extremely appealing to pay $475 per treatment especially when insurance companies are not covering these costs at this time as compared to $1300 per treatment. I paid for four infusions and then received 4 infusions for "free" which was a huge help as my husband and I did not have the funds for the four infusions I received but felt desperate as I was quite ill.
I certainly do not want to bash private ketamine clinics as I personally do not have experience with them but I am partial to receiving my health care services at large teaching and research-based institutions. The Depression Research Program at Yale-New Haven Hospital, the Department of Psychiatry at Columbia University Medical Center as well as The Depression Clinical and Research Program at Mass General Hospital are some of the leading research institutions involved in gathering data on the efficacy of ketamine infusions for depression and provide ketamine treatments in fully-staffed facilities, perhaps even "over-staffed" facilities.
My personal experience was not that positive as to the actual ketamine infusions as they did not improve my mood. It did help improve my thinking and focus. I know from talking with the doctors that they are seeing many patients helped by the infusions and that is very positive. For those of us with treatment resistant depression, we are desperate for more options. I have had positive effects from ECT (Electroconvulsive Therapy) and mixed results from TMS (Transcranial Magnetic Stimulation). I have tried many medications from many classes of drugs. My worry is that those with limited financial means will go the cheaper route to receive treatment and therefore may be hurt unnecessarily. While in a perfect world it would be best for everyone to have access to the best medical care, that is unfortunately not the reality of the medical world. For those who are too ill to take the time and effort to research where to receive ketamine infusions, it is up to their loved ones and outpatient providers to ensure that the safest and best treatment will be received. A phone call to a research hospital can take minutes while mistreatment at a private clinic could last a lifetime. Again, I do not want to be completely negative about these private clinics, I simply worry about patients being taken advantage of for the sake of financial gain. I also worry about staffing at private clinics. At the hospital where I received my infusions there were four medical doctors, 4 nurses and 2-3 people collecting data. After checking various private ketamine clinics' websites, some only listed a psychiatrist and one nurse on staff for each patient. That makes me nervous as a patient can have numerous reactions to the treatment and may require more than two professionals to be present. Additionally, it is unclear what type of data these private clinics are collecting. For the sake of the patients being treated, it is necessary to collect varied data in order to monitor outcomes.
Time will tell in regard to insurance and FDA approval but it is worth finding those institutions where safety of care, appropriate staffing and data collection are more important than the fee. There are many research facilities that do not even charge patients who agree to be part of their studies. The data is key right now in order to provide the governing institutions with the needed evidence of the efficacy of this treatment. Again, some research is needed to find such programs but with the help of supportive family and friends, this could be a simple task which could only help someone struggling with such an intense and unforgiving illness. The first question to ask when calling these teaching hospitals should always be, "How can I be part of a study in a ketamine trial?" Take the next steps and even if they are not able to accept you, you can ask about financial assistance and payment plans. There are reputable options out there for ketamine treatment infusions and those in need deserve just that.
Popular in the Community