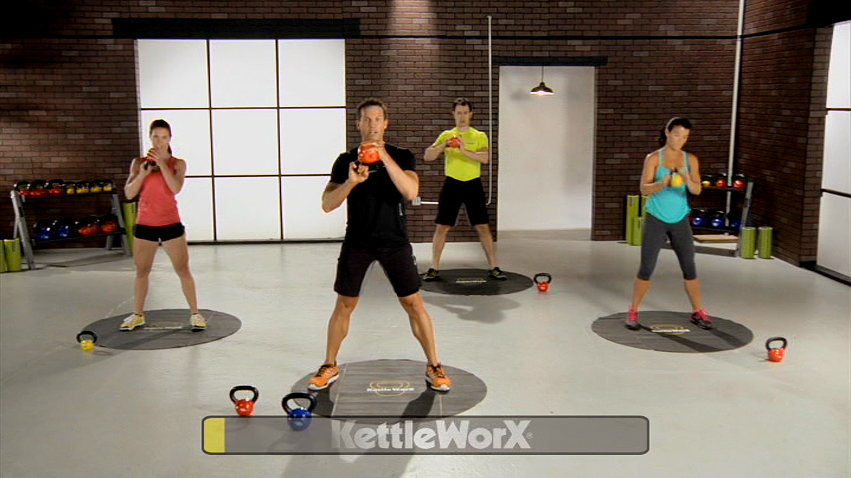 Where: We were treated to this sweat session at a local gym for a media event, but KettleWorx is available in select gyms in LA and Chicago and coming soon to DVD.
What We Did: We alternated between plyometrics moves like high knees, running in place and shuffling and kettlebells moves like tactical lunges, figure eights, kettlebell swings and squat presses.
How'd It Feel:
Meredith's Take: One of the metrics I use to determine the quality of a fitness class is how it affects Sarah and me differently. She's in much better shape than I am, so if, at some point during the 30- or 45-minute period, I don't lose my form to exhaustion while she moves brightly beside me, I really dock a point. If it can't separate the truly fit from the weekend warriors, is a class really strenuous enough?
By that measure, KettleWorx passed with flying colors. As we ran in place, our knees meant to reach parallel with our hips, I found myself drooping. This was good. The class definitely got me sweating, but I also wasn't behind. It was encouraging and challenging, which was a pleasant surprise as I'll admit to being a bit intimidated by the idea of kettlebells.
Perhaps it was my relief in not encountering a CrossFit-style frenzy, but I really enjoyed this one.
Sarah's Take: Previously, when I thought kettlebells, I imagined a whole lot of grunting and huffing and swinging, like prehistoric creatures preparing for battle. We jumped into a spirited and lively routine that felt more like the seven-minute workout with weights than like a workout for elite athletes only. I broke a sweat -- fast! -- and my heart was pounding by the end. I probably should have challenged myself to try more of the moves with a heavier kettlebell, as I didn't feel sore the next day -- but that's what next time is for!
What It Helps With: Strength and cardio. You'll get the benefits of a resistance workout at the same time as your heart gets pumping.
What Fitness Level Is Required: Although it can be, working out with kettlebells doesn't have to be scary-intense or dangerous. The 20-minute routine is easily modifiable for all fitness levels -- especially when you take into account that even a five-pound kettlebell will do.
What It Costs: For $99, you'll get seven DVDs, a fitness guide, a meal plan, a training calendar and your very own 5- to 15-pound kettlebell.
Would We Do It Again:
Meredith's Take: Yes, please! Not only would I attend another gym class that combined plyometrics and kettleballs, I'd happily try some of their routines at home.
Sarah's Take: Definitely. Now that some of the mystery has been dispelled, I feel more comfortable pulling a kettlebell from the rack at my gym. I would also try the DVD. Maybe not in a strict eight-week schedule, but as a complement to my regular routine.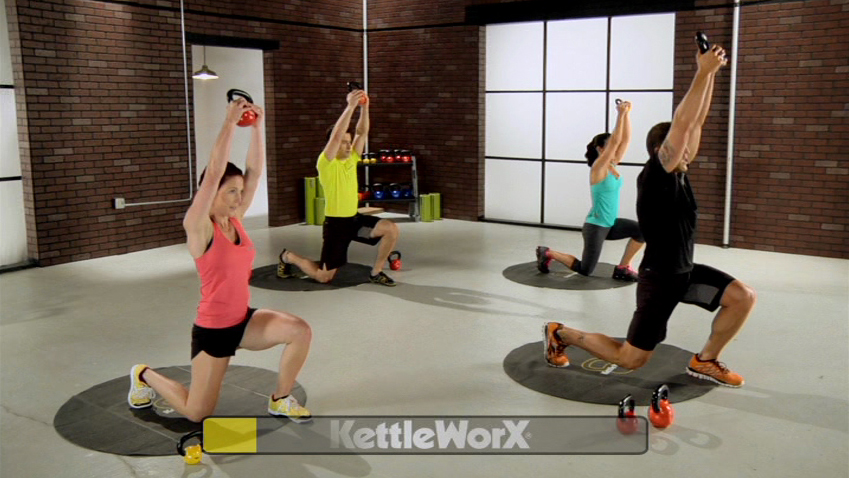 Images courtesy of KettleWorx