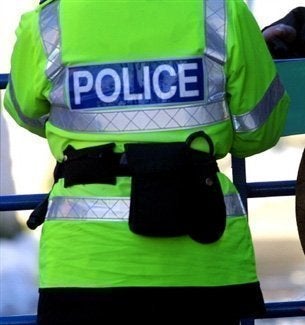 Since London and New York share so much, it will probably come as no surprise to Britons that "kettling"-- the police practice of cordoning off city blocks at both ends and containing protesters for hours before arresting them for all intents and purposes -- had its US debut five years ago during the 2004 Republican National Convention. It was there that I and over 1000 other people were mass-arrested and interned in a makeshift prison camp set up on Pier 57, a filthy and hazardous decommissioned bus depot on the West Side Highway that came to be known as Guantanamo
on the Hudson.
At the time I was an official with the US Green Party, serving as Co-Chair of the Peace Action Committee. I was in New York to organize and lead a week of rallies and protest actions on behalf of the Greens, and to participate in marches and direct actions organized by United for Peace and Justice, Still We Rise, and the War Resisters League.
Even before the onset of the convention, the police presence was overwhelming. New York City boasts a Police Department of 40,000 active officers, and as far as anyone could tell, they were all deployed in the streets that week. It was a literal police state. Everywhere we went we were photographed and videotaped. Squads of police tooled around on scooters, bicycles, horses, and in cars, vans, paddy wagons, and a few APC-type vehicles. Blimps and helicopters with high zoom cameras hovered above us. Midtown was closed down in a five-block radius around Madison Square Garden, inaccessible to traffic, guarded by automatic
weapons and makeshift checkpoints.
The policy of mass arresting and detaining protesters was deliberate and premeditated, as revealed in NYPD documents released in 2007 under court order. The intention was to disrupt, discourage, and, ultimately, disperse the protest presence from the streets by creating a climate of fear. Under the broadly defined rubric of "domestic terrorism," using the Patriot Act, an elevated terror alert, and a "temporary state of emergency," as legal justification, virtually anyone could be construed as a lawbreaker. As a result of this zealotry, the arrests did not discriminate: media, legal observers, and innocent bystanders alike were all caught up in the sweeps.
The mass-arrests began Friday night, August 27, during the Critical Mass ride. Five thousand bicyclists had been peaceably riding around the city for hours before police started cordoning off the route. The ride ended abruptly without incident or provocation at 10 Street and Second Avenue, when police formed a line with motorcycles and slowly pushed into the crowd of bicyclists, knocking many of them over while fellow officers pounced, cuffed, and made arrests. The scene repeated itself with another group of riders uptown at 37 St. and Seventh Avenue.
In both instances police on mopeds closed off blocks while riders were encircled with orange plastic netting. Cameras rolled as riders were thrown off their bicycles, heads driven into the asphalt, and cuffed with plastic flex-cuffs before being dragged away to awaiting buses and paddy wagons. Nearly 300 people ended up on Pier 57 that night, and remained in detention for the rest of the weekend.
On Monday, August 30, a group calling themselves March For Our Lives began an unpermitted march at United Nations Plaza along the East River and slowly moved over to Chelsea on the West Side. Because they had no permit, they marched single file on the sidewalk, which is ostensibly legal, so long as there are no
obstructions. Around 29 St. and 8 Ave. multiple reports said that a number of undercover police on mopeds suddenly jumped the curb onto the sidewalk and began ramming into the marchers, provoking a defensive response from some of those hit by the mopeds, which in turn led to mass
arrests and the use of tear gas, pepper spray, and batons.
Tuesday, August 31 was an important day for us: known as "A31," it was to be a full day of non-violent civil disobedience and direct actions all across Manhattan. Here I participated in a "die in" organized by the War Resisters League, one of the oldest anti-war groups in America. After taking over the intersection at 28 and Broadway, fifty other protestors and I were arrested and detained, sent to Pier 57 for a whole day, and then to Central Booking for another day and a half before we were ordered released by the New York Supreme Court, a story you can read about in great detail in a piece I published shortly after my release.
Nearly half of all those arrested during the week of the convention were rounded up on A31. However, most of those arrested were not engaging in any civil disobedience or direct action. A good percentage of them were part of a marching band parade that was kettled on 16 St., and quite a few were innocent bystanders who happened to find themselves walking on that particular block at the wrong time. Some even lived on the block,showed identification, but were arrested anyway. No one was allowed to leave despite repeated orders, and promises, to disperse.
Independent filmmaker Mike Hall caught the whole experience on film and turned it into a short documentary, 16
Street Tactical. The imagery will be familiar to anyone who witnessed the G20 protests. It shows the police cordoning off the block, refusing to let anyone leave, and then steadily mass-arresting everyone. 16 Street Tactical also contains footage from a local political talk show in Boston that features both myself and the filmmaker talking about our experiences during arrest and detention (also on YouTube in seven parts).
In the end, the actions in New York amounted to little more than the criminalization of dissent. Everyone was a target, everyone was guilty before proven innocent, and everyone -- even the innocent and the neutral -- lost their rights and freedoms in one way or another. The entire city lost, and so too did the nation. Somewhere deep within an NYPD database are the names,
faces, and in many cases fingerprints of thousands and thousands of decent citizens who simply came to exercise free speech and redress their government, and who left with little more than an arrest record.
Popular in the Community