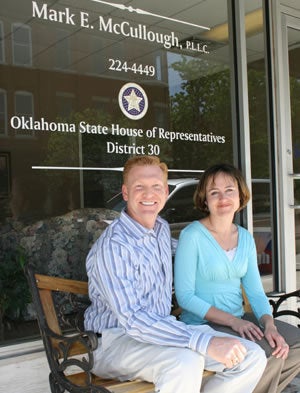 An Oklahoma schools superintendent is coming out against a proposal from his local state legislator to arm teachers, instead calling for police officers to be placed in all schools.
Sapulpa Schools Superintendent Kevin Burr said that teachers should not be trusted to be law enforcement officers and wield weapons in the event that a gunman enters a school building. Burr's comments come as state Rep. Mark McCullough (R-Sapulpa) is proposing legislation to allow teachers to obtain training to become reserve police officers, and the leader of the NRA is asking that armed guards be placed in every school. Legislation has also been proposed in a number of states to allow teachers to carry weapons in the wake of last week's shootings at Sandy Hook Elementary School in Connecticut, which left 26 dead, including 20 children.
"We need to respect our professionals and let law enforcement officers carry weapons," Burr told The Huffington Post. "That is not the message to need to send about the purpose of education. Our role is not enforcement."
Rather than training teachers to carry guns, Burr suggested that each school be given a police officer as a guard to handle security issues. Police officers have the proper training and would be able to react to a potential murderer in the building more appropriately than a math teacher, he said.
Burr said that by his estimate, it would cost $15 million to place police officers in every school in Oklahoma. Burr's proposal is similar to the one advanced by Wayne LaPierre, the leader of the National Rifle Association, at a press conference Friday.
McCullough told HuffPost that while he respects Burr's idea, it is not a financially feasible option for Oklahoma or the country. McCullough added that his proposal also offers law enforcement into schools -- in the form of teachers trained as reserve police officers. Teachers would be able to take a six-week training class, McCullough said, and then could carry guns to protect students.
"You are putting an officer in the schools," he said. "Principals and teachers would serve a dual role."
McCullough stressed the training aspect of his proposal. "It is not slap a gun on everyone's hip and send them out," he said.
McCullough, a parent with children in the Sapulpa school system, said his proposal was not motivated by the Newtown shootings -- rather, he's been considering the issue for a while. He said he had not discussed the idea with other legislators or with Gov. Mary Fallin (R), and is still getting a variety of feedback from the community.
"I've gotten a lot of very positive feedback, from high-level government officials to the off-duty police officer at the car wash," he said. "They are supportive of this idea. I've also gotten a lot of emails calling me an idiot and a fascist."
Burr called the idea "embarrassing" after attending an elementary school concert on Friday morning.
"I just imagined what it would be like -- with guns on their hips -- and it is almost embarrassing to have kids be a part of a society that supports that," he said.
REAL LIFE. REAL NEWS. REAL VOICES.
Help us tell more of the stories that matter from voices that too often remain unheard.
BEFORE YOU GO
PHOTO GALLERY
U.S. State Capitol Buildings