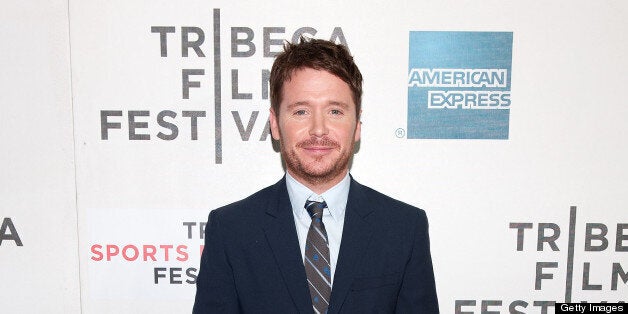 Kevin Connolly is best known for playing sidekick-turned-manager Eric Murphy (a.k.a. "E") on "Entourage," but at the 2013 Tribeca Film Festival he added another job to his resume: documentary filmmaker. Connolly's "Big Shot," an ESPN 30 for 30 production focusing on the scandal surrounding former New York Islanders owner John Spano, debuted in New York last week.
The documentary, which ESPN will air in October, explains how the New York-born, Ohio-raised Spano agreed to purchase the storied NHL franchise in October of 1996 from then-owner John Pickett for $165 million. Eight months later, however, Spano was revealed to be a fraud; his net worth was barely more than $2 million, a mere fraction of the over $200 million that he claimed. By 1998, he was convicted of bank fraud and eventually sentenced to 71 months in prison. Yet for four months, from when the NHL approved him as owner in February until New York Newsday published a cover story on his financial improprieties in July, Spano owned the Islanders -- all without paying very much at all.
"Big Shot" is a twisted look at the sometimes corrosive power of the American dream, and Connolly -- who was born on Long Island and rooted for the Islanders as a child -- traces Spano's rise and fall using interviews with NHL commissioner Gary Bettman, former Islanders business managers and Spano himself to tell the stranger-than-fiction true story.
Ahead, Connolly explains why making "Big Shot" was such a difficult task, what he hopes audiences will take away from the film and why the Islanders might return to their glory days sooner rather than later.
The story itself is very theatrical and outlandish; it's a con-artist movie that, at times, seems almost too good to be true. As a fan of the Islanders, did you always think this would be great territory for a film? No, honestly. There's two sides to this whole thing: There was the investigative journalist side to it -- which is not what I do, nor do I have any interest in doing -- and then the filmmaking side. As a filmmaker, you look for an angle on the story. Mine was to do more of a "Catch Me If You Can" kind of vibe. That's how I approached it. From there, I was learning the story as I was going through the interviews. Listen, I'm not Mike Wallace. This isn't Watergate. I think it's an interesting event and I wanted to tell the story in a way that gave audience the benefit of the doubt. It's so difficult, too, in a post-Madoff era, because you want to be so hard on the white-collar criminals -- and rightfully so, I don't want to give the wrong idea -- but I wanted to approach this with an understanding of what it was that he was trying to do. Put the audience in that position: "Hey, if you had the chance to own a professional sports franchise, how great would that be?"
It's a tough balance, too, because John made so many mistakes and misled so many people, but at the same time, you kind of appreciate his audacity at trying to pull this off. I've said this before, strangely enough, John and I are friends. We've had our moments where we wanted to kill each other and that still goes on, but we're friends. That's been a sort of bizarre friendship. But one of the things I discovered in this -- that I was relieved to find -- is that I really believe in my heart of hearts that John wasn't motivated by money. To me, that was the one thing where I was like, "Thank God." He was never like, "I'm going to flip this." He was like, "I want to be kind of awesome and own a hockey team." This is before Mark Cuban. He wanted to ultimately be what Mark Cuban became. He wanted to be in the paper calling out players and firing the coach; he wanted to be going to the club and hooking up with chicks. He was more interested in the life. It's intoxicating. This is a guy who grew up in Ohio and then he walks into the Nassau Colosseum and gets a standing ovation from 10,000 people and they're all cheering his name. That motivated him to charge toward the finish line.
You mentioned not being an investigative reporter, but you had to be to do this. Was that challenging? John was a challenging interview. Everybody had their concerns, though, because nobody knew what I was doing. I had to ask them to take me at my word. I said, "John, I'm going to tell the most fair and balanced story that I can. Still, there are some things that are impossible to get around." Like at the end, where we talk about the trouble he got in after the fact, when he had to go back to jail -- it wasn't something John wanted to talk about, but to his credit he understood we needed to include it. [Editor's note: After his release from jail, Spano was convicted of mail fraud in 2005 and served 51 months in jail.] I said, "John, we can't tell this story and not put that in." It was really getting people to trust me that I was going to be a man of my word. I was just honest with everybody. Even Gary Bettman. He's the commissioner of the NHL. The NHL was locked out at that time. It's like, "What are you doing here? You're making a movie about what?" People are concerned about how it's going to affect them and rightfully so. I would be too.
Did having the backing of ESPN help you in those situations? It's not that. I think it's that the quality and brand of the ESPN 30 for 30 series can make people go, "Oh, OK. I know what it's going to look like. I know that they do work on a certain level of quality." I think that helped a lot. Because people know what it is. "Oh, 30 for 30, I love that." It's an incredibly popular and successful series for ESPN. It's kind of like when we first started "Entourage." We would try to get cameos and people would go, "What? I don't get it. What is this about?" People weren't sure. By season three, it was smooth sailing because everyone knew what it was. It's getting people to understand what you're doing.
How long did it take you to put together all the research and interviews into a finished film? It took me almost a year to the day of the screening (April 19). I'll tell you what: it made me very uncomfortable. I was really uncomfortable interviewing John, for those reasons that we talked about. I'm not Mike Wallace. I'm an actor and, I hope, a budding director. For me, sitting at the table with him and knowing that I had to ask these questions -- and he was expecting me to ask these questions -- was hard. A seasoned journalist just says it; I was tip-toeing around. I edited the hell out of this thing, but there is a lot of me kind of stuttering and kicking rocks around the questions. It's just not in my personality. In fact, when I interviewed John that first night, I went home and it didn't feel good. I knew it was a victory for the movie that he had agreed to the interview, but I went home feeling bad about myself. I felt like -- I don't know, I felt like a bully, almost. I was going to turn this guy's world upside down. It's one thing to read articles and do your research, but when you're sitting across from a live person who has a mom and a dad and girlfriend, it becomes real.
John is very emotional in the interview as well. I'm interviewing this guy and the last thing I want to do is break down a 40-year-old man and bring him to tears. But, you know, I know when it's all said and done, John would tell you that I stood by my word and that's important to me. He didn't feel set up; I did everything I said I was going to do. I did all the right things by John, even the unpleasant things.
He was at the screening on Friday. What did he think? He was there! We showed him the movie earlier in the day, so he didn't watch it blindly in front of the audience. Then he chose to come. We've spoken a few times since then. I feel good about the fact that he liked it as much as he's going to like it. Also, too, the things that he wasn't happy about, he has to understand, that's the other people. The way he's entitled to tell the story the way he remembers it, other people are entitled to tell the story the way they remember it.
This is the second film you've directed; the first, 2007's "The Gardener of Eden," also premiered at the Tribeca Film Festival. What did you carry over from that film to this one? I'd always wanted to make a documentary. This kind of came out of nowhere to a certain extent. I thought, "One day I'd like to go down that road to see what it's like." What I was taken aback by was the workload. It was a considerably more work than I had expected. It took an emotional toll too; it was hard. Knowing in the back of my head that I wasn't really giving John a choice. Believe it or not, we were going to do the movie with or without him. Obviously, in hindsight, you need him in the movie and it's great that he did it, but I was going to take a crack with or without him. I think it was in his best interest to do it; it wasn't like him not doing it was going to make the movie go away. I think that's ultimately why he did it.
PHOTO GALLERY
Tribeca Film Festival 2013
Calling all HuffPost superfans!
Sign up for membership to become a founding member and help shape HuffPost's next chapter
BEFORE YOU GO