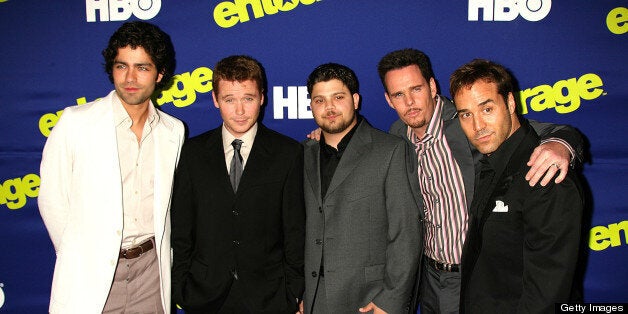 "Oh, are you kidding? That's like getting asked to go re-do your senior year in high school," Connolly told HuffPost Entertainment last week. "I can't wait."
The 39-year-old actor played Eric Murphy on the popular HBO series for eight seasons, earning a Golden Globe nomination in 2009 for his efforts. Since "Entourage" went off the air in 2011, Connolly has starred in a couple of films and directed his own: "Big Shot," an ESPN 30 for 30 documentary about former New York Islanders owner John Spano that will air this fall. "Everything is such hard work, but that'll be like a vacation," Connolly said about returning to "Entourage." "It can't happen fast enough for me."
"I think a 90-minute movie of sheer craziness—the guys getting back to just being about the guys, you know?" Wahlberg told GQ. "Lose the ladies. Go crazy. Give people what they want."
"Listen, you know what? We did eight years of 'Entourage,' we were nominated for six Emmys in a row. A bunch of Golden Globes. A bunch of Emmys. We're doing the movie. We're syndicated in 214 territories and countries around the world. People can say whatever they want, but anybody that has anything bad to say about 'Entourage' is just a hater," Connolly said. "I was in Egypt and I walked into the hotel in Cairo and turned on the TV and there was an episode of 'Entourage' on. There must be a market for it or else people wouldn't want to make the movie. They're smart; they do research. They're not making the movie for no reason."
No release has been set for the "Entourage" movie, but series creator Doug Ellin wrote the film's screenplay and will direct. The events of the film reportedly pick up about six months after the series finale.
PHOTO GALLERY
TV Shows Based on Movies
Calling all HuffPost superfans!
Sign up for membership to become a founding member and help shape HuffPost's next chapter
BEFORE YOU GO