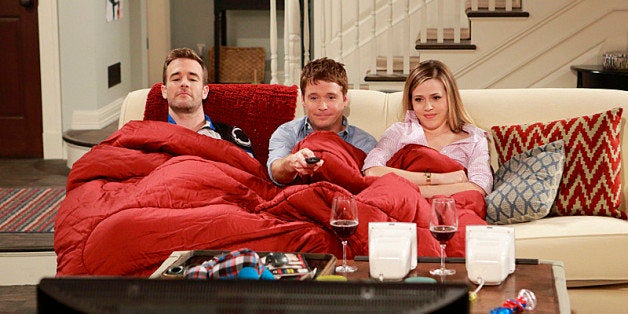 Kevin Connolly is ready to distance himself from Eric Murphy, aka "E," the role on "Entourage" that launched him into HBO stardom, but it might take longer than expected, since the "Entourage" movie just began filming. He calls the experience of being on that show "life-changing" and "amazing." He told HuffPost TV, "I wouldn't change a day of it for the world, but at some point you have to move on."
In CBS' new multi-camera sitcom "Friends With Better Lives" the Long Island native plays Bobby Lutz, a new dad about to have his second child with wife Andi (Majandra Delfino). The titular friends, played by Brooklyn Decker, Zoe Lister Jones and James Van Der Beek, use Connolly and his wife's living room as their version of Central Perk. But in this sitcom, the jokes are dirtier and the laugh track is even more robust.
"This show in its own way is a little more risky than 'Entourage' in a sense," Connolly said. "Honestly, I'd be more comfortable with my nieces watching 'Entourage' than this."
Coming from a guy who starred in a show where its main character was addicted to cocaine and had a porn star girlfriend, this seems a little shocking. But, in the pilot alone, there's a controversial breastfeeding comment and a few eek-worthy oral sex jokes. "Some of the subject matters we deal with are just adult matters. It's different because it's on CBS so a lot of it is implied but it's definitely still on the racy side. It's a different set of rules."
Connolly knows "Friends With Better Lives" will be scrutinized under a different kind of lens. "The stakes are certainly higher and the process is fast and furious." The show comes from executive producer and creator Dana Klein, a notable "Friends" writer. At the winter TCA press tour, Klein said, "We do have an edgier tone," as critics targeted a few off-color jokes. "We go to real stories and exaggerated a little for comedy."
"Friends With Better Lives" premieres after the "How I Met Your Mother" finale on Monday, March 31 at 9 p.m. ET on CBS.
REAL LIFE. REAL NEWS. REAL VOICES.
Help us tell more of the stories that matter from voices that too often remain unheard.
BEFORE YOU GO
PHOTO GALLERY
CBS New Shows 2013-2014