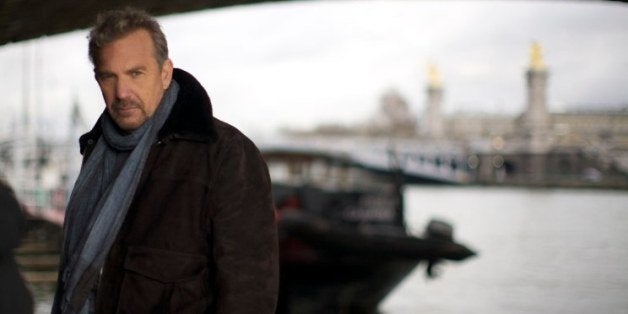 Between 2004 and 2012, Kevin Costner appeared in a grand total of seven movies. This includes a memorable supporting role in "The Upside of Anger," the forgettable "Rumor Has It…," and the Coast Guard-themed action movie people might not even know existed, "The Guardian." (His co-star in "The Guardian" was Ashton Kutcher, which seems barely weirder now than it did then.)
To put that nine-year, seven-movie streak in comparison: In 2014 alone, Costner is set to appear in five movies.
Costner's second movie this year is "3 Days to Kill," a feature bad enough that I had to sign a contract agreeing that I wouldn't write about it before a pre-determined time. (This is sometimes done when a movie is seen months before its release date, not 29 hours before its release date.) Costner plays an aging CIA agent named Ethan Renner (Costner also played an aging CIA agent in January's "Jack Ryan: Shadow Recruit" -– it's getting the point that if it's revealed that Costner actually is an aging CIA agent, which would explain his earlier drought of movies, it wouldn't be that surprising) in what has to be one of the most deliberately misleading marketed movies in recent history.
Seriously, watch this trailer and tell me what you think this movie is about. I'll wait…
There are two references made by Amber Heard in that trailer insinuating that Costner's character will be dead in three days because of some sort of poison unless he kills someone -- two references that aren't actually in the movie. (Almost comically, the only "three days to kill " reference in the actual movie is made by Hailee Steinfeld, who plays Costner's daughter, as she tells her dad, "It looks like we have three days to kill," after her mother leaves town for three days.)
Instead, Costner's Ethan Renner will be dead in "three months, maybe five," because of brain cancer. Heard's character offers him an experimental new drug in exchange for his help killing a few bad guys. Whatever. And all of this is presented with a tone as if director McG was handed a fairly straightforward action movie script and decided that it needed to be more like his Chris Pine-Tom Hardy-Reese Witherspoon dud, "This Means War."
The thing is, Costner is good in "3 Days to Kill." He's really trying while the shambles of what is supposed to be a plot disintegrate around him. Regardless, the most interesting thing about "3 Days to Kill" is the fact that Costner is actually in this movie. In a year where he already has a lot coming out, he wants the work. Kevin Costner wants to be a movie star again.
What's also interesting is just how easily this is happening for still only 59-year-old actor -– it's a grand comeback that few people even realize is happening. It's a remarkable resurgence in productivity and attention. It's as if "Tin Cup" came out last year and not 18 years ago. (Wait, really? Ugh.)
"I just had three kids, so I sat out for about three years," Costner answered before venturing into a more interesting point, "if I thought an actor was really good and he was either out of favor or didn't seem to be box office, or whatever, that wouldn't faze me at all. I don't ever let that affect me. Now, I do think that other people do feel that way."
Without specifically saying he fell out of favor at the box office, he is kind of insinuating that that's what happened. A lot of people will point to his infamous and expensive passion projects like "Waterworld" (which did make money) and "The Postman" as this reason –- and, well, that would be fair -- but it would also ignore that Costner still starred in 1999's "Message in a Bottle," which was an enormous hit, and 2003's "Open Range," which was a modest success.
But people still remember Costner for being a movie star. Granted, not a particularly cool movie star (his appearance in Madonna's "Truth or Dare" when he comes backstage and calls what he just saw "neat" kind of sums up Costner), but he certainty was a movie star. For a stretch, he was one of the most bankable actors in the world with a string of films that included "The Untouchables," "Bull Durham," "Field of Dreams," "Dances With Wolves," Robin Hood: Prince of Thieves," "JFK" and "The Bodyguard."
Costner won an Oscar for directing "Dances With Wolves," which gave him a considerable amount of power at the time -– a bankable movie star who can also direct Academy Award winning films. After producing and for the most part directing "Waterworld" (uncredited), he only directed two more films: "The Postman" and "Open Range."
"It amuses me if someone thinks I'm trying to reinvent myself, "Costner told me last June. "Everything I do in my life […] it's just because I feel like it. It's just because I feel like it. People have zero idea about even what my logic is, of how I do things."
I take Costner at his word here. And I especially like how he emphasizes, "it's just because I feel like it," twice. Twice. I think part of the reason for this sudden, yet almost unnoticed "comeback," if you will," is because Costner has made the rare comeback that didn't involve a reinvention. It's not like we're watching Costner play a withering drug addict or an AIDS patient. This isn't the McConassaince. Kevin Costner is still playing Kevin Costner. (And the thing is: we kind of like Kevin Costner even though it's not cool to admit that.)
A lot of this has to do with a mini-series that aired on the History channel, "Hatfields & McCoys," which garnered incredible ratings –- particularly in older demographics; my father was a big fan of this series -– and won an Emmy for Costner. Which was weird in the fact that it didn't seem weird that Kevin Costner was winning an award for acting -– a guy who had just spent the last few years doing a direct-to-video movie and a movie with Ashton Kutcher. It just seemed normal to see Costner accepting an award because it just seems like that's something Kevin Costner does.
Costner parlayed that Emmy win into a role as Clark Kent's father in "Man of Steel," Jack Ryan's mentor and four more movies this year. There was Costner at the Super Bowl, discussing his upcoming movie, "Draft Day," and that seemed totally normal.
And that's the thing: Again, Costner is right, he really didn't reinvent himself. Costner's just kind of doing what he's always done. And, in turn, by not really even noticing that he's made a comeback, we're all just kind of just doing the same thing, too.
Mike Ryan is senior writer for Huffington Post Entertainment. You can contact him directly on Twitter.
REAL LIFE. REAL NEWS. REAL VOICES.
Help us tell more of the stories that matter from voices that too often remain unheard.
BEFORE YOU GO
PHOTO GALLERY
Celebrity News & Photos