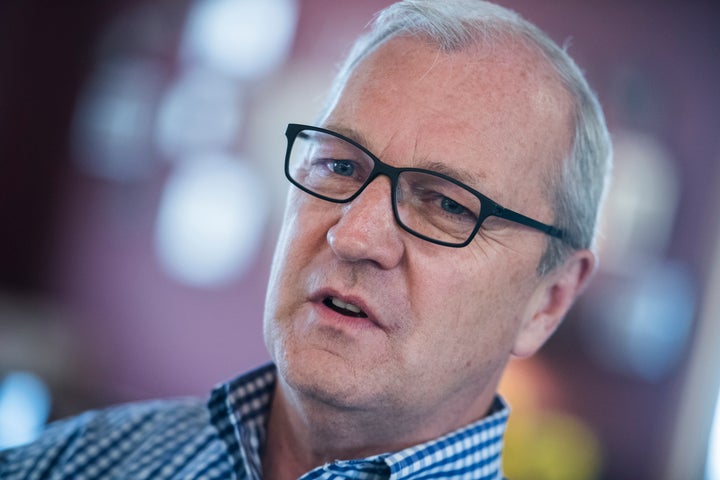 Republican Rep. Kevin Cramer defeated incumbent Democrat Heidi Heitkamp in the race for North Dakota's Senate seat on Tuesday.
Over the last several months of this year's campaign, Heitkamp came to be viewed as her party's most endangered Senate member. Following her upset win in 2012, she was seeking a second term in a state Donald Trump won overwhelmingly in the 2016 presidential election.
Despite selling herself as an agriculture-friendly, gun-supporting moderate who was willing to work with Trump, Heitkamp struggled to win over his supporters, especially in the wake of her surprise vote against Brett Kavanaugh's nomination to the Supreme Court
"I'm not 100 percent with anyone other than North Dakota," Heitkamp said in a debate with Cramer last month, portraying herself as an independent-minded Democrat.
The 57-year-old Republican initially won his House seat ― the state's only one ― since 2012. He surprised many political observers early this year by announcing that rather than run for the Senate, he would seek another House term. But Trump ultimately persuaded him to take on Heitkamp, an intervention by the president that Cramer stressed on the campaign trail.
He lambasted Heitkamp, 63, for opposing key parts of Trump's agenda, including last year's massive tax cut bill.
Heitkamp sided with the president, however, on some of his more controversial nominations, including his picks of Gina Haspel to head the CIA and Mike Pompeo to serve as secretary of state.
In her campaign, Heitkamp spotlighted Cramer's votes for repealing the Affordable Care Act and its insurance protections for people with preexisting medical conditions. She also criticized him for supporting Trump's trade policy and his tariffs on countries like China. The consequences of that trade dispute are particularly acute in North Dakota, where soybean farmers are struggling to store mountains of the unsold crop that in the past would be bound for hungry markets in China.
"This president plays hardball, no doubt about it," Cramer said of Trump's trade policy during the debate with Heitkamp. He insisted that Trump was pursuing a long-term strategy that would pay off, and that the administration would take care of struggling farmers.
The fall's controversy over Kavanaugh's confirmation and Heitkamp's decision to oppose him may have ultimately signed her political death warrant ― something she seemed to recognize. During an interview after her vote, Heitkamp talked about needing to follow her conscience, regardless of the political repercussions, in the wake of the sexual abuse allegations that surfaced against Kavanaugh. Last year, she had revealed her own experience with sexual harassment.
"If this were a political decision for me I certainly would be deciding this the other way. There's an old saying, 'History will judge you, but most importantly you'll judge yourself,'" she said. "I can't get up in the morning and look at the life experience that I've had and say yes" to Kavanaugh.
Of her vote, she added: "I have no regrets."
Calling all HuffPost superfans!
Sign up for membership to become a founding member and help shape HuffPost's next chapter