For Kevin Doyle, Happy Valley is anything but happy.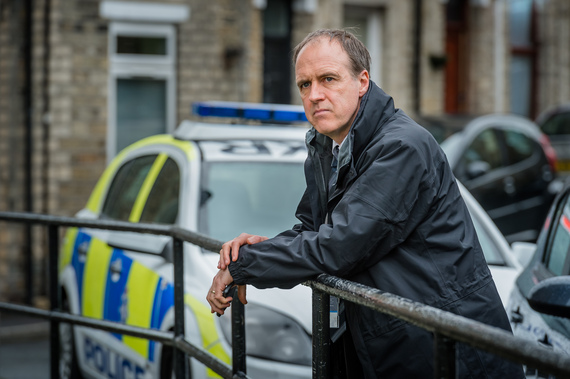 After six years as Mr. Molesley, the skittish and neurotic but strangely endearing footman on Downton Abbey, Doyle resurfaces March 16 when the second season of the BBC crime drama Happy Valley premieres on Netflix.
"It's set in a very different world from Downton Abbey," says the 55-year-old Doyle, a well-known figure on British TV and stages. "It suddenly gets quite dark."
Doyle plays Detective Sergeant John Wadsworth, who is brought into a case with Sgt. Catherine Cawood (Sarah Lancashire), the show's central character.
It's a show where the policeman isn't always your friend.
"He's brought in to untangle a case," says Doyle. "But at the same time, he has to cope with the arrival of a mistress. He's a married man with children, and he's been having an affair for two years.
"He's going to end up doing some terrible things, things he'd rather he not have done."
Downton fans in the U.S. might want to know this isn't fresh acting turf for Doyle.
"In the U.K., I'm probably better known for roles with a darker side," he says. "I love to do comedy, but I've probably done more of the darker sort."
What drew him to Wadsworth, he says, is the same thing that drew him Molesley several years ago: a sense that the writing would give the character more than two dimensions.
"When I first saw the Downton script," he says, "Molesley only had one scene. It was quite a small part. But the writing was so good that I knew I had to have it.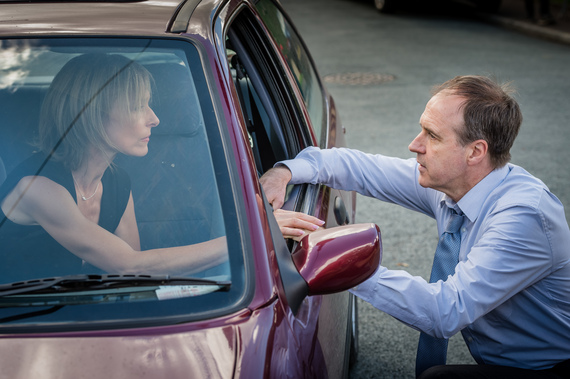 "It was the same with Happy Valley. It's only six episodes, so I had read the whole thing. There were two parts I was up for, and I wanted to tell them I'd have happily taken either one. As it worked out, I got the one I most wanted."
He's worked before with Sally Wainwright, who writes Happy Valley, and he says that made him confident Wadsworth would be multi-layered.
"Because he does these terrible dark things," says Doyle, "you'd think he'd just be a bad guy. But I think you end up feeling a bit sorry for him, and in a way you almost want him to get away with it.
"You don't like what he does, but I think you can understand why he does it. As an actor, that's what you want to do, make the audience see what led him to here.
"The writing does that. I didn't have to make up any more backstory than is in the script."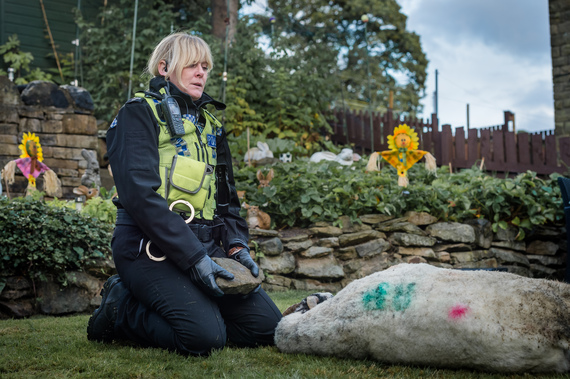 In the first Happy Valley series, Cawood (above) worked to nail one Tommy Lee Royce (James Norton), the man she believed responsible for the rape that led her daughter to commit suicide.
Royce returns in the second series and meanwhile, the first won won a dozen awards, including BAFTAs for best drama and best writing. Lancashire won several acting awards.
Joining Happy Valley reunites Doyle with one Downton colleague, Siobhan Finneran, who played the sour lady's maid O'Brien on Downton and now Cawood's sister on Happy Valley.
In addition to TV and film roles, Doyle has worked extensively on the stage in Britain, including many plays at the Royal Shakespeare Company.
He'd like to return to the stage at some point, he says, but judiciously.
"Live theater is much harder work," he says. "I remember times when we'd be doing three plays in rotation, so you had to keep all three in your head all the time.
"With a TV production, you only have the one character. You get picked up and driven to the set. It's much nicer, I have to say. In several ways I think theater is a young man's game."
But then, so is football (or soccer, as Americans call it), and Doyle says he was mistaken once for a much younger Kevin Doyle, an Irish football star now playing in the U.S.
"I got a call to be on a sports quiz show," he said. "I thought seriously about doing it, just to go on and see how long it took for them to figure out that I was not a 22-year-old footballer."
As for the late beloved Downton Abbey, Doyle says he and his fellow cast members heard and talked about reports of a possible movie, picking up the story that ended in the U.S. on March 6.
"I'd like to do it," he says. "The big question might be when Julian [Fellowes] would be able to write it.
"It also might be difficult getting the cast together, but a movie wouldn't require several months, as the series did. The filming would be shorter. So I wouldn't be surprised to see it happen, maybe toward the end of the year."