A police officer in Cleburne, Texas has been placed on paid administrative leave pending the outcome of an investigation into his fatal shooting of a pit bull puppy named Maximus.
Policeman Kevin Dupre shot the dog in August and it was captured on his body camera, The video was released last week after the dog's owners filed an open records request for the police report and video, NBC Dallas-Fort Worth reported.
The dog's owner claims it contradicts Dupre's version of events while police say the footage doesn't tell the full story.
The dog's shooting happened after police responded to a report about a group of pit bulls aggressively roaming a neighborhood.
The dogs had escaped from the home of Amanda Henderson, their owner. One dog was captured nearly immediately, and Dupre located two others a short time later.
In a police report, Dupre said he made kissing noises, trying to calm Maximus.
"I raised my duty weapon to the ready position –- pointed at the growling dog's head. As soon as I lifted my pistol, the dog began coming up the hill, continuing to growl and display its teeth…I fired three shots at it."
But the newly released video doesn't appear to show Maximus behaving aggressively.
"They don't match up," Henderson told MyFoxDFW. "'Cause whenever we see the video, it's heartbreaking. What I see is him kissing him over to kill him."
According to the Fort Worth Star-Telegram, Henderson only learned from a neighbor that an officer killed her dog. The police didn't mention it when they contacted her by phone.
"There was no explanation or apology from the police," she said.
A protest is scheduled for Saturday in front of the Cleburne Police Department headquarters.
Dupre has not been criminally charged, but city officials are concerned about death threats made against him on Facebook.
Meanwhile, Dupre remains off-duty pending the findings of two separate investigations, one by the Cleburne Police Dept.'s Professional Standards Unit to see whether Dupre followed departmental policies, and whether policies regarding encounters with dogs need to be changed.
The Texas Rangers have also been asked to conduct a separate investigation to determine whether criminal charges should be filed, according to Cleburne Mayor Scott Cain.
"We're also talking to another possible, independent, group about doing a review," Cain told the Cleburne Times Review. "Because we understand that many question the police department investigating their own, we want to make sure we get a thorough, unbiased investigation and review into the matter to ensure people can have confidence in the results.
"That doesn't necessarily mean everyone's going to like the findings, but I want to make clear that we're going to have an independent and legitimate investigation and let the chips fall where they may."
Like Us On Facebook |

Follow Us On Twitter |

Contact The Author
Related
Before You Go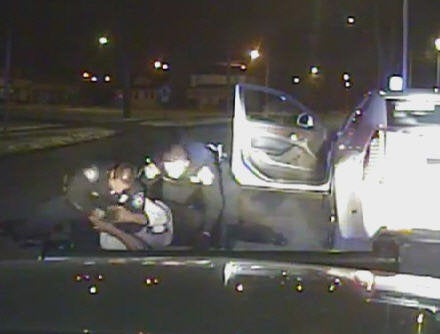 Police Brutality Incidents
Popular in the Community